The best beef jerky recipe to satisfy your snack cravings is here! A delicious meat snack with only 5 ingredients. Our beef jerky is sugar-free, Paleo, and Whole30 approved what's not to LOVE!
Whether you're driving in your car or at a live sporting event, beef jerky makes the best snack! Not only is it delicious, but it's packed with protein.
So let's talk about this beef jerky! We use flank steak, which comes from the cow's lower chest. This cut is inexpensive, flavorful, and versatile. Making it the perfect steak for beef jerky.
I have a quick chef tip for you: Place meat in the freezer before slicing allowing you to get paper-thin slices perfect for beef jerky.
During my first round of Whole30, I wanted to eat beef jerky, but I couldn't find a sugar-free option. Many store-bought brands are loaded with sugar and unhealthy preservatives.
I made it my mission to create a mouthwatering meat snack that is healthy and sugar-free. Coconut aminos are used for a touch of sweetness and emulate soy sauce. Paleo powder is a spice blend of salt, pepper, oregano, basil, cumin, and cayenne pepper. If you can't find this spice blend, use any combination of your favorite spices.
If you are a snack lover like me check out my buffalo cauliflower with Whole30 Ranch Dressing.
Jump to:
Why this beef jerky recipe is the best
Protein-packed snack. I love a snack that will fill me up and energize me for hours, and this beef jerky does that.
Sugar-Free. For all you Whole30 dieters, this is the perfect grab-and-go snack for you.
Oven method. Don't have a dehydrator? We got you covered, this recipe is made entirely in the oven.
Ingredients
flank steak - if you can't find flank steak, top round or bottom round are great choices
coconut aminos - a great soy sauce alternative that adds a bit of sweet flavor to the beef jerky
Worcestershire sauce
liquid smoke - a little bit goes a long way
paleo powder - I used the low fodmap paleo power but utilize your favorite spice blend
See recipe card for quantities.
How to make the best beef jerky recipe
Making beef jerky is so easy, here's how to make it:
Step 1: Place flank steak in the freezer for 30 minutes to make slicing a breeze. Thinly slice the beef against the grain to prevent chewy meat.
Step 2: In a medium-sized bowl whisk, coconut aminos, liquid smoke, Worcestershire sauce, and spices.
Step 3: In a ziplock bag, combine sliced beef and marinade. Mix very well and refrigerate for at least 6 hours or better yet, overnight.
Step 4: Place wire cooling rack over a parchment-lined baking tray. Layflat beef making sure not to overlap them. Place in a 165-degree oven for 4 hours. Enjoy!
Step by Step Video
Substitutions
Coconut aminos - Replace with soy sauce for a delicious flavor! Most beef jerky marinades start with soy sauce.
Flank Steak - If you can't find flank steak at your local butcher, flat iron, top round, and bottom round, all make great choices.
Paleo Powder - I use this spice blend in many of my recipes because I love it! Utilize your favorite mixture of spices or make your own.
Equipment
Baking tray
Cooling rack
Coconut aminos
How long does beef jerky last
I like to store my homemade beef jerky in ziplock bags
Dry Storage - 1 week
Refrigerator - 2 weeks
Freezer - 12 months
How to make beef jerky last longer
Low-Fat Content - Fat will make your beef jerky spoil quickly. Make sure you purchase a lean cut of beef and trim off excess fat.
Curing salt - This is a non Whole30 approach. Commercial companies use sodium nitrate to extend the life of beef jerky.
Drying - The longer you dehydrate your beef, the longer it will last. Proceed with caution because overly dried jerky is tough to eat.
Removing oxygen - Vacuum sealers help prolong the life of beef jerky.
Pro Tips
Use lean cuts of meat like flank steak, flat iron, top or bottom round.
Cut beef into paper-thin slices by freezing the meat. Place flank steak into a freezer for 30 minutes.
Dehydrate at a food-safe temperature of 160 degrees or higher to kill off any harmful bacteria.
Before embarking on your beef jerky adventure, check out food safety to avoid any foodborne illness.
Beef jerky will weigh ¼ its original raw weight.
Frequetnly asked questions
How long do you marinate beef for jerky?
Beef jerky should marinate between 6-24 hours. Allow enough time for the marinade to penetrate the beef. Make sure the meat is submerged in the marinade.
What beef jerky is gluten-free?
Beef jerky made without soy sauce is gluten-free. Our recipe consists of coconut aminos, so it's gluten-free. Another option is to look for gluten-free soy sauce.
What is the best cut of meat to use for jerky?
Flank steak, top round, and bottom round are great options. Ideally, you are looking for a lean piece of meat without a lot of fat. Nothing with make your jerky go rancid faster than fat.
Can beef jerky go bad?
Yes! Store-bought brands are packed full of nitrates, making them last longer. Homemade recipes tend to have a shorter lifespan. If the meat smells rotten or shows signs of mold, throw it out.
Can beef jerky be frozen?
Freezing beef jerky is a great option. If you are not planning on eating jerky right away, package in an airtight container and freeze for 6-12 months.
More paleo recipes to try...
Did you make this recipe? Leave a ⭐️ review below and tag @thefrizzledleek Instagram, Facebook, and Pinterest!
📖 Recipe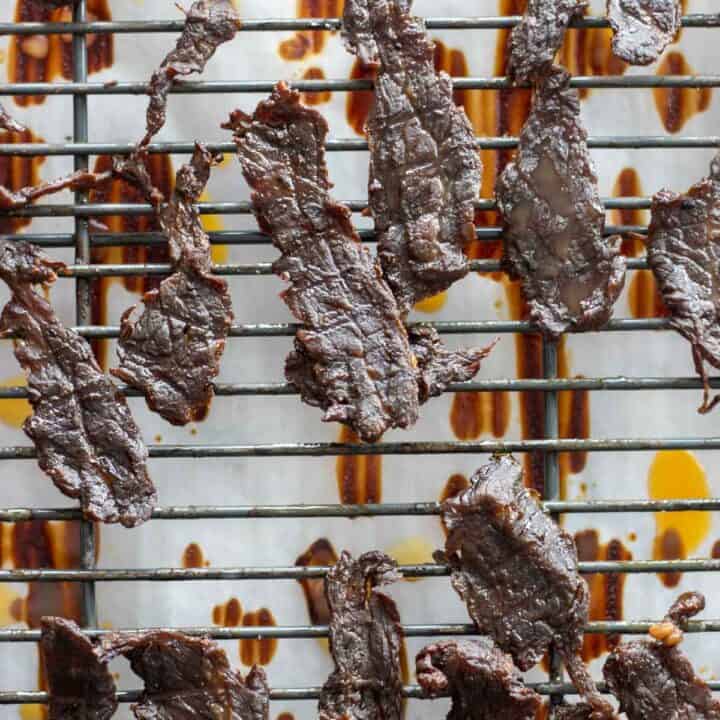 The Best Beef Jerky Recipe
We have created the best beef jerky recipe EVER!  Sugar-free, Paleo, and Whole30 approved.  Enjoy snacking at its finest!
Ingredients
2

pounds

beef

flank steak

½

cup

coconut aminos

2

tablespoons

Worcestershire sauce

1

teaspoon

liquid smoke

1

tablespoon

paleo powder
Instructions
Preheat oven to 165 degrees.

Place flank steak in the freezer for 30 minutes.  Freezing the steak will make it easier to slice. Thinly slice flank steak against the grain. 

In a medium-sized bowl, mix together coconut aminos, Worcestershire sauce, liquid smoke, and paleo powder.

In a ziplock bag, combine sliced beef and marinade.  Refrigerate for 6 hours or overnight.

Line a baking tray with parchment paper.  Place a wire rack on top.  Lay beef strips on top of the wire rack.  Don't overlap. 

Cook for 4 hours at 165 degrees.  Cool to room temperature and store in a ziplock bag, and refrigerate. 
Notes
Slice beef against the grain, so it's not chewy.
You can make this recipe in the oven or dehydrator. 
You can buy Paleo Powder at sprout or on amazon.  If you can't find this seasoning mixture use your favorite spice blend.  
This recipe has to be refrigerated.
Nutrition
Calories:
306
kcal
|
Carbohydrates:
4
g
|
Protein:
19
g
|
Fat:
23
g
|
Saturated Fat:
9
g
|
Polyunsaturated Fat:
1
g
|
Monounsaturated Fat:
10
g
|
Trans Fat:
1
g
|
Cholesterol:
81
mg
|
Sodium:
472
mg
|
Potassium:
340
mg
|
Sugar:
1
g
|
Vitamin A:
3
IU
|
Vitamin C:
1
mg
|
Calcium:
25
mg
|
Iron:
2
mg
DID YOU MAKE THIS RECIPE?
Leave a comment below and share a photo on instagram. Tag @thefrizzledleek and hashtag it #thefrizzledleek.