These homemade Gluten Free English Muffins are easy to make and turn out fluffy with a slightly crispy exterior. Fork split muffins to discover tons of nooks and crannies. Turn English Muffins into Eggs Benedict, breakfast sandwiches, or top with your favorite jam.
Nothing says brunch like English Muffins. Soft, chewy, and fluffy makes this muffin a perfect vehicle for my easy-to-make Sous Vide Eggs Benedict.
My Air Fryer English Muffins are the best way to toast them. Customize them with your favorite toppings. I love spreading cream cheese over those nooks and crannies and topping them with my Candied Kumquats.
Does the thought of making gluten-free English Muffins seem intimidating? I have news for you it's so EASY! The trick is to let the yeast do the work and rise. For the best results, let the dough rise overnight in the refrigerator. Use a gluten-free 1-to-1 flour, or better yet, try my All Purpose Gluten Free Flour Recipe.
If you are trying to master Eggs Benedict check out my Perfect Air Fryer Poached Eggs, and my Blender Hollandaise Sauce.
Jump to:
What makes this recipe so good
Gluten-Free English Muffins are great for several reasons:
Great texture: The combination of gluten-free flour, yeast, and butter creates the perfect texture for English muffins. They're light, fluffy, and have all those nooks and crannies.
Failproof recipe: While making bread or baked goods from scratch can seem intimidating, this recipe is easy to follow. Plus, using an air fryer to cook the muffins is a game changer.
Versatile: English muffins can be enjoyed for breakfast, lunch, or dinner. Use them to make breakfast sandwiches! By the way my Whole30 Sweet Potato Waffles make great breakfast sandwiches too.
Ingredient Notes
By following these ingredient notes, you'll be well on your way to making delicious gluten-free English muffins at home.
Gluten-Free Flour: Use an all-purpose gluten-free flour blend that's designed for baking. This will help to ensure that your muffins have the right texture and rise properly.
Butter: Make sure you use room-temperature butter
Egg: For richness and color
Sugar: Touch of sweetness and food for the yeast
Yeast: Activate Yeast in warm milk to ensure the dough rises properly.
Milk: Use any type of milk you prefer, such as dairy milk or plant-based milk. Just make sure it's warm but not hot, as hot milk can kill the yeast.
Cornmeal: Prevents muffins from sticking
How to make extra fluffy gluten-free English muffins.
1. In a microwave, heat milk in 15-second bursts until the internal temperature is 105°-115°F. Add the yeast and stir with a spoon. Let sit for 10 minutes.
2. Mix butter and egg with the wet ingredients.
3. In a mixing bowl combine flour, salt, and sugar.
4. With the dough hook attachment, mix dry and wet ingredients together.
5. Knead for 10 minutes in a stand mixer. The dough should be sticky.
6. Spray a large bowl with cooking spray and place dough in the center. Cover with a towel or plastic wrap and proof in a warm location in your kitchen for 2 hours or in the refrigerator overnight.
7. Shape dough into 13 equal portions. Roll into a ball and flatten into an English Muffin shape. Sprinkle all over with cornmeal for easy handling.
8. In a cast-iron skillet, add 1 tablespoon of butter. Lay in muffins and cook for 7 minutes per side.
Variations
Here are a few potential variations that could be included in a gluten-free English muffin recipe:
Cinnamon Raisin: Add ½ cup raisins and 1 teaspoon cinnamon to the dough during mixing.
Cheddar and Chive: Mix in 1 cup shredded cheddar cheese and 2 tablespoons chopped fresh chives to the dough during mixing.
Jalapeno and Corn: Stir in ½ cup corn kernels and 2 diced jalapeno peppers into the dough during mixing.
Blueberry Lemon: Add ½ cup blueberries and the zest of 1 lemon to the dough during mixing.
Rosemary and Olive Oil: Mix in 2 tablespoons chopped fresh rosemary and ¼ cup olive oil to the dough during mixing.
Substitutions
Here are some potential substitutions that could be used in a gluten-free English muffin recipe:
Gluten-Free Flour: While the recipe calls for a gluten-free flour blend, you can also experiment with other gluten-free flours such as almond flour, coconut flour, or chickpea flour. Keep in mind that the texture and taste of the muffins may vary depending on the flour used.
Dairy-Free: To make the recipe dairy-free, you can substitute the butter and milk with vegan alternatives such as coconut oil and almond milk.
Sugar-Free: If you want to reduce the sugar content, you can substitute the sugar with a natural sweetener such as honey or maple syrup.
Egg-Free: To make the recipe egg-free, you can try using a chia or flax egg instead of a regular egg. Combine 1 tablespoon of chia or flax seeds with 3 tablespoons of water and let sit for 5 minutes until it forms a gel. Use this mixture as a replacement for each egg in the recipe.
It's important to keep in mind that substituting ingredients can change the texture and taste of the final product, so it may take some experimentation to find the right combination of ingredients for your preferences.
Equipment
To make gluten-free English muffins, you'll need the following equipment:
Having a kitchen thermometer to check the temperature of the milk used to activate the yeast can also be helpful, but it's not necessary.
How to store English Muffins
Gluten-free English muffins can be stored in an airtight container at room temperature for up to 3-4 days. If you don't plan to eat them right away, you can freeze them for later use.
Freezing Gluten Free English Muffins
To freeze gluten-free English muffins, wrap each muffin individually in plastic wrap, then place them in a resealable freezer bag. Be sure to remove as much air as possible from the bag before sealing it.
Reheating English Muffins
When you're ready to eat the muffins, thaw them at room temperature for a few hours, then toast them to bring them back to their crispy, flavorful state. The muffins can also be toasted straight from the freezer, but you may need to add an extra minute or two to the toasting time.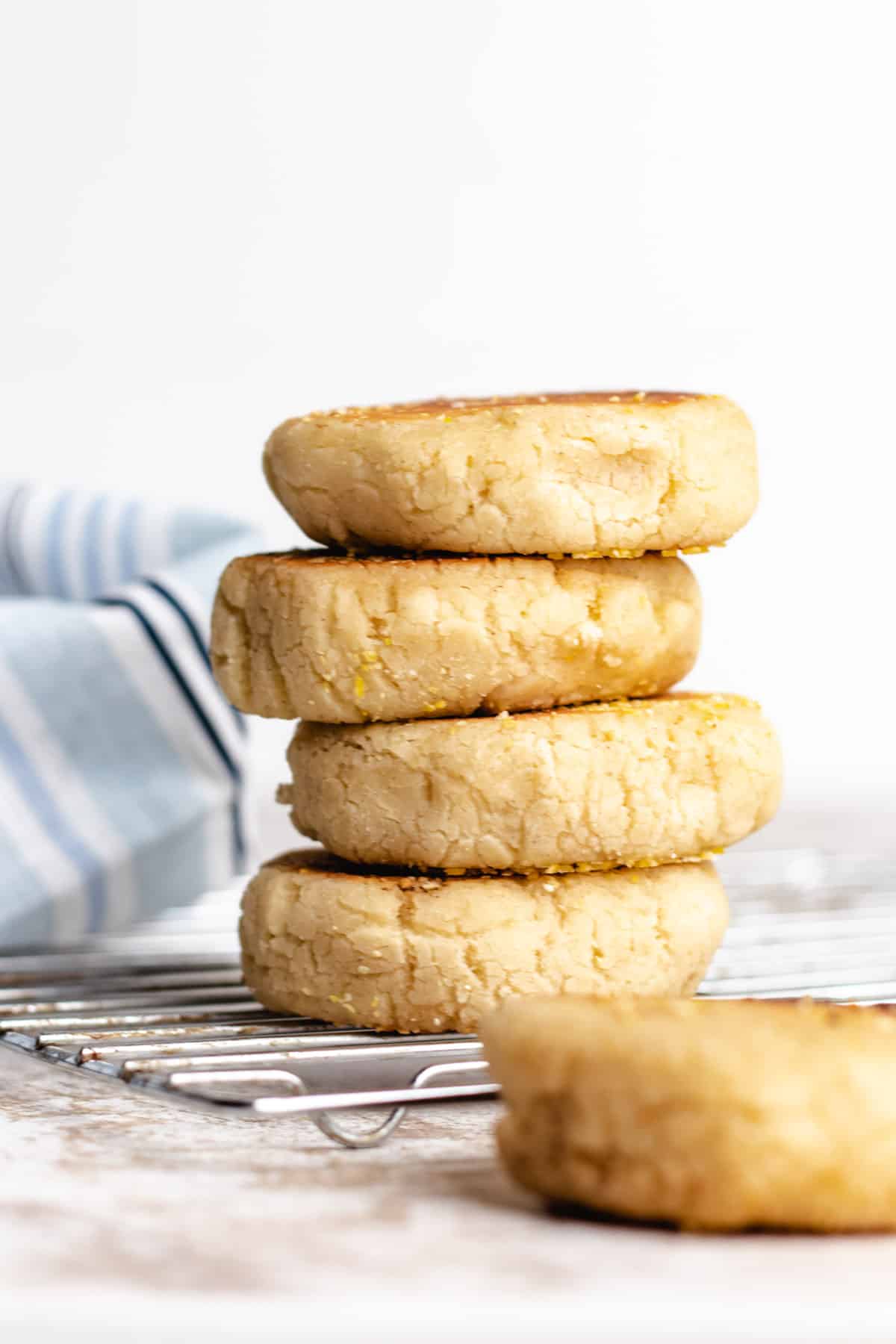 Chef Tips
Knead the dough with a stand mixer. This recipe yields a sticky dough, so it's tough to work by hand. I like to knead for 10 minutes to develop the gluten.
Milk should be lukewarm, not hot. If the milk is cold, the yeast will not activate. If the milk is too hot, you will kill the yeast. The optimal temperature range is 105°-115°.
Wait until the yeast activates and bubbles. Even if you are using instant dry yeast, I advise activating it in warm milk first. There is nothing worse than watching your dough not rise. Activating it first is a good insurance policy.
Make sure to oil your proofing bowl. You can use cooking spray, olive oil, or butter.
Let dough rise overnight under refrigeration. If you are in a hurry, proof the dough in a warm location until it has doubled in size. I prefer overnight in the refrigerator. The more time you let the yeast do its job, the more flavorful and fluffy your English Muffins will be.
Sprinkle cornmeal all over the muffins. Cornmeal is used during the second rise, so the muffins are easy to handle. It creates a non-stick surface for the English muffins.
Use a cast-iron skillet. To get the nice golden brown crust to use a seasoned cast-iron skillet. I like to add a small amount of butter to help with the browning.
Adjust the heat. Your pan should be at medium-low heat. You want to brown the muffins, not burn them. Cook for 6-7 minutes per side. Check them every couple of minutes to make sure they are not getting too much color.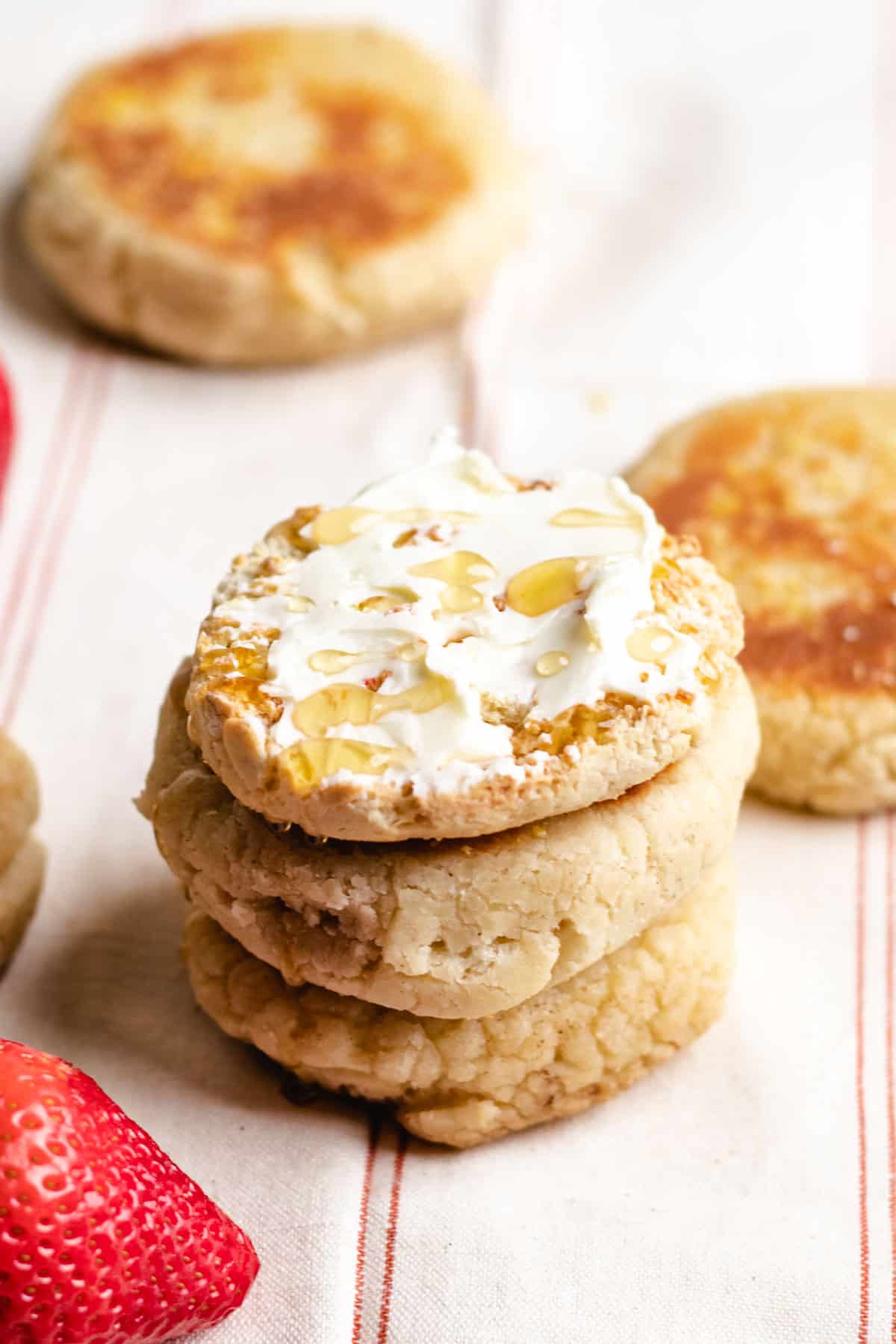 FAQ'S
Are crumpets and english muffins the same?
Nope, they are different. A crumpet batter resembles a thick pancake-like batter. The texture of a crumpet is more spongy than chewy. And you don't split them in half like English Muffins.
Can English Muffins Be Eaten without toasting?
English Muffins don't require toasting. You can split the muffins in half with a serrated knife and use a toaster. For the best toasting result, brush each half with melted butter and toast under a broiler. 2-3 minutes should be perfect, but every oven is different.
How do you serve english muffins?
Serve them with arguably the BEST brunch option, Eggs Benedict! Try them with softened butter and a fruit jam. Do you like breakfast sandwiches? Turn these bad boys into your own McMuffin.
Why is my dough is so sticky?
If your dough is sticky, that means you are on the path to delicious English Muffins. All the peaks and valleys you see on the inside of English Muffins are because of the sticky dough. If you add too much flour, you won't have those yummy nooks and crannies.
Do I need rings to make gluten free English muffins?
No! You can shape the dough into rounds by hand and then flatten them slightly before placing them in the skillet to cook.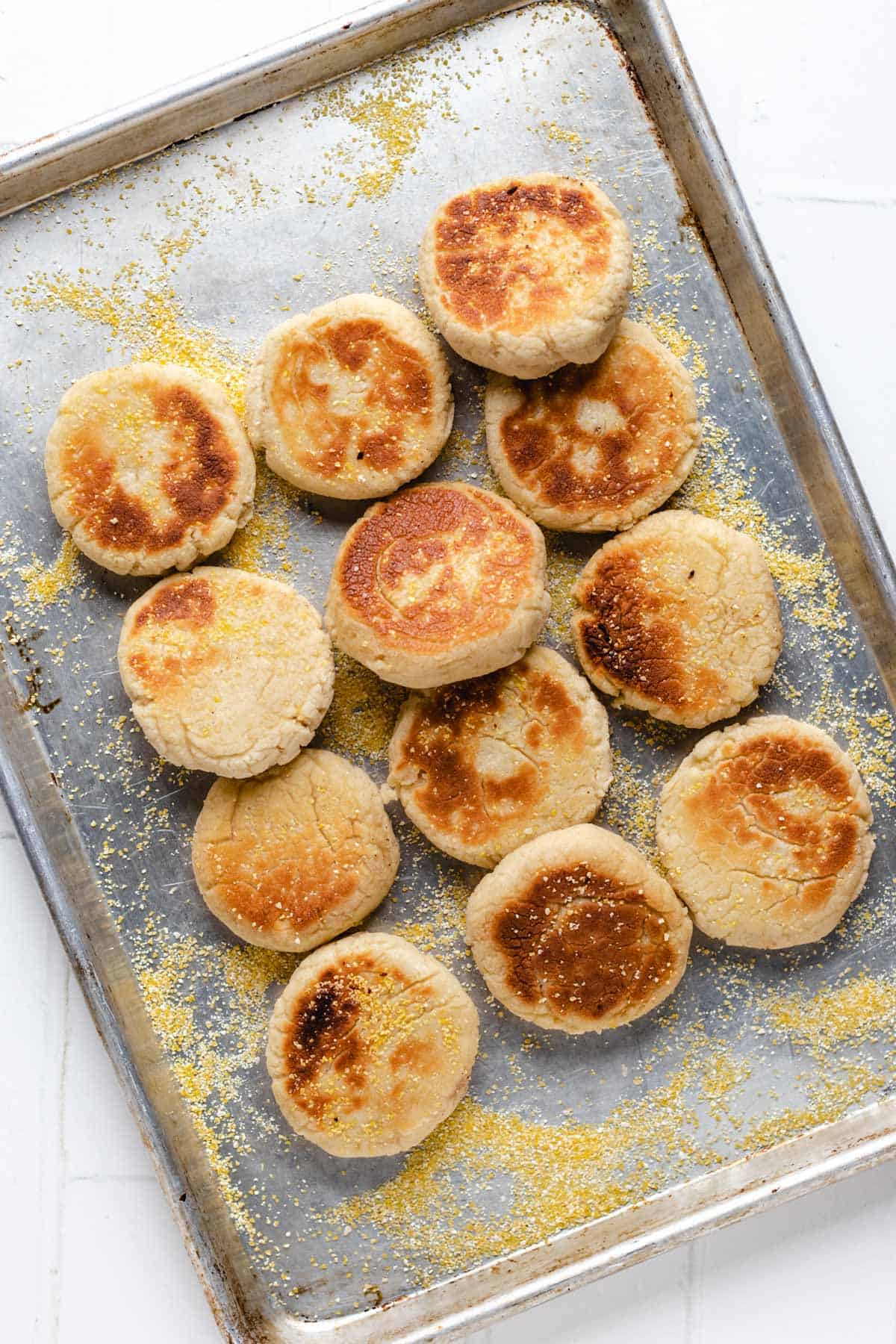 Related Recipes
If you enjoyed this gluten-free English muffin recipe, you may also like these related recipes:
Did you make this recipe? Leave a ⭐️ review below and tag @thefrizzledleek Instagram, Facebook, and Pinterest!
📖 Recipe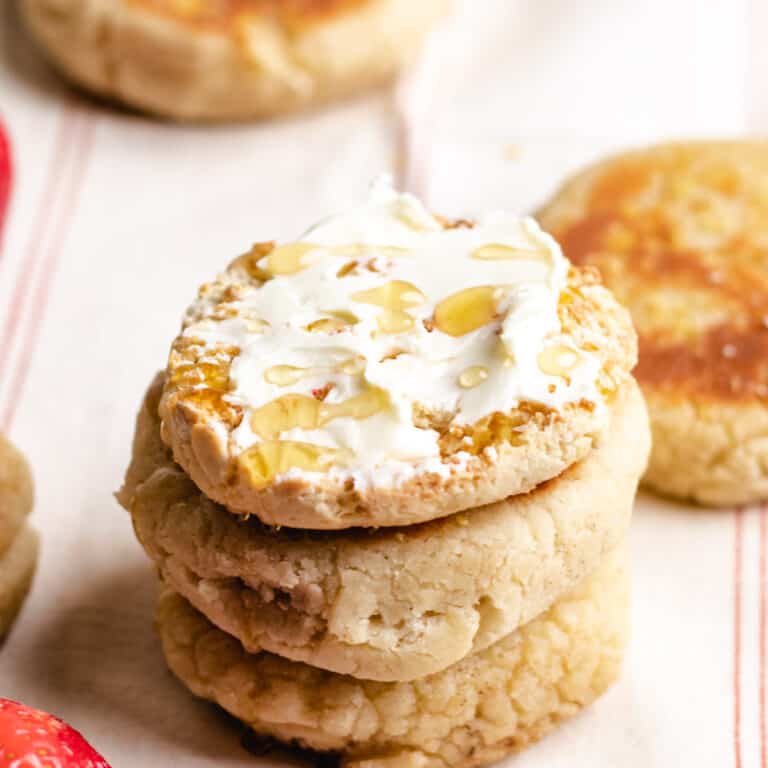 Gluten-Free English Muffins
Gluten-Free English Muffins are the perfect vehicle for the classic Eggs Benedict. Pop them in your toaster or air fryer and top them with your favorite spreads, butter, and jams.
Ingredients
1 ½

cups

milk

1

tablespoon

active dry yeast

1

egg

beaten

3

tablespoons

butter

room temperature

3 ½

cups

gluten-free all-purpose flour

2

teaspoons

salt

3

teaspoons

sugar

cooking spray

cornmeal
Instructions
In a pyrex measuring cup, combine 1 ½ cups of milk.  Microwave in 15 seconds burst, and check the temperature with a probe thermometer.  The ideal temperature is between 105 °-115° F.  Add in 1 tablespoon of yeast and stir.  Let sit for 10 minutes, or until yeast starts to bubble. 

Whisk 1 egg in a small bowl. Combine with the room temperature butter to the yeast mixture.  

In the stand mixing bowl, combine flour, salt, and sugar.  With the dough hook attachment, give it a quick mix.  With the mixer on low, slowly add the wet ingredients.  Turn the mixer up to medium speed and knead the dough for 10 minutes.  

Spray a large bowl with cooking spray and place the English muffin dough inside.  Cover and proof in a warm spot for 2 hours or refrigerate overnight.

Dust your counter with flour and deflate the dough.  Portion dough into 12 equal portions and roll into balls.  Grab a baking pan and sprinkle with cornmeal so the muffins won't stick.  Place English muffins on a baking tray and flatten with your hand, so they look like pucks.  Sprinkle the tops with more cornmeal.    

Grab a cast-iron skillet and cook English muffins with a tiny bit of butter.  Cook on medium-low heat for 6 minutes per side.  

Use a fork to split open the muffins and serve warm.
Notes
Keep an eye on the English muffins while cooking.  Check every couple of minutes to make sure they are not coloring too fast.
The longer you proof English muffins, the more airy and fluffy they become.  
Make sure the yeast is activated before adding to dry ingredients.  
Nutrition
Calories:
142
kcal
|
Carbohydrates:
28
g
|
Protein:
5
g
|
Fat:
2
g
|
Saturated Fat:
1
g
|
Polyunsaturated Fat:
0.2
g
|
Monounsaturated Fat:
0.5
g
|
Cholesterol:
4
mg
|
Sodium:
403
mg
|
Potassium:
54
mg
|
Fiber:
4
g
|
Sugar:
4
g
|
Vitamin A:
56
IU
|
Vitamin C:
0.002
mg
|
Calcium:
66
mg
|
Iron:
1
mg
DID YOU MAKE THIS RECIPE?
Leave a comment below and share a photo on instagram. Tag @thefrizzledleek and hashtag it #thefrizzledleek.