This Food Processor Guacamole is quick and easy to make with no chopping required. Add in all of the ingredients and blend until smooth and creamy! Your friends will be raving about this guacamole and asking you for the recipe at your next Cinco De Mayo fiesta!
I love serving this flavorful guacamole on Game Day, Cinco De Mayo, and Taco Tuesday.
If you are looking for condiment suggestions, our Roasted Salsa Roja is a crowd favorite. Don't forget Pumpkin Seed Crema. It's dairy-free and perfect on tacos.
Authentic Mexican guacamole contains avocados, cilantro, garlic, tomatoes, onions, jalapenos, and lime juice.
Instead of chopping everything by hand or using a mortar and pestle, we turn to the food processor. Not only is this recipe effortless, but it also turns out creamy and smooth guacamole.
If you are looking for a good quality food processor, I use Cuisinart 14-Cup Food Processor.
Jump to:
⭐️ Why you'll love this recipe
Using a food processor makes the preparation of guacamole quick and easy, saving you time and effort in the kitchen.
The food processor ensures that all the ingredients are evenly chopped and blended, resulting in a smooth and consistent texture in your guacamole.
Make this recipe ahead of time, so you can focus your energy on making tacos and fajitas for your fiesta!
Serve this delicious guacamole alongside my Spicy Mango Salsa for your taco bar.
🥘 Ingredient Notes
Look for avocados that are ripe but not overripe. They should have a little give to them when squeezed, but not feel mushy or soft.
Choose cilantro that is bright green in color. Avoid bunches that have yellow or brown leaves.
We use red onions for their mild and sweet flavor, but yellow onions are great too.
Rolling a lime on the table produces more lime juice.
We use ½ of a large jalapeno with the seeds for some kick.
See the recipe card for full quantities.
📖 Substitutions & Variations
Hass avocados are the most commonly used for guacamole due to their creamy texture and rich flavor, you can also try using other avocado varieties such as Fuerte or Reed, which have slightly different flavors and textures.
Lime juice adds a tangy flavor to guacamole, but you can also use lemon juice as a substitute if you don't have limes on hand.
Cilantro is a key ingredient in traditional guacamole, but if you're not a fan of its flavor, you can leave it out.
Fresh tomatoes are authentic in guacamole but you can omit them from the recipe if you like.
🔪 How to make guacamole in the food processor
Step 1: Choosing the right avocado. Before making epic guacamole, you'll need to know how to find the perfect avocado.
Try to find an avocado that is not rock hard but not soft and mushy. It should have a slight give to it.
If you can find avocados with the stem intact that is a good sign. Avocados without stems are prone to brown spots.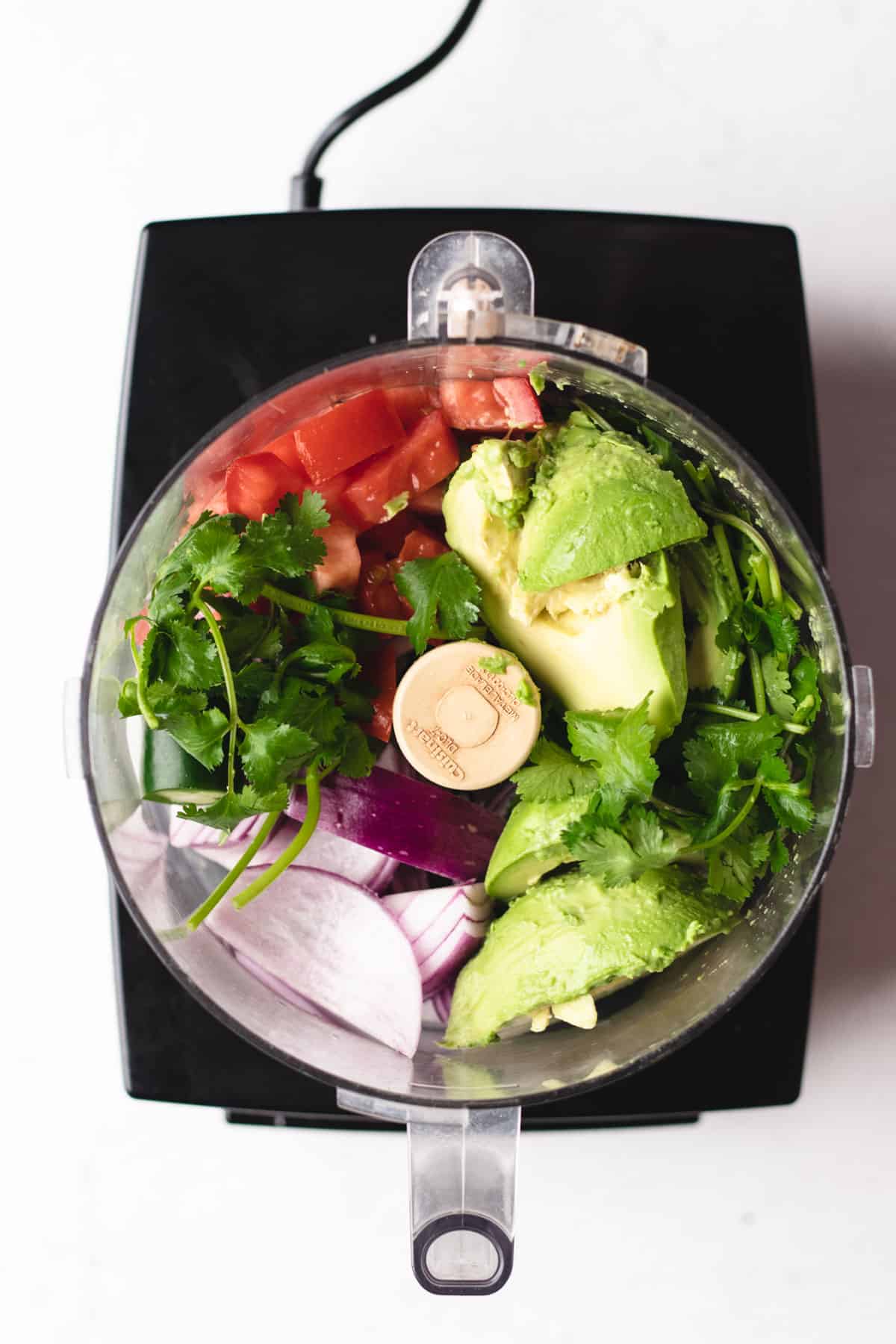 Step 2: Wait I don't need to chop anything? Yes, just put all of your ingredients into the food processor.
How do I remove the avocado seed? Hit the seed with the heel of your knife, then turn the knife clockwise to remove the seed.
Step 3: Make the guacamole creamy or chunky. Pulse the food processor until you reach your desired texture. We aimed for a smooth consistency but I know some people like chunky guacamole.
Tip - Pulse for 10-15 seconds then use a spatula to move things around. Keep on doing this until your guacamole is creamy and there are no avocado chunks left.
💭 Chef Tips
When picking avocados, make sure the stem is intact. If the stem is removed, the faster the avocado will turn. The perfect avocado should have a slight give to it.
This recipe makes smooth and creamy guacamole. Pulse the machine a few times for a chunky texture.
Roll the limes on your cutting board to release the juices. This will not only produce more lime juice but also makes it a lot easier to squeeze.
On my first attempt, I added too much red onion and lime juice resulting in a sour flavor. Instead of juicing a whole lime, I recommend adding 1 tablespoon of lime juice at a time.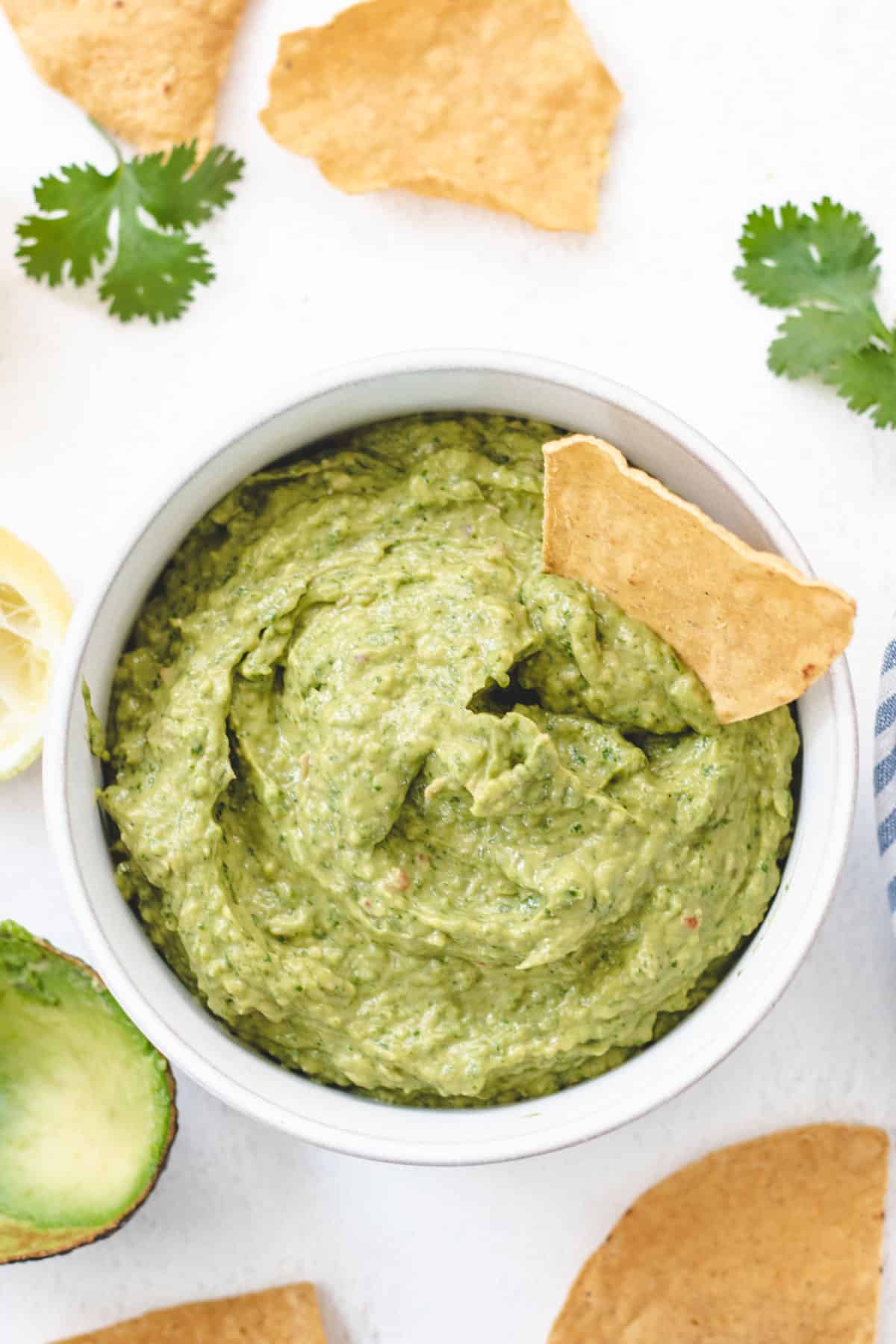 ❓Recipe FAQs
How do Mexican restaurants keep guacamole from turning brown?
Enlist the help of lemon or lime juice! The citric acid prevents oxidation which in return keeps the avocado from turning brown. Brushing avocados with olive oil works quite well too.
What is traditional guacamole made of?
Authentic guacamole is made in a Molcajete also known as a Mortar and Pestle. The ingredients consist of avocados, cilantro, lime juice, garlic, onions, and tomatoes.

Since we don't use a Mortar and Pestle, this recipe is not traditional but we use the same ingredients.
What do you eat guacamole with?
My short answer is guacamole goes with everything! I like to serve guacamole with tacos, fajitas, taco bowls, veggie sticks, or tortilla chips.

When following a Whole30 diet, I survive on homemade guacamole and carrot sticks!
💡Storage
Storing leftover guacamole: Transfer to a container and place plastic wrap directly on top of the guacamole and refrigerate. The direct contact will prevent the guacamole from turning brown.
Freezer: To freeze guacamole add an extra tablespoon of lime juice to preserve the green color. Place into a ziplock bag and press down to remove the air. Label and date your guacamole as it will keep for 3 months in the freeze.
🍽 Try these Cinco De Mayo Recipes!
Did you make this recipe? Leave a ⭐️ review below and tag @thefrizzledleek on Instagram, Facebook, and Pinterest!
📖 Recipe
Food Processor Guacamole Recipe
This quick and easy guacamole is made possible with the help of your food processor. No chopping is required, just dump your ingredients in and blend until smooth.
Ingredients
2

avocados

peeled and seeded

¼

red onion

½

jalapeno

remove seeds if you don't like it spicy

1

clove

garlic

1

roma tomato

1

cup

cilantro

or 1 bunch

3

tablespoon

lime juice

1

teaspoon

salt
Instructions
Cut the avocados in half and remove the seeds.  With a large spoon, scoop out the flesh and place it into the food processor with all of the ingredients.

Blend the guacamole until smooth and creamy.

Adjust seasoning if nessesary and serve with tortilla chips or tacos.
Notes
When picking avocados, make sure the stem is intact. If the stem is removed, the faster the avocado will turn. The perfect avocado should have a slight give to it.

Use the pulse button on your food processor to control the texture.

On my first attempt, I added too much red onion and lime juice resulting in a sour flavor. Instead of juicing a whole lime, I recommend adding 1

tablespoon

of lime juice at a time.
To keep guacamole from turning brown place a piece of plastic wrap directly on top to prevent oxidation. 
Nutrition
Calories:
172
kcal
|
Carbohydrates:
11
g
|
Protein:
2
g
|
Fat:
15
g
|
Saturated Fat:
2
g
|
Polyunsaturated Fat:
2
g
|
Monounsaturated Fat:
10
g
|
Sodium:
10
mg
|
Potassium:
576
mg
|
Fiber:
7
g
|
Sugar:
2
g
|
Vitamin A:
570
IU
|
Vitamin C:
19
mg
|
Calcium:
21
mg
|
Iron:
1
mg
DID YOU MAKE THIS RECIPE?
Leave a comment below and share a photo on instagram. Tag @thefrizzledleek and hashtag it #thefrizzledleek.