This easy one-pot salmon stew is based on a classic Turkish stew called Balik Pilaki. Cooked with tomatoes, potatoes, garlic, carrots, parsley, lemon, and olive oil.
I stumbled upon this recipe in one of my favorite cookbooks Two Chef's, One Catch. This book is packed full of the most amazing seafood recipes.
Growing up with meat and potatoes in the midwest, salmon stew seemed a bit odd to me. I have to admit this is one of my favorite one-pot meals. I am always looking for new ways to cook salmon, and this recipe does not disappoint.
The original recipe used red wine in the broth, so I replaced it with coconut milk. This substitution gave the stew a nice creamy mouthfeel. Feta cheese, fresh thyme, and lemon make this stew so delicious.
If you are a salmon lover like me, check out my salmon baked in foil. Curious what a food blogger keeps in his pantry? Check out my healthy pantry essentials.
Jump to:
What makes this easy one-pot salmon stew so good
One-Pot Meal: Clean-up is a breeze since you only need one pot for this salmon stew. I recommend using a large cast-iron skillet.
Root Vegetables: We used celery root, potatoes, carrots, and onions. Be creative and add your favorite veggies to this stew.
Feta Cheese: Not only does it make the stew beautiful, but the saltiness of the feta cheese makes this stew special.
Salmon Stew Ingredients
salmon
celery root
carrots
onions
tomatoes
garlic
lemon
bone broth
thyme
parsley
bay leaves
salt + pepper
How to make this recipe
Making one-pot salmon stew is so easy! Here's how to make it:
Slice salmon into 1-inch thick portions. I like to use king salmon for this recipe because it has a higher fat content, and it doesn't dry out as fast.
In a large pan, saute onions, carrots, celery root, and potatoes. Cook for a few minutes until vegetables begin to soften. Add 1 tablespoon of tapioca starch to help thicken the sauce. Make sure the heat is medium-low so you don't brown the veggies.
Add coconut milk, bone broth, garlic, red chili flakes, thyme, bay leaves, and lemon zest. Simmer for 7 minutes or until potatoes start to soften.
Nestle salmon fillets into the broth and cover with a lid or foil. Cook over medium-low heat until salmon is almost cooked through. 7-10 minutes.
Garnish the stew with feta cheese, lemon juice, and chopped parsley.
Substitutions
Salmon: Halibut, Sea Bass, Shrimp, and Artic Char make great swaps.
Celery Root: Parsnips, rutabaga, and turnips make a great replacement.
Tapioca Strach: You can also use arrowroot powder to keep it paleo. All-purpose flour works great too.
Feta Cheese: If you are dairy-free you can remove the cheese altogether. Queso Fresca is a great replacement for feat cheese.
Herbs: Tarragon, chives, and cilantro will compliment this salmon stew as well.
Variations
Spicy: For more of a kick, add 1 teaspoon of red chili flakes
Paleo: Remove the feta cheese from this recipe to make it paleo-friendly
AIP: Remove tomaotes, chili flakes, feta cheese, and black pepper. Add in more veggies like sweet potatoes, squash, kale, and spinach.
How to store and reheat salmon stew
Salmon stew is the best to enjoy fresh and hot! However, it's possible to store, freeze, and reheat.
How to Store: Cooked fish or seafood can be stored under refrigeration for 3-4 days. Refrigeration slows but doesn't prevent bacteria growth. It's important to eat within the recommended shelf life to prevent spoiling.
To Freeze: To further extend the shelf life of salmon stew, freeze in airtight containers or heavy-duty freezer bags. Salmon stew will last 4 to 6 months in the freezer.
To Reheat: Place in a microwave-safe bowl and cover with a damp paper towel to prevent splattering. Cook on 70% power for 5 minutes. To reheat in the oven, preheat to 325 degrees and place stew in an oven-safe dish. Cook, for 20 minutes or until heat through.
Pro Tips
Cut salmon into 1-inch thick fillets. If the fillets are too thick, it will take too long to cook the fish through.
When buying salmon, opt for Atlantic King Salmon. Coho wild salmon is very lean and tends to cook fast and dry out.
Make sure to cook the potatoes all the way through. If you don't let the sauce simmer long enough, the potatoes will be hard and not soft. I like to use baby potatoes that I cut in half. If you choose larger potatoes, cut them into smaller bite-size pieces for a faster cook time.
Use a large pan for this salmon stew. I like using this lodge cast-iron skillet since it has lots of surface area.
When adding salmon, cook gently. There is nothing worse than overcooked salmon. Check the doneness of the salmon 5 minutes into cooking.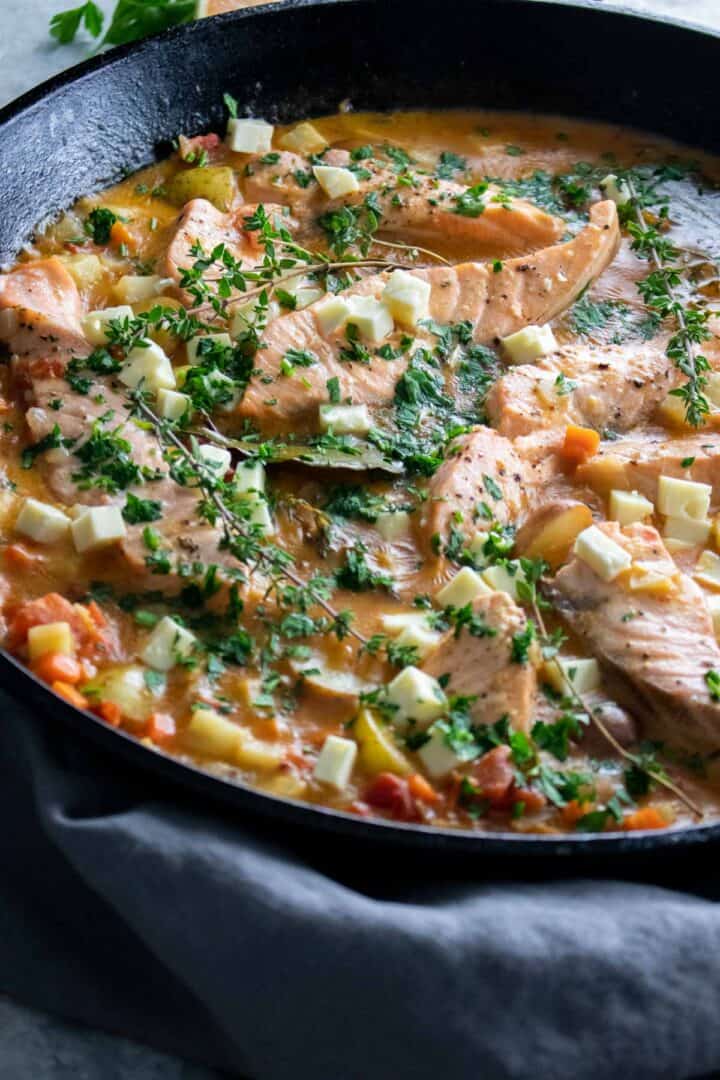 Frequently Asked Questions
Can you freeze salmon stew?
Yes, you can freeze salmon or seafood stews. Pop into airtight freezer containers and freeze for 4-6 months. This isn't a dish that freezes beautifully, and the texture may change when you reheat it.
How to thicken salmon stew?
In this recipe, we use a tablespoon of tapioca starch. We mix it in with the sauteed veggies which creates a roux and thickens the sauce. You can use arrowroot flour and all-purpose flour as well.
Can I substitute another fish for salmon?
Yes! Halibut, sea bass, shrimp, and artic char all make great swaps. Depending on the fish you select be mindful of the cooking time.
What type of vegetables can I use in the salmon stew?
Root vegetables work really well in stews. Parsnips, turnips, rutabaga, celery root, carrots, and potatoes. Dark leafy greens added at the end of cooking are great as well.
Other Great Recipes To Try
📖 Recipe
Easy One-Pot Salmon Stew
This one-pot salmon stew is a weekly dinner in our kitchen!  Slowly cooked salmon with root vegetables in a creamy tomato sauce is heavenly. 
Ingredients
1 ½

pounds

salmon

center-cut, skinless, boneless

2

tablespoons

extra virgin olive oil

1

cup

chopped onion

½

pound

small baby potatoes

washed, cut in half

1

cup

diced carrots

1

cup

diced celery root

1

tablespoon

tapioca starch

1 15-

ounce

can diced tomatoes

2

cloves

garlic

minced

1

cup

vegetable stock

1 15-

ounce

can coconut milk

⅛

teaspoon

red chili flakes

1

teaspoon

lemon zest

6

sprigs of fresh thyme

1

teaspoon

salt

½

teaspoon

black pepper

2

tablespoons

chopped parsley

½

cup

diced feta cheese

½

lemon
Instructions
Place salmon on cutting board.  Slice crosswise into 1-inch thick strips.

Add oil to a large skillet over medium heat.  Add onions, potatoes, carrots, and celery root.  Cook 6 minutes, stirring often.

Stir in tapioca starch to coat vegetables.  Cook 2 minutes, stirring constantly.  Add tomatoes, garlic, stock, bay leaves, red pepper flakes, lemon zest, and thyme.  Bring to a simmer.  Cook for 8 minutes over a low flame.  Season with salt and pepper.

Add salmon, nestling pieces into the vegetables until barely covered with liquid.  Return to a very low simmer.  Cover.  Cook for 8-10 minutes or until salmon is slightly underdone.

Remove from heat.  Sprinkle with parsley and feta cheese.  Squeeze lemon on top.
Notes
The length of time salmon takes to cook is dependant on the thickness of the fillets.  1-inch thick fillets should take 8-10 minutes to cook. 
DID YOU MAKE THIS RECIPE?
Leave a comment below and share a photo on instagram. Tag @thefrizzledleek and hashtag it #thefrizzledleek.