Hi there! Welcome to The Frizzled Leek. I'm Mike, your chef, recipe architect, food artist, and photography enthusiast for this culinary blog.
Here you'll find healthy and delicious recipes for the home cook. I highlight recipes using the Air Fryer, Instant Pot, Sous Vide, and traditional cooking methods.
Whether it's Gluten-Free Pumpkin Spice Pancakes for brunch or Air Fryer Filet Mignon for dinner, I aim to break down the recipes and make them approachable for the home cook to enjoy.
A Little Background About Me
Let's start from the beginning...
I grew up in a family that loves to cook. From an early age, I remember combing through cookbooks and testing those recipes out on my family and friends.
My favorite television shows were on the Food Network watching chefs like Tyler Florence make delicious meals. I would take notes and recreate those recipes in the pursuit of becoming a future chef.
During High School, I worked for a local personal chef helping him with high-end dinner parties and meal prepping for his clients.
After high school, I went to Hocking College in Ohio for Culinary Arts. There I learned the fundamentals of cooking.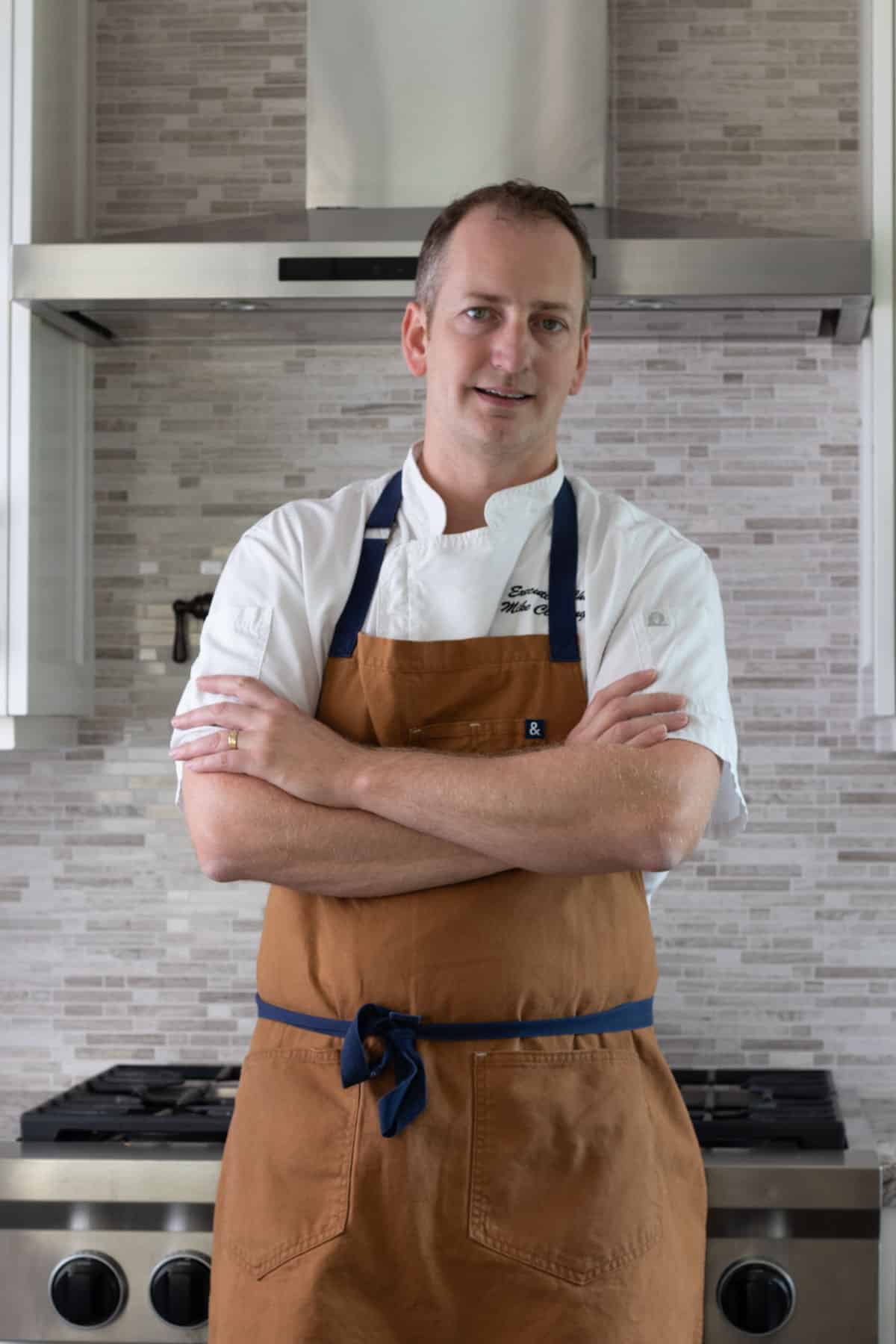 After Culinary Arts School I moved to sunny San Diego, California with my family. I worked in fine-dining restaurants, hotels, and resorts under some great chefs.
In 2021 I decided to start this blog to share my recipes and knowledge. I hope you enjoy these easy and delicious meals as much as my family.
What You'll Find On The Frizzled Leek
Reliable Recipes. All recipes are developed and tested in my home kitchen. I test the recipe multiple times to make sure you can master it too.
Approachable Recipes. Whether a straightforward recipe or one with multiple components, I guide you through the recipes with step-by-step photos and detailed instructions. Oh yeah, and I include lots of tips!
Recipes by Appliance. Learn how to make tried and true recipes in the Air Fryer, Instant Pot, and Sous Vide Machine.
More About Mike & The Blog
How did you come up with the name?
I wanted to come up with a name that was catchy and fun. When I was brainstorming I heard the name frizzled shallots, and I thought how about frizzled leeks instead? Frizzled leeks are a perfect garnish for meals like short ribs and pan-seared salmon.
What recipes do you recommend for someone new to sous-vide cooking?
First of all, I am excited you are here and want to try sous-vide cooking! I suggest starting out with the Sous Vide Beets, and Sous Vide Corn on the Cob recipes.
What recipe do you recommend for someone looking for a challenge?
If you are looking for a challenge give our Sous Vide Corned Beef Recipe a try. You'll need to pre-brine the corned beef before cooking in sous vide.
What camera gear do you use?
I currently shoot with a Cannon 80D. The lens I use is a Cannon f/1.4 50mm.
My Top Recipes
These are my favorite recipes on the blog! Whether they are Gluten-Free, Whole30, Breakfast, Mains, or Desserts I love them all.
I believe that the joy of cooking lies in its ability to connect people and cultures through the universal language of food. So, let's embark on this delicious journey together, where we'll explore new recipes, techniques, and fun sharing memorable meals with loved ones. I can't wait to have you as part of our culinary community, where every dish we create is a story waiting to be told.
Let's Stay Connected On Social Media