This egg-free mint chocolate chip ice cream is so rich and creamy! Spirulina is added as nature's green food coloring, and it doesn't disappoint.
So what's your favorite mint chocolate chip ice cream? I pick Breyers, and I would get so excited when I saw it appear in our freezer. The refreshing taste of mint paired with chocolate YUM!
Are you an ice cream lover like me? Ice cream obsession is probably not the healthiest hobby. Giving up this delicious treat altogether is not an option in my book. Searching for a healthy alternative can be tough, and let's face it there are not many good options at our local markets.
We came up with a no-egg mint chocolate ice cream that will blow your socks off. Are you pumped? Vegan, Paleo, egg-free, dairy-free, and refined sugar-free. This recipe was inspired by whatgreatgrandmaate.com. The base of this recipe is made from a combination of cashews, coconut milk, and maple syrup.
In this base recipe, I added peppermint extract, spirulina, and dark chocolate. This recipe is not as sweet as your traditional mint ice cream but after a couple of tastes, you might just prefer this one instead.
Jump to:
Why egg-free mint chocolate chip ice cream is so good
Sweetened with maple syrup. You will notice it's not as sweet as the original but that's is because we only at ¼ cup of maple syrup. After a couple of bites, you will like that this recipe is not loaded with a TON of sugar.
The texture is so creamy. It's amazing that ice cream without milk, eggs, and sugar is so creamy. To achieve this copycat texture we use cashews and coconut milk.
Natural green color. To replicate the classic green color of mint chocolate chip ice cream we used spirulina.
Ingredients
Coconut milk - only use full-fat coconut milk, the higher fat content makes this recipe so creamy
Cashews - make sure to use raw and unsalted cashews
Maple syrup - I like to buy mine in bulk at Costco, it's high-quality maple syrup
Peppermint extract - go easy on the extract, it's strong
Dark chocolate - use 100 percent cacao
Spirulina - blue-green algae found in the wild, in warm lakes, and oceans.
Salt - For Flavor!
Let's make egg-free mint chocolate chip ice cream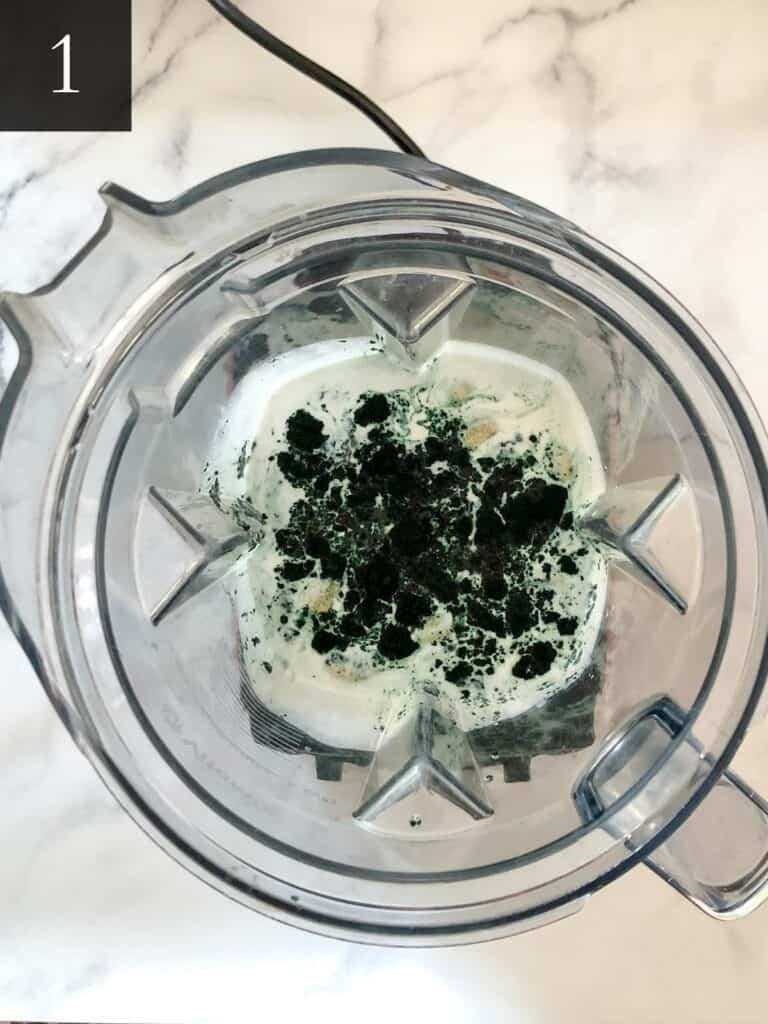 1. In a blender combine cashews, coconut milk, salt, peppermint, spirulina, and maple syrup.
2. Blend on high for 1 minute.
3. Pour into a stainless-steel bowl and refrigerate until completely chilled 1-2 hours.
4. Pour into your ice cream machine and churn for about 25 minutes. Refer to your ice cream maker for instructions.
5. Chop the dark chocolate into small bits and fold it into the ice cream mixture. Transfer to a loaf pan and freeze.
6. Let ice cream freeze for at least 12 hours. Enjoy!
Hint: Bread loaf pans make the perfect container to store your homemade ice cream.
Substitutions
Dates - if you are following the Whole30 you can swap out the maple syrup for fresh dates. Use ¼ cup of chopped dates and blend thoroughly with the coconut milk.
Fresh mint - if you have an endless supply of fresh mint on hand, use that. Bring 1 can of coconut milk up to a simmer and turn off the heat. Place 2 cups of fresh mint in the saucepan and steep, covered for 30 minutes. Strain the mint away from the milk and proceed with the recipe.
Chocolate chips - if you can't find dark chocolate at the market, chocolate chips make a great alternative and no chopping is required.
Variations
Avocado- for their creamy texture and green color. Remove the cashews and spirulina from this recipe.
Mint ice cream - just remove the chocolate and you have a shamrock mint ice cream.
Storage
Store mint chocolate chip ice cream in a loaf pan in the freezer. Wrap the whole container in plastic wrap to prevent freezer burn.
When serving let sit at room temperature for 5-10 minutes before scooping.
Pro Tips
Don't go crazy on the spirulina. When testing out this recipe, I used 1 teaspoon of this green powder and, it was too much. I dialed it back to ½ teaspoon, and that's the sweet spot.
Use full-fat coconut milk. For the creamy texture, the fat content of coconut milk and cashews are important.
Chill ice cream base before churning. The colder the base, the faster it will churn into ice cream.
Be generous with the chocolate. We use 4 ounces of chopped dark chocolate in this recipe. Every bite will be loaded with chocolate bits and pieces.
Let ice cream sit out at room temperature before serving. This late-night treat will be hard as a rock right out of the freezer. Let the ice cream sit out for 5-10 minutes before dishing up.
Frequently asked questions
What type of mint is used in mint chocolate chip ice cream?
Spearmint is milder in flavor than peppermint. Most extracts you find in the grocery store are peppermint. This recipe is made from peppermint but both are excellent choices.
What is spirulina made of?
Spirulina is made from blue-green algae. This green powder is rich in proteins, vitamins, and minerals. Fun fact - spirulina has 10 times more beta-carotene than a carrot.
Is there ice cream without eggs?
Yes! The combination of raw cashews, coconut milk, and maple syrup creates a delicious and creamy ice cream base. Everything goes into the blender, so there is no tempering of the eggs.
You might like these too...
📖 Recipe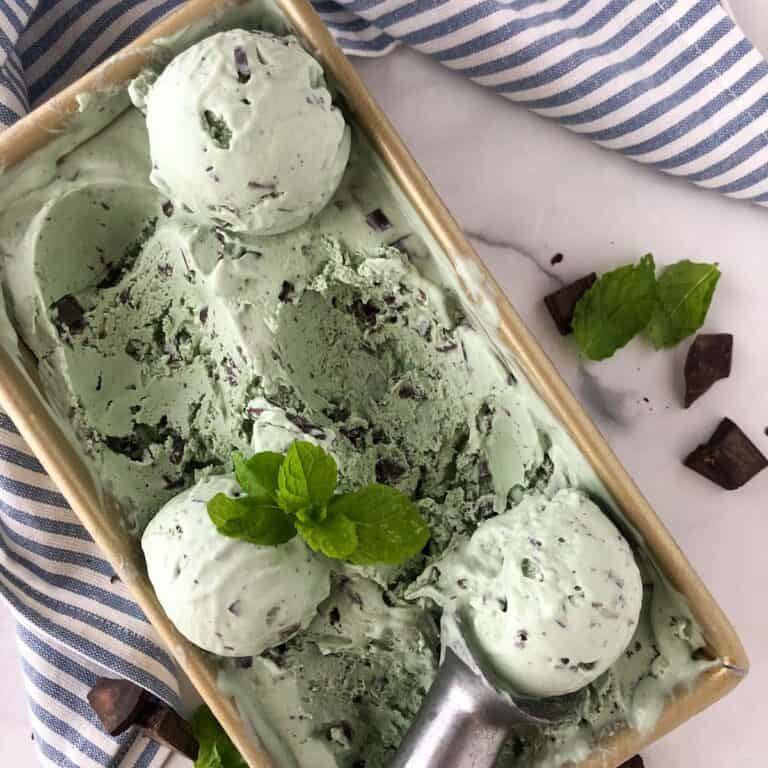 Egg-Free Mint Chocolate Chip Ice Cream
Egg-free mint chocolate chip ice cream has been a game-changer for me!  The moment I realized that you didn't need eggs to make ice cream was AWESOME.  Now you can enjoy a delicious ice cream that isn't loaded with sugar and weird ingredients. 
Ingredients
1

can coconut milk

¾

cup

cashews

raw

¼

cup

maple syrup

1

teaspoon

peppermint extract

½

teaspoon

spirulina

¼

teaspoon

salt

4

ounces

of dark chocolate

chopped
Instructions
In a blender, combine coconut milk, cashews, maple syrup, peppermint, spirulina, and salt.  Blend on high speed for 1 minute.

Pour ice cream base into a stainless-steel bowl and refrigerate for 1-2 hours.  

Transfer base into the bowl of your ice cream maker and churn for 20 minutes.  Check out your ice cream maker instructions. 

Chop the dark chocolate into medium-small bits and pieces.  Fold chocolate into the ice cream mixture. 

Transfer to a loaf pan and cover completely with plastic wrap.  Freeze for at least 12 hours before serving. 
Notes
Ice cream only has ¼ cup of maple syrup so it's less sweet than traditional ice cream recipes.
Only use ½ teaspoon of spirulina.
DID YOU MAKE THIS RECIPE?
Leave a comment below and share a photo on instagram. Tag @thefrizzledleek and hashtag it #thefrizzledleek.
Recent Recipes