These Air Fryer Slow Roasted Tomatoes are my new favorite snack! Roasted tomatoes make a great addition to any pasta, pizza, or side dish!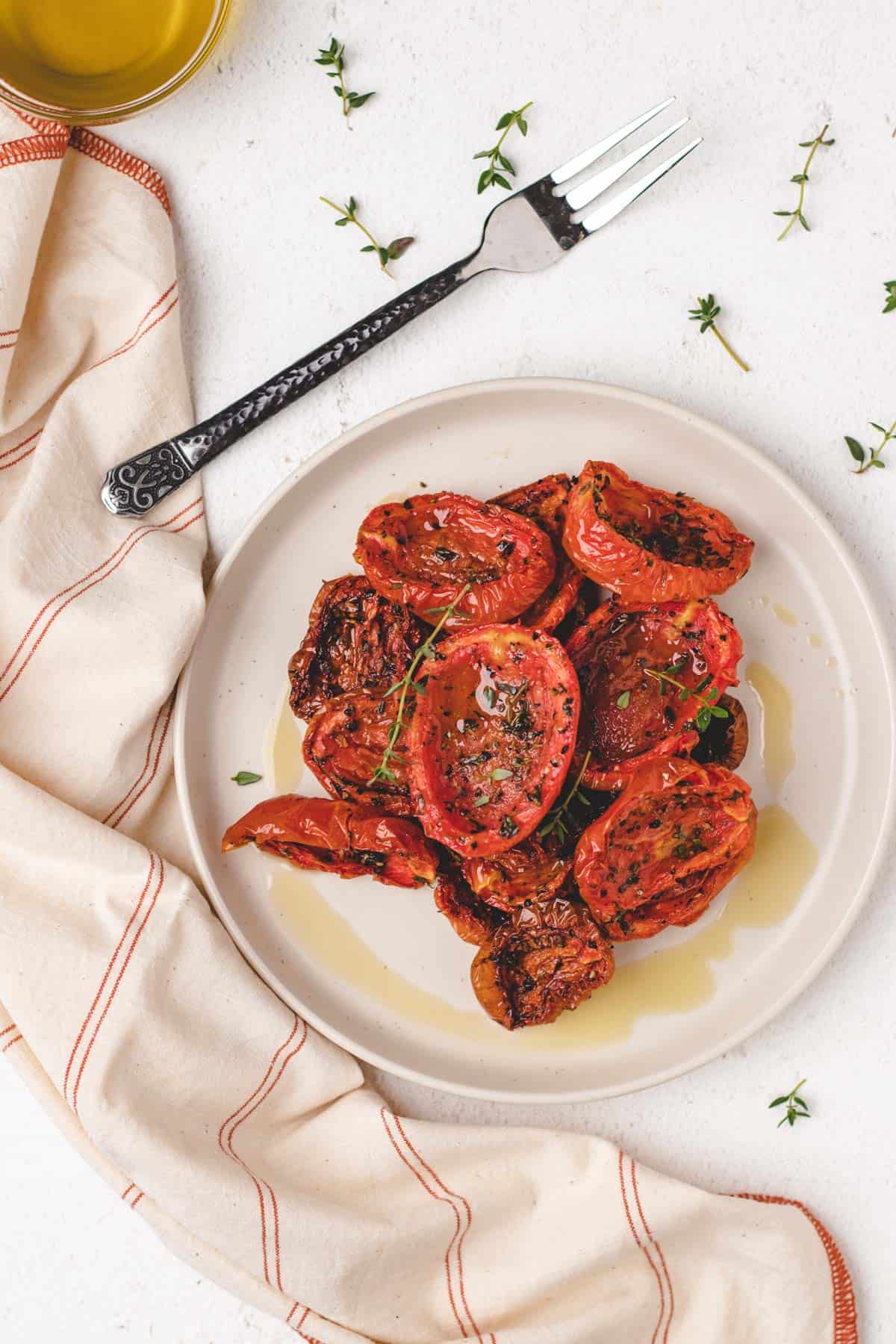 These easy roasted tomatoes make a great breakfast side dish or addition to any pasta like my Zucchini Pasta with Fennel Sausage.
The best way to cook tomatoes is low and slow. The two cooking methods we will show you are slow-roasting in the oven and air fryer. This is the Air Fryer I use in my kitchen.
Check out all of my delicious Air Fryer Recipes, especially the Crispy Air Fryer Sweet Potato Cubes.
Popular tomatoes to use are cherry tomatoes, Roma tomatoes, and tomatoes on the vine. I am using Roma tomatoes for the ideal shape.
I like to cut the tomatoes in half and scoop out the seeds with a cookie scoop. Leaving the seeds intact will increase the cooking time because of the water content.
For more vegetable sides check out my Sous Vide Corn On The Cob for a tasty suggestion.
Jump to:
Why you'll love this recipe
You can roast tomatoes whole, halved, or sliced. I halve my Roma tomatoes and scoop out the flesh with a cookie scoop.
Cut down on the cooking time with an air fryer. Achieve perfectly slow-roasted Roma tomatoes in only 1-hour. An oven takes 2-3 hours for the same results.
Stop tomatoes from going bad by slow-roasting them. What a great way to cut down on food waste!
Ingredients
When making roasted tomatoes, make sure to have these ingredients on hand.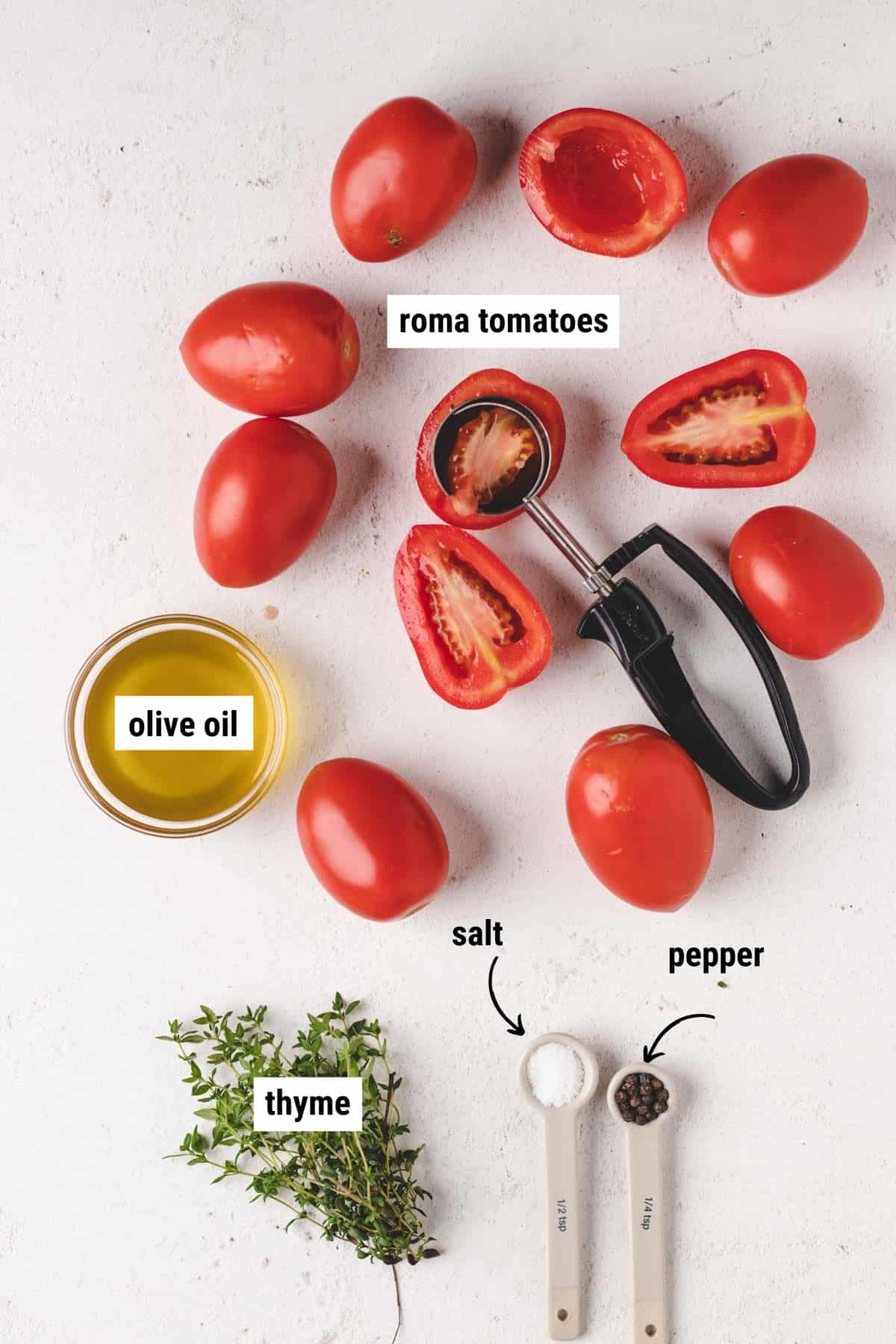 Roma Tomatoes - The tomato you choose is a personal choice. Many people opt for cherry or grape tomatoes for a quicker roasting time.
Extra Virgin Olive Oil- Use good quality olive oil for optimal flavor!
Thyme - I like using fresh thyme but dried thyme will work in a pinch. Dried herbs are a lot stronger, so use half the amount.

Substitutions and Variations
Tomatoes - A variety of tomatoes can be used, like Cherry, Grape, Roma, or heirloom tomatoes.
Seasoning - Experiment with herbs and spices. Herbs de province, basil, rosemary, and red pepper flakes are common.
Cooking Method - Roasted tomatoes can be made in toaster ovens, air fryers, traditional ovens, and slow cookers.
Temperature - You can roast tomatoes low and slow at a temperature of 250°F/121°C or roasted tomatoes at 400°F/204°C. Slow and slow will yield a sweeter-tasting tomato.
How to make slow roasted tomatoes in the air fryer
Oven-roasted tomatoes are great because you can cook a lot of tomatoes at one time, here's how to make them.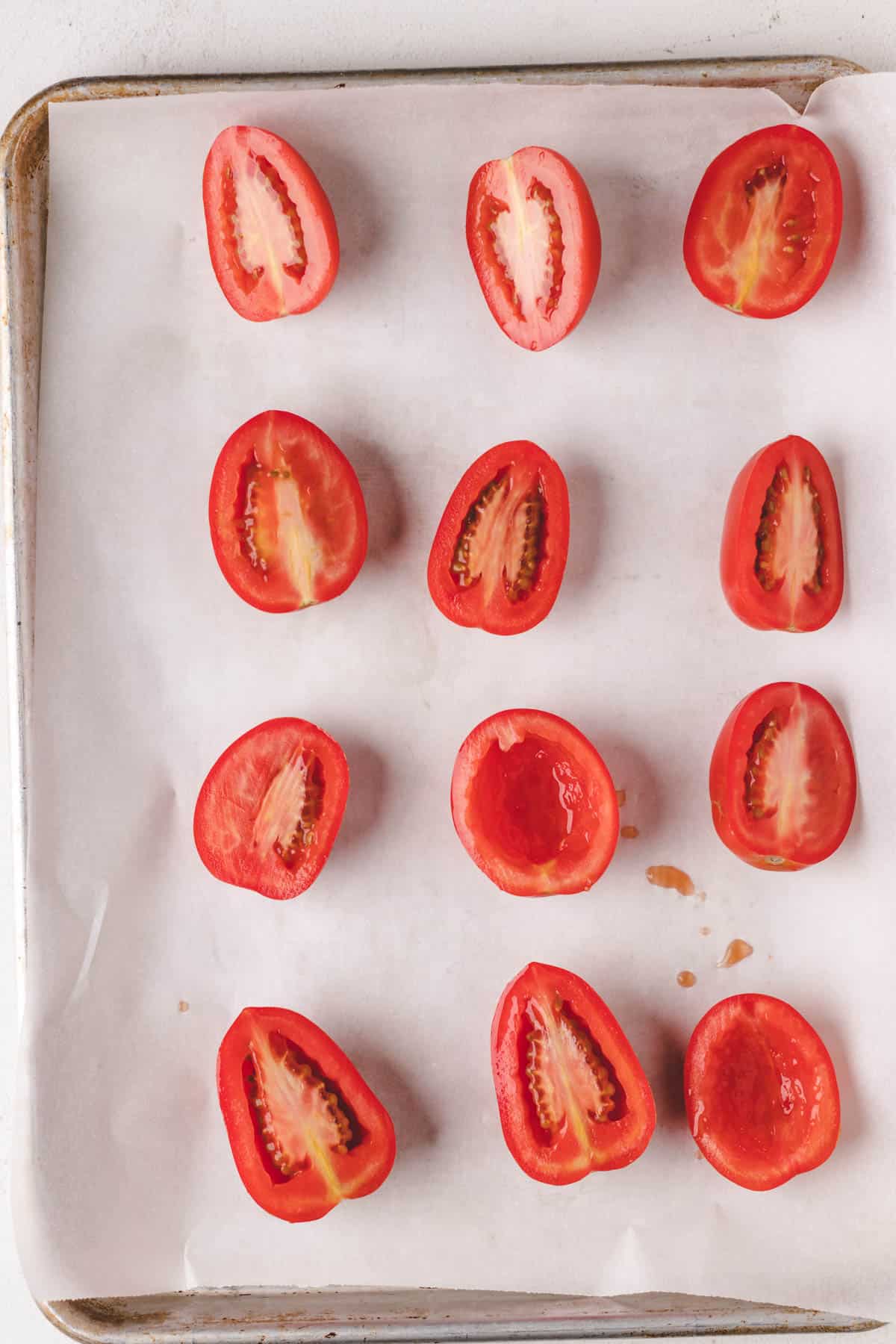 Step 1: Cut Roma tomatoes in half lengthwise using a serrated knife.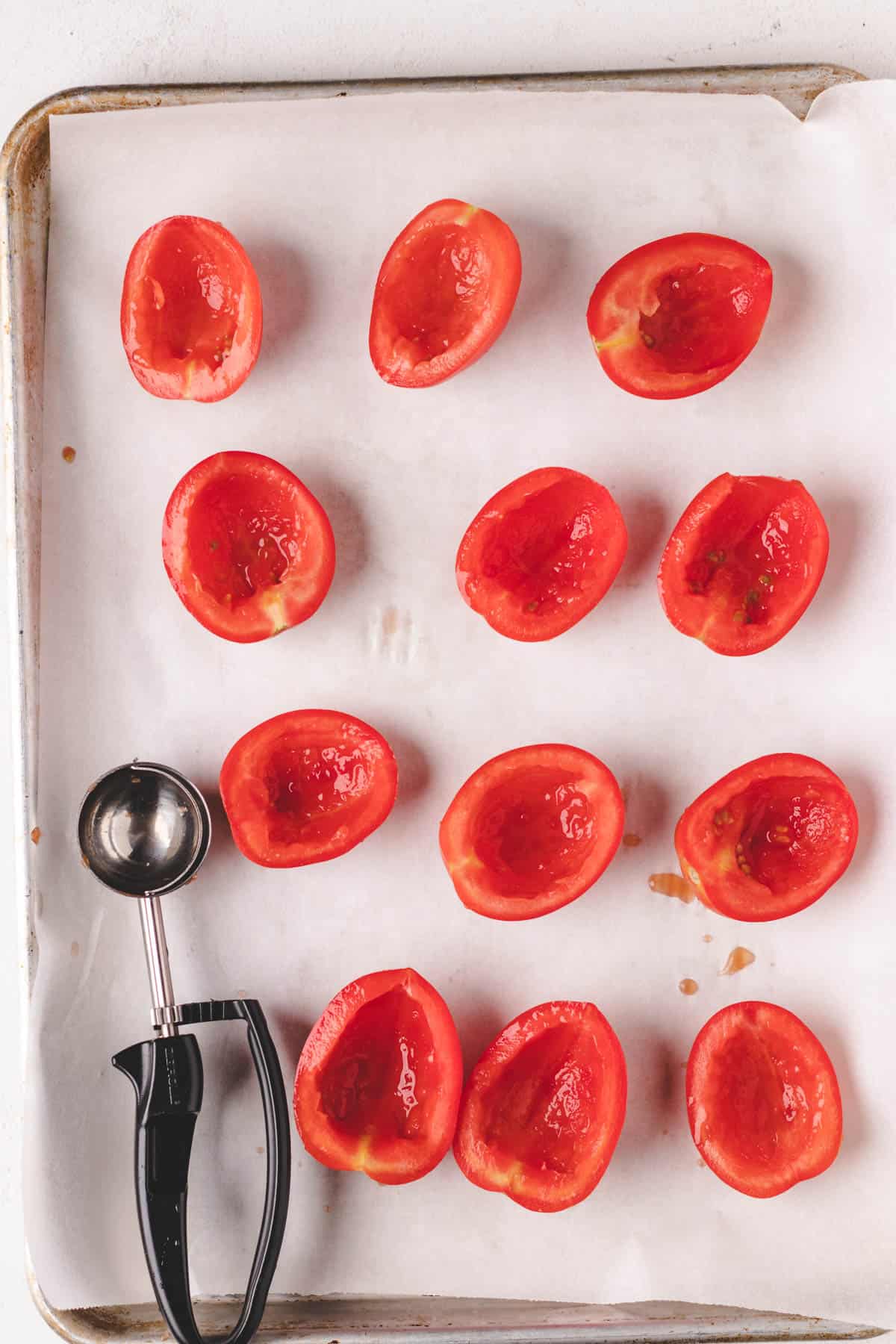 Step 2: Using a cookie scoop or spoon, scoop out tomato seeds. This step is optional, and you can leave the seeds intact.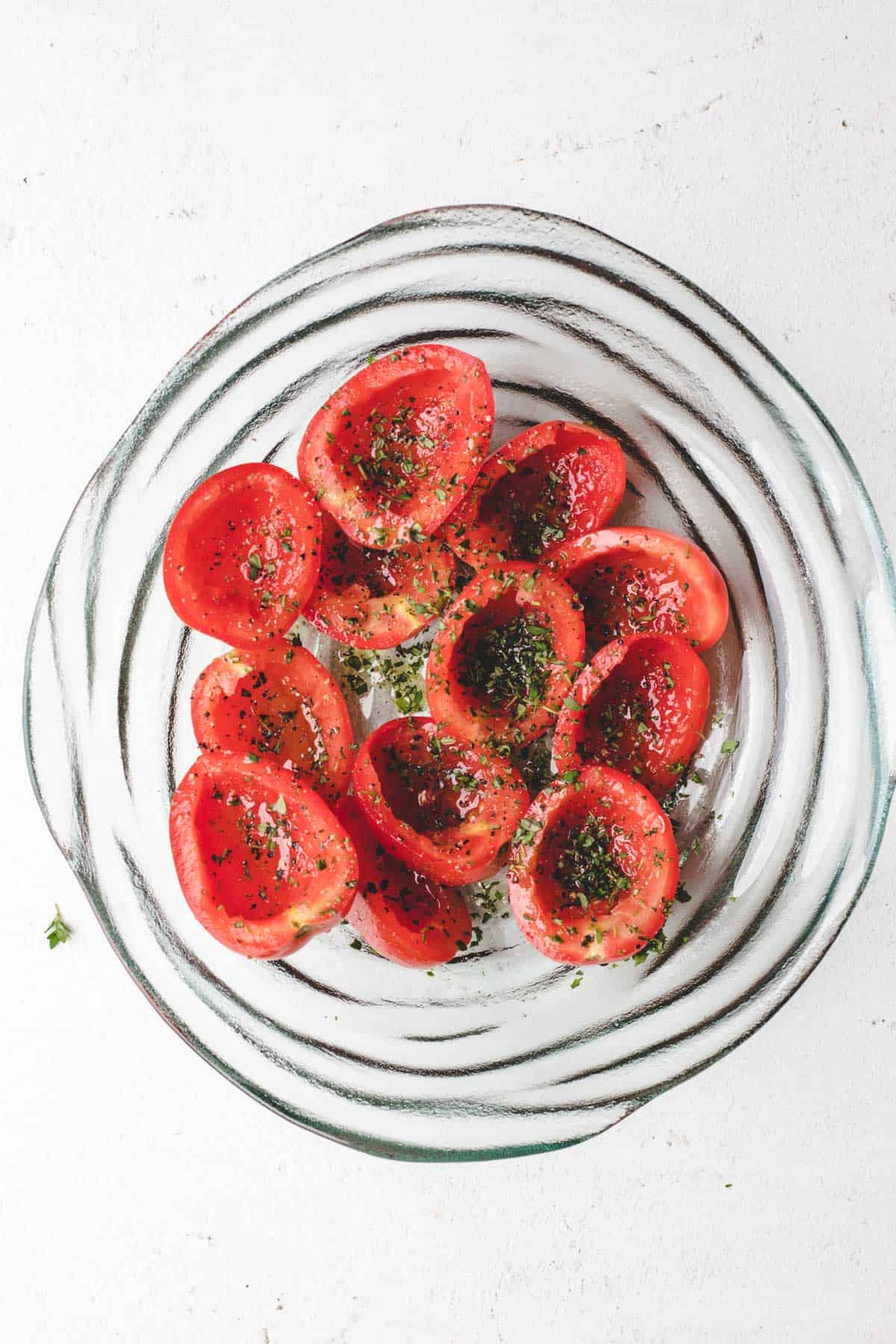 Step 3: In a large bowl, toss tomatoes with olive oil, fresh thyme, salt, and peppers.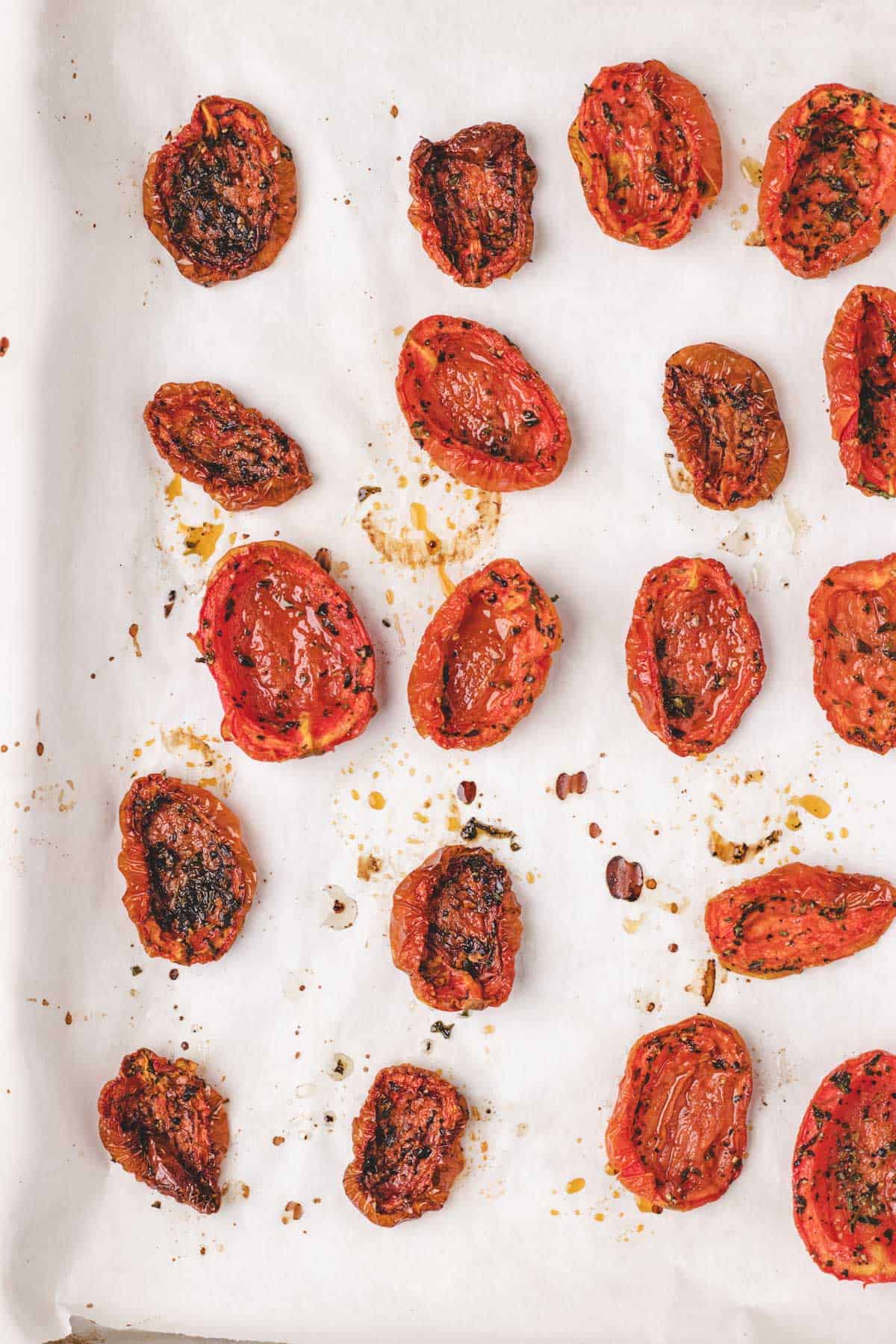 Step 4: Place Roma tomatoes on a parchment-lined baking tray, cut side facing up. Slow-roast tomatoes for 1-4 hours.
Air Fryer Instructions
Air fryer slow-roasted tomatoes are so easy to make, here's how to make them!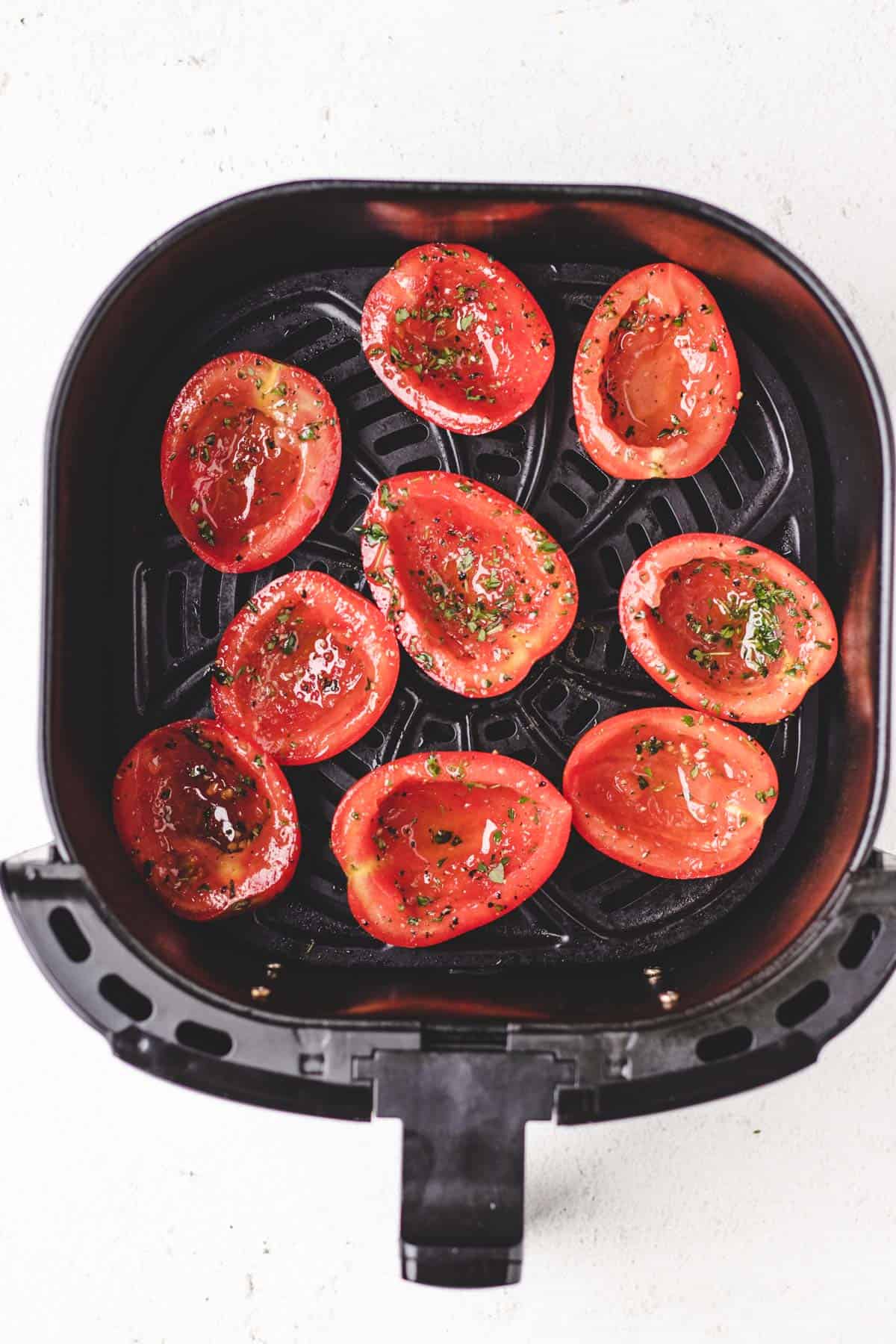 Step 1: Follow steps 1-3 above and place seasoned tomatoes in your air fryer basket.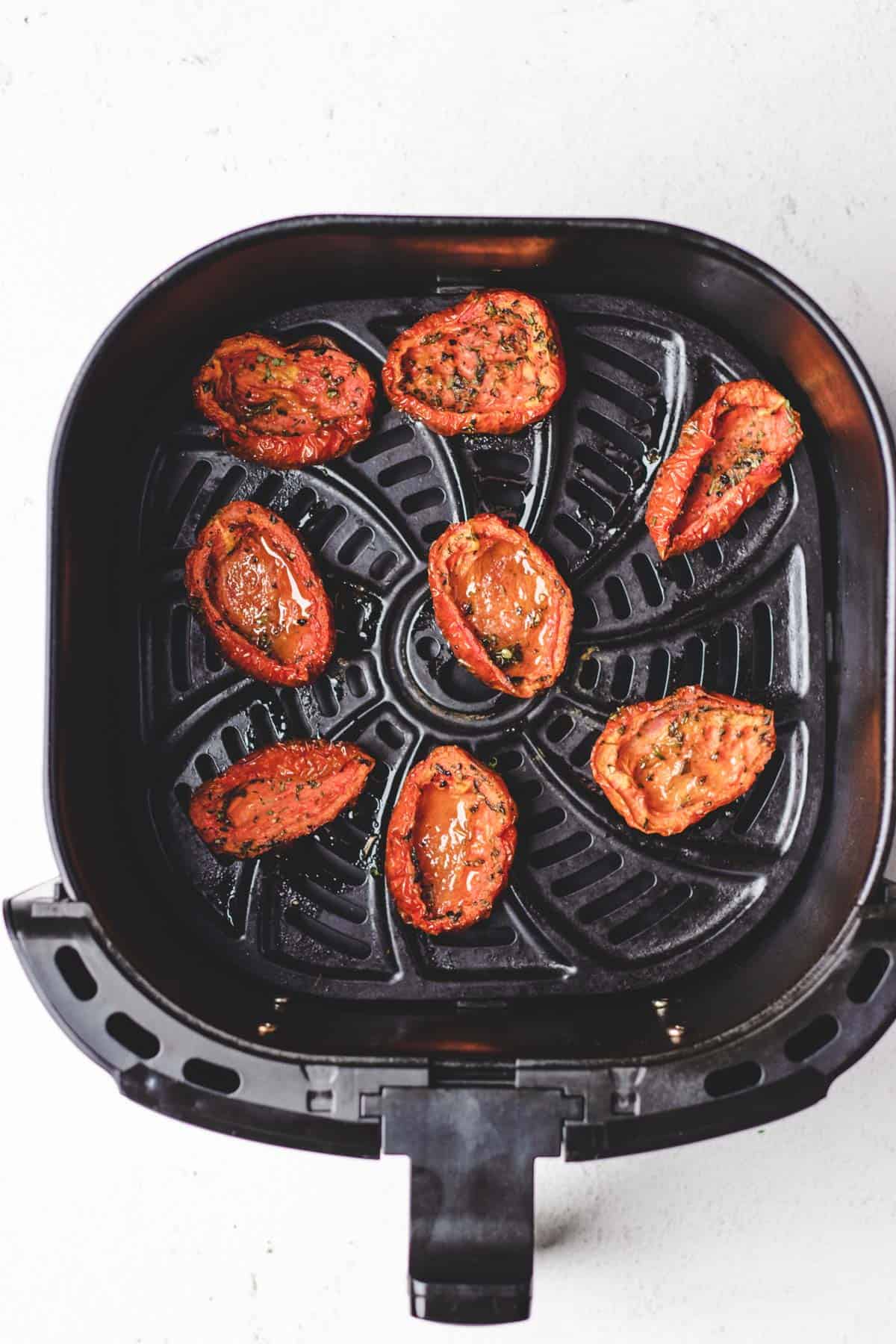 Step 2: Set the air fryer to 250°F/121°C, and cook for 1 hour.
Chef Tips
Place tomatoes in a single layer in your air fryer basket. It's okay if the tomatoes are touching, but you don't want to stack them.
Tomatoes are done when the edges of the Roma tomato shrink in size. The edges will start to curl.
Scooping out the seeds removes the excess water resulting in a sweet roasted tomato.
If you notice your tomatoes starting to turn, slow-roast them for other uses.
Roasted tomato's cooking time
Below is a visual of my experiment of roasting tomatoes in the oven. Look at the appearance of the Roma tomato as every hour passes.
1 hour - Tomatoes are tender but still haven't reduced in size.
2 hours - Edges are starting to curl and the tomato is reducing size.
3 hours - The Roma tomato is really starting to decrease in size and the tomatoes are becoming very sweet.
4 hours - All the water is removed from the tomatoes and they are starting to dry out.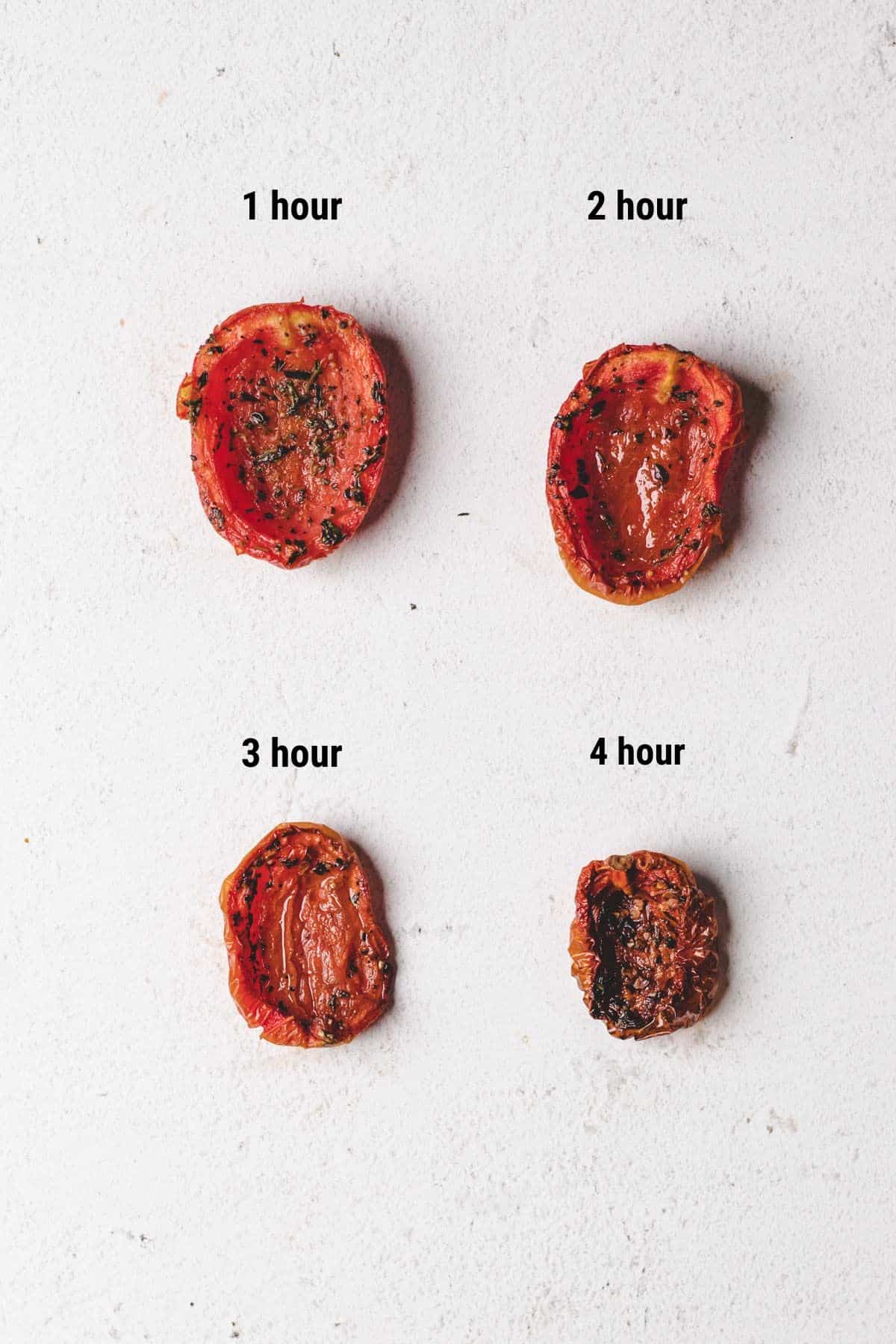 Tasting Notes - For the perfect roasted tomatoes I find that the 2-3 hour cooking time is the best. The tomato holds its shape and has an incredibly sweet flavor!
What can I make with roasted tomatoes?
Add slow roasted tomatoes to any pasta dish, especially zucchini noodles.
Chop tomatoes and top your flatbread or pizza with this yummy topping.
Add roasted tomatoes to a Mediterranean Bowl.
Recipe FAQ's
Are air frying tomatoes quicker to make?
Yes! It only takes me 1 hour to slow roast tomatoes at 250°F. Use an oven if you want to roast a lot of tomatoes at a time. tomatoes at once.
How long should you slow roast tomatoes?
For slow-roasted tomatoes, roast them in a 250-degree oven for 2-3 hours or in an air fryer for 1 hour to bring out the natural sweetness of the tomatoes.
What are the best tomatoes for roasting?
Roma, cherry, and grape tomatoes are the best. Large tomatoes like Roma and Beefsteak can benefit from having their seeds removed. I like using a spoon or portion scoop to do this.
Why should I slow roast tomatoes?
Slow roasting tomatoes bring out their sweet flavor! If you were to compare roasted tomatoes vs raw tomatoes, there is a big difference. Raw tomatoes taste more acidic than sweet.
Storage
Allow tomatoes to cool down to room temperature before storing them.
Refrigerate - Transfer tomatoes to an airtight container and refrigerate for up to 7 days.
Freezer - Place baked tomatoes on a sheet pan or large plate and freeze. Transfer to an airtight container and keep it in the freezer for 4-6 months.
Related Recipes
Did you make this recipe? Leave a ⭐️ review below and tag @thefrizzledleek on Instagram, Facebook, and Pinterest!
📖 Recipe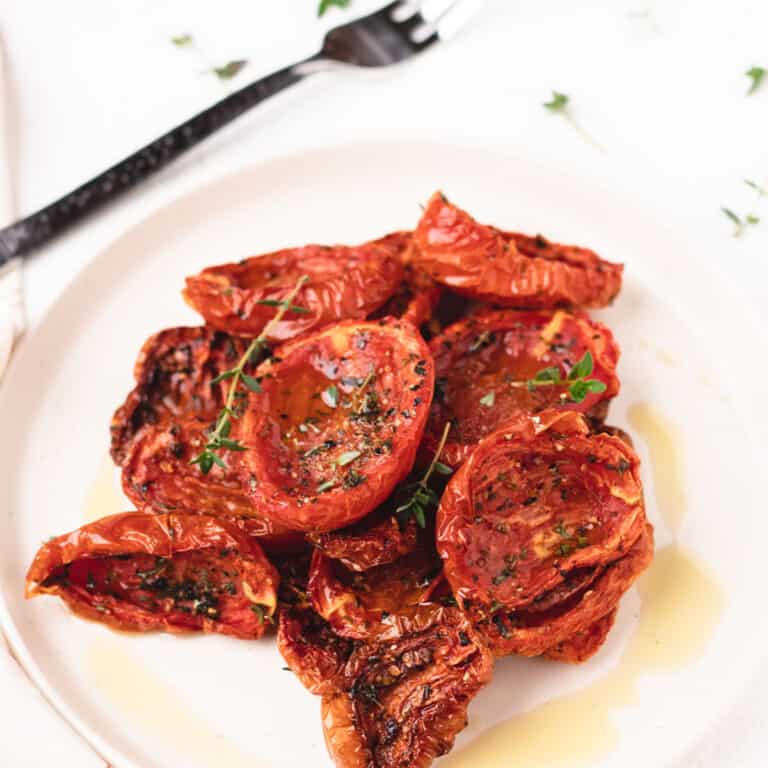 Air Fryer Slow Roasted Tomatoes
With only 5 ingredients, these Air Fryer Slow Roasted Tomatoes are flavor bombs!  You can use these tomatoes in so many different ways.  Throw them in your favorite pasta, appetizer, or salad. YUM!
Ingredients
2

pounds

Roma tomatoes

cut in half lenghwise

2

tablespoons

extra virgin olive oil

1

tablespoons

fresh thyme

chopped

½

teaspoon

kosher salt

cracked

¼

teaspoon

cracked black pepper
Instructions
Air Fryer Instructions
Preheat the air fryer to 250ºF/121ºC.

Cut tomatoes in half lengthwise. Scrape out the tomato flesh with a portion scoop. Toss tomatoes in a large bowl with olive oil, thyme, pepper, and salt.

Place tomatoes cut side up in the air fryer basket.

Cook for 1 hour or until the tomato edges start to curl up.
Oven Roasted Tomato Instructions
Preheat oven to 250ºF/121ºC.

Cut tomatoes in half lengthwise. Scrape out the tomato flesh with a portion scoop. Toss tomatoes in a large bowl with olive oil, thyme, pepper, and salt.

Place tomatoes cut side up on a parchment-lined sheet pan. Bake for 2-3 hours in the oven until the tomato edges curl up.
Notes
The size of your tomato determines how long to slow roast.  A large beefsteak tomato will cook a lot longer than small cherry or grape tomatoes.
Removing the tomato seeds will yield less watery tomatoes.  We like to use a cookie scoop to remove the seeds. 
Slow roasted tomatoes are great for pizza, pasta, and Mediterranean bowls. 
Nutrition
Calories:
165
kcal
|
Carbohydrates:
10
g
|
Protein:
2
g
|
Fat:
14
g
|
Saturated Fat:
2
g
|
Polyunsaturated Fat:
2
g
|
Monounsaturated Fat:
10
g
|
Sodium:
1175
mg
|
Potassium:
566
mg
|
Fiber:
3
g
|
Sugar:
6
g
|
Vitamin A:
2058
IU
|
Vitamin C:
37
mg
|
Calcium:
40
mg
|
Iron:
1
mg
DID YOU MAKE THIS RECIPE?
Leave a comment below and share a photo on instagram. Tag @thefrizzledleek and hashtag it #thefrizzledleek.