This Sous Vide Corn on the Cob Recipe is the best way to prepare fresh corn. Cooking this humble vegetable in sous-vide delivers an intense corn flavor and is ready in 30 minutes!
Jump to:
With so many ways to prepare fresh corn, which cooking method should you choose? Grilled, baked, boiled, and air-fried corn are great options, but we like the perfect texture of sous vide corn!
We use the Anova Sous Vide Precision Cooker for our recipes on the blog.
When summertime hits, this corn-on-the-cob recipe will be on repeat. For more BBQ suggestions, check out the Low Fodmap BBQ Sauce and our Deconstructed Burger Bowls.
You can cook corn unshucked for a different flavor profile (grassy notes). We decided to shuck the corn before cooking. Peeling hot corn on the cob is no fun!
For the best tasting corn, make sure to buy corn when it's in season. Typically harvest season is from June - September.
My preferred choice is white corn for its higher sugar content and softer texture, but yellow corn is delicious too!
⭐️ Why You'll Love This Recipe
With sous vide cooking, the corn is vacuum sealed, retaining its natural juices, resulting in a moist texture and buttery corn flavor. Give our Sous Vide Eggs Benedict a go for another tried and tru recipe.
No need to butter your corn before serving. The corn is cooked in a vacuum-sealed bag with butter, allowing it to absorb all the buttery goodness as it cooks to perfection.
Sous vide frozen corn is a game-changer when it comes to convenience and taste. By cooking corn frozen, sous vide ensures that every kernel retains its natural sweetness and vibrant color.
📝 Ingredients Notes
Here is a visual overview of the ingredients in this recipe. Scroll to the recipe at the bottom for quantities.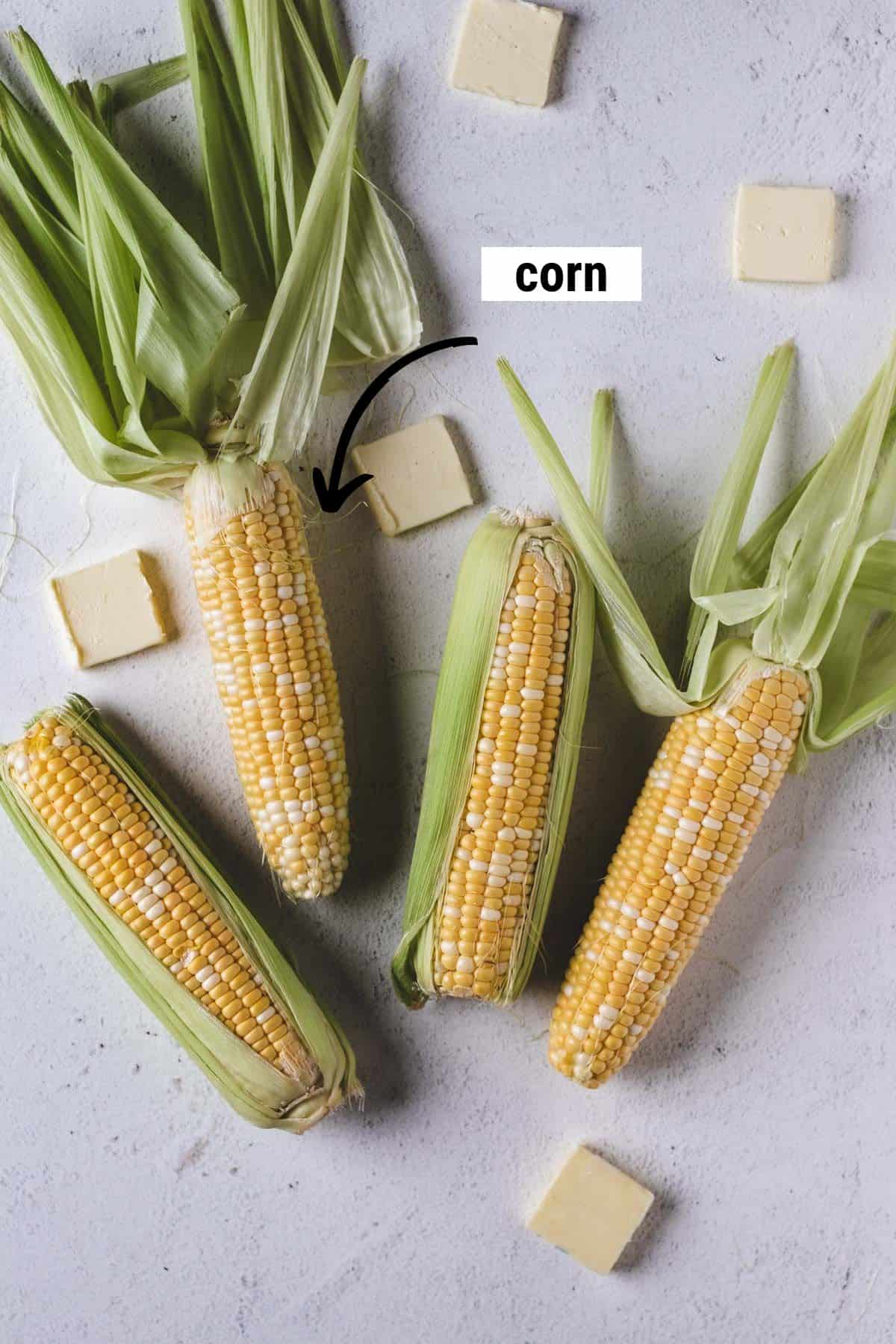 Corn - Look for corn husks that are bright green, these are the freshest cobs. Avoid selecting husks that show signs of yellowing or dryness.
Butter - By adding some butter to the sous vide bag, you can spread the corn flavor evenly. No need to add more butter since your corn has been basted in butter for 30 minutes.
Salt - This is completely optional, but adding a teaspoon of salt will bring out more flavor!
See recipe card for quantities.
🥘 Substitutions and Variations
Corn is a versatile vegetable that can be prepared in many different ways. Here are a few ideas to try!
Grilled Corn: Place ears of corn on a hot grill and cook until the corn kernels are golden brown and charred. You can grill corn shucked or unshucked.
Boiled Corn: Place ears of corn in a pot of boiling water for 5 minutes or until corn kernels are tender.
Air Fryer: Cook at 370°F for 12-15 minutes or until tender. Another great vegetable side is our Air Fryer Slow Roasted Tomatoes.
🔪 Step-By-Step Instructions
If you have questions about this sous vide corn-on-the-cob recipe, don't forget to check out our FAQ section at the bottom of this post.
Step 1: Preheat the sous vide machine to 182°F. Shuck the corn by peeling back the husk and removing all the little hairs.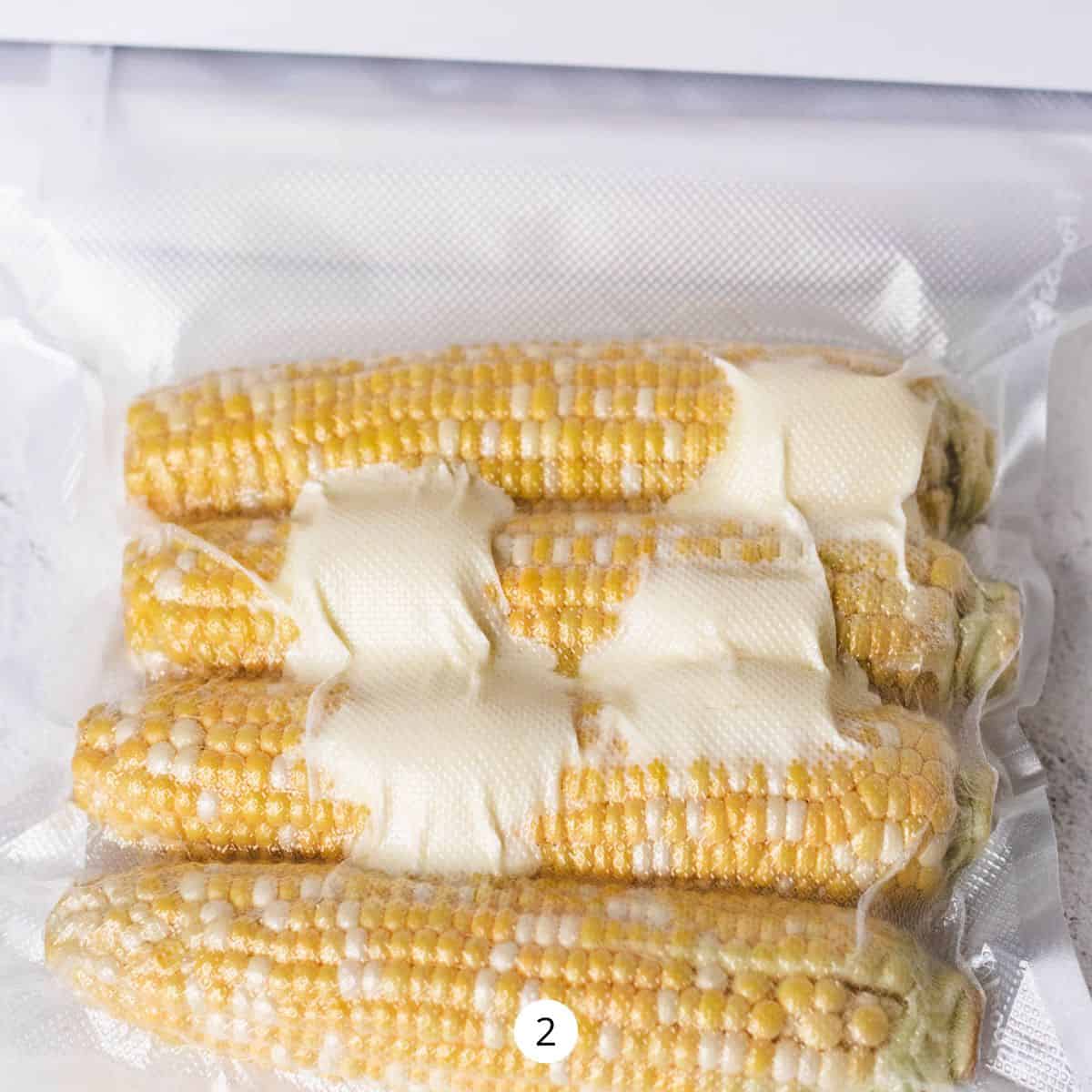 Step 2: Transfer the ears of corn to a ziplock bag or vacuum-sealed bag. Place butter and salt inside the bag and seal.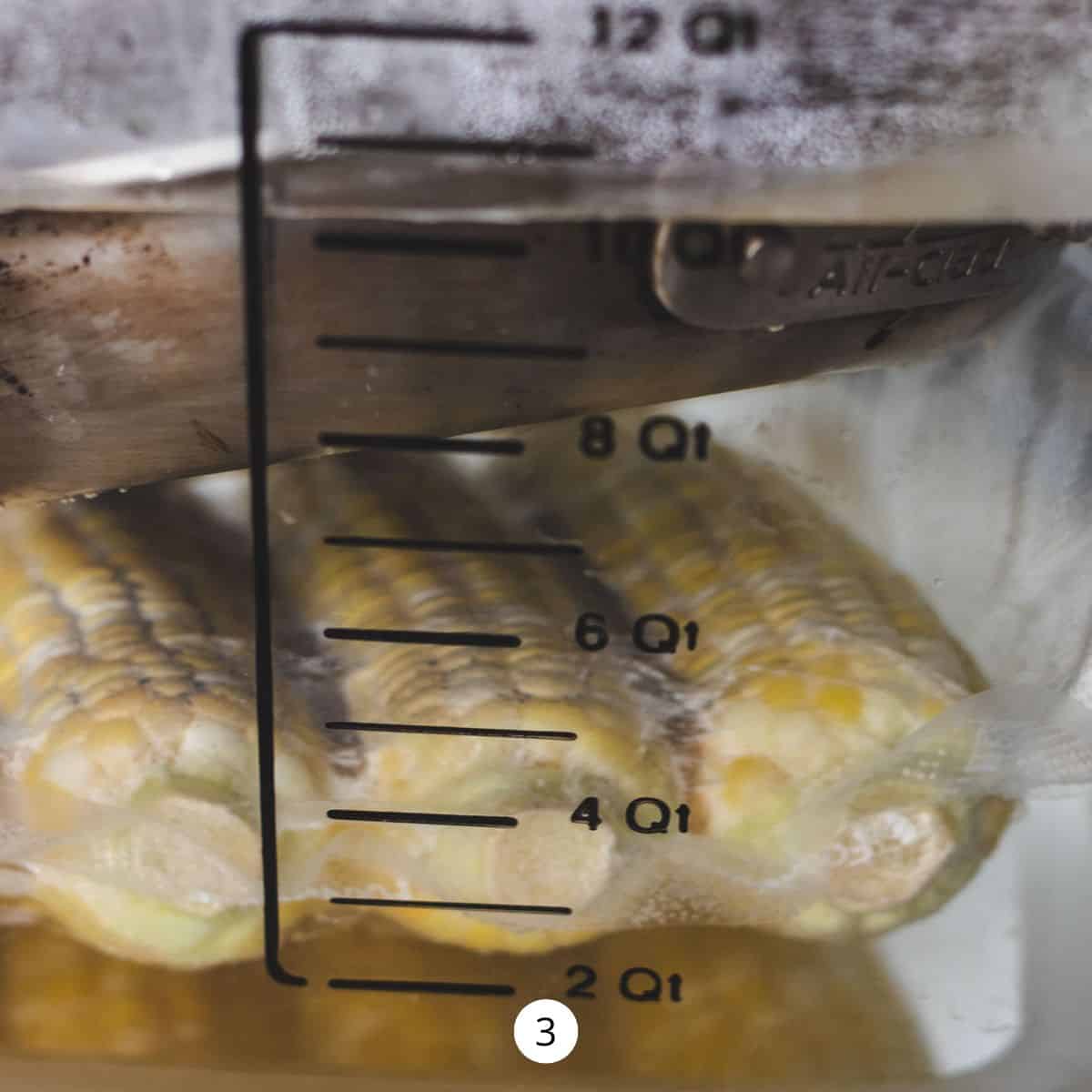 Step 3: Lower the bag of corn into the hot water bath (182°F) and weigh it down with a pan.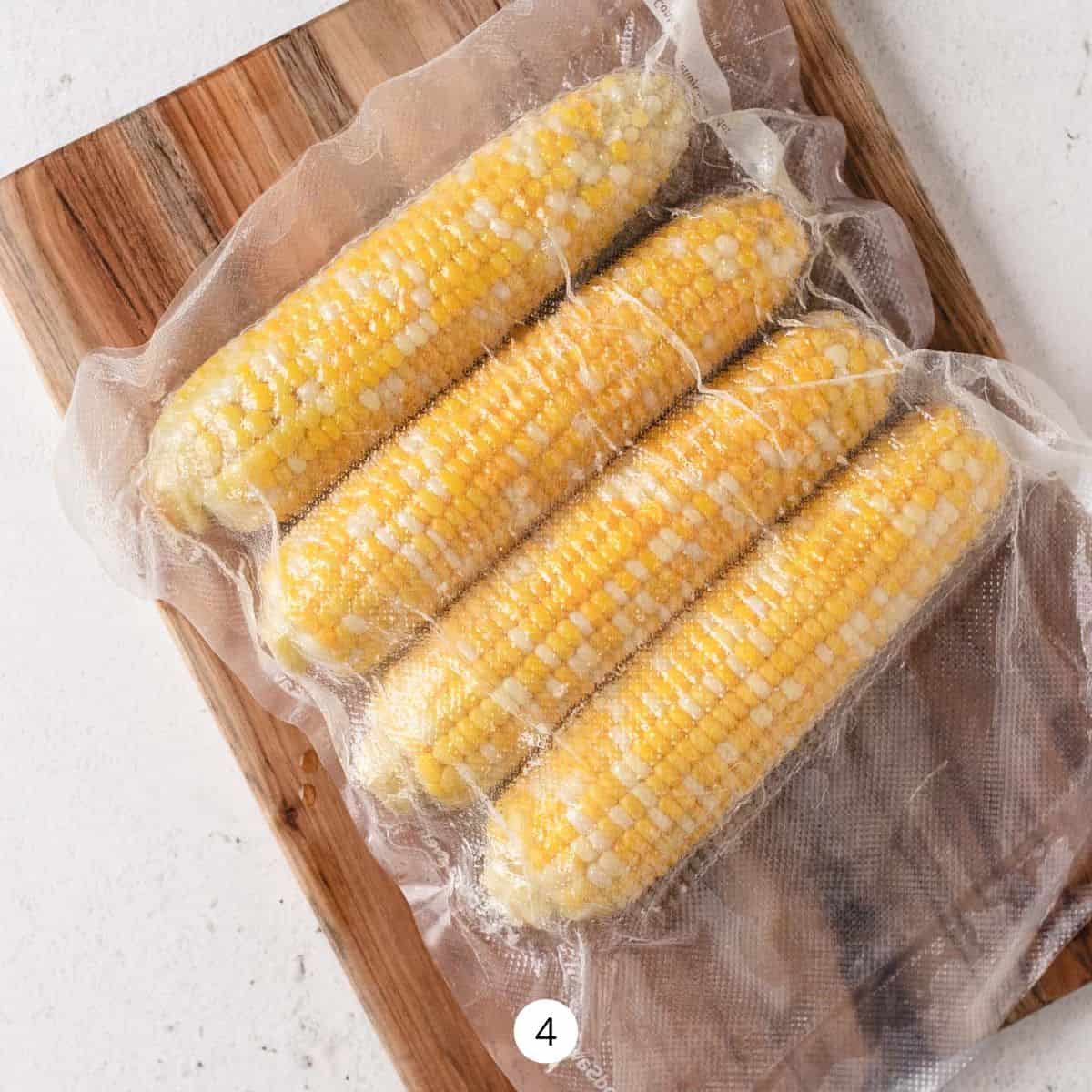 Step 4: The cooking time and temperature is 182°F for 30 minutes. Remove the corn, open the bag, and enjoy!
Ziplock Instructions - Place four ears of corn inside of the ziplock bag with four tablespoons of butter and one teaspoon of salt. Lower the bag in water using the water displacement method.
Use a pan or something heavy to keep the bag from floating. It's important to keep the ziplock bag secured to the side of your container about the water level to prevent water from entering your bag.
Vacuum Sealer Instructions - Grab a large vacuum-sealed bag (1 foot long). Place 4 ears of corn inside with butter and salt.
Insert the opened side of the bag into your vacuum sealer and suck the air out of the bag.
Submerge the bag into your hot water bath and weigh it down with a heavy pan. The bag doesn't need to be clipped to the side of the container.
👨🏻‍🍳 Chef Tips
The best time to buy corn is when it's in season, June through September. White corn is the sweetest, but yellow corn is great too.
To properly sous vide corn, cook it for 30 minutes at 182°F.
If you are serving a crowd, you can cut corn cobs in half with a sharp chef's knife.
It's best to eat corn as soon as possible for the best taste. Store ears of corn closely in the refrigerated and not stacked on top of each other.
The corn will float if you don't weigh it down, just like our Sous Vide Scallops. I find that a small metal saute pan works the best.
What To Do With Corn On The Cob
Corn is a very versatile vegetable to use in many recipes! Let's explore some different ways to use it.
Mexican Street Corn - Give corn a slight char on the grill and coat it with Paleo Mayo, cilantro, chili pepper, and cotija cheese.
Corn Sauce - If you overcook your corn, simmer it in heavy cream or coconut milk and blend it into a puree.
Corn Chowder - Remove the corn from the cob and turn it into a creamy corn chowder soup.
Salads - I love to use corn in several different salads. This Mexican Street Corn Salad is so good!
Vegetable Side - Serve corn as a side dish for any protein. Looking for more side dish suggestions? Try our Sous Vide Beets that pair perfectly with fish!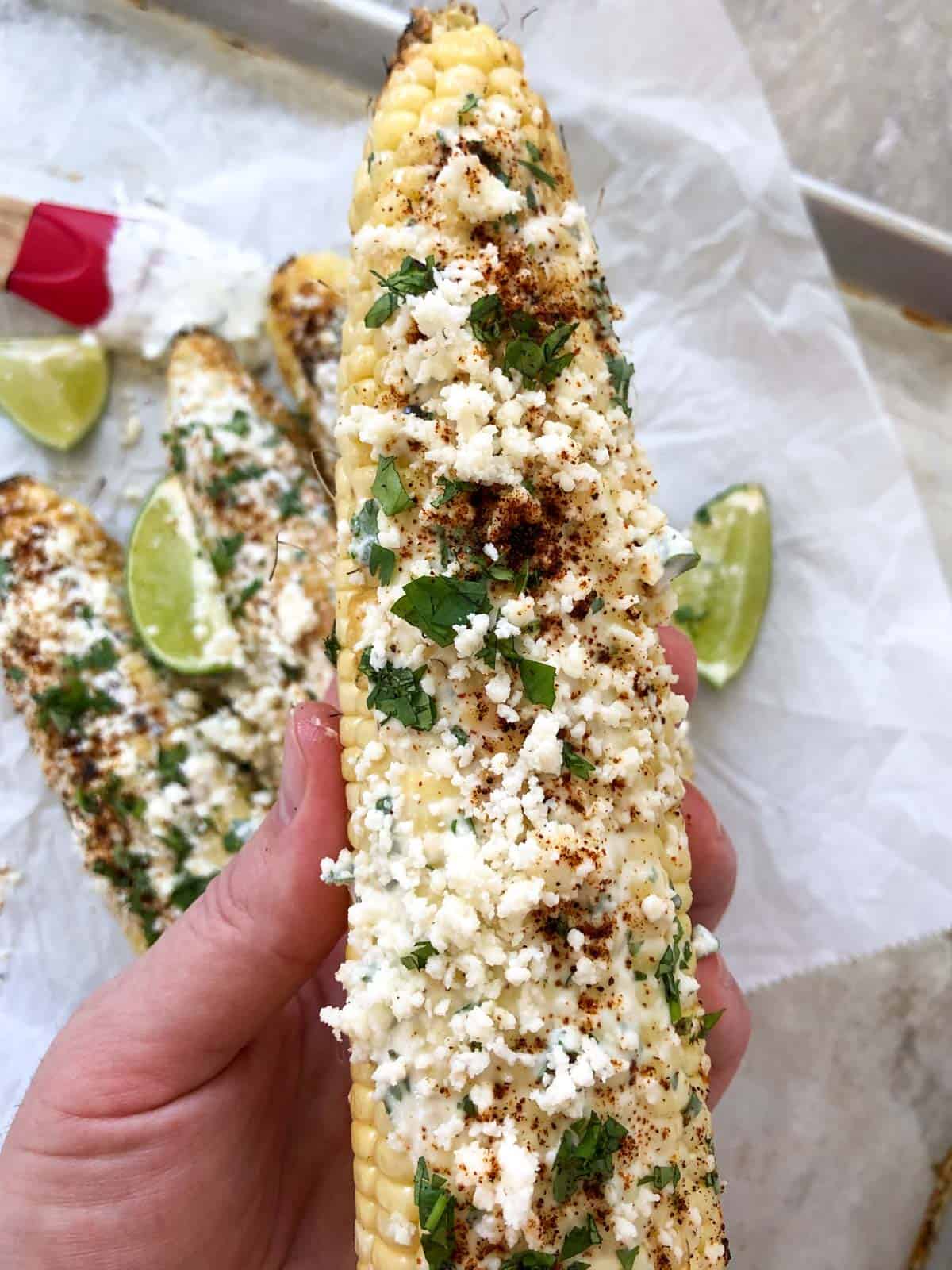 ❓Recipe FAQs
How do you keep the corn from floating?
Corn cobs are light and float in water naturally. To counter this, simply place a substantial weight on top of the bag, such as a large plate or a bowl, to keep it submerged.
Can you freeze sous vide corn on the cob?
Yes! After removing the corn from the water bath, transfer it to an ice bath for rapid cooling. Once completely chilled, you can store the corn in the freezer for a period of 6 to 12 months, ensuring it remains delicious for an extended duration.
How long does it take to sous vide corn on the cob?
Sous vide corn on the cob typically takes about 30 minutes to cook. Timing may vary depending on your preferred level of doneness.
What if my sous vide corn is overcooked?
In terms of sous vide cooking, if you follow the correct time and temperature, you'll avoid overcooking your corn. If you leave corn in for too long, the corn kernels will eventually break down and lose its texture.

If your corn is overcooked, consider blending it with a touch of cream to create a corn puree. Alternatively, you can use it as a key ingredient in a hearty corn chowder.
🍽 Related Recipes
Did you make this recipe? Leave a ⭐️ review below and tag @thefrizzledleek on Instagram, Facebook, and Pinterest!
📖 Recipe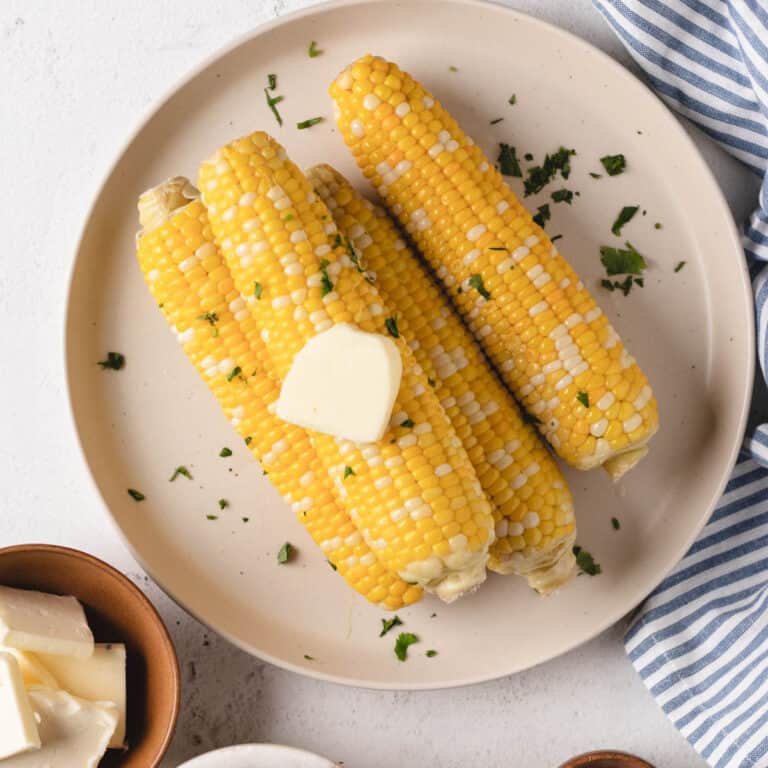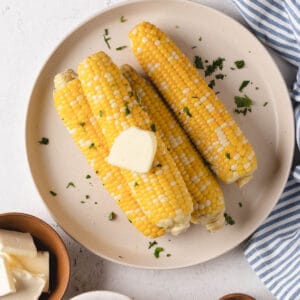 Sous Vide Corn On The Cob
This Sous Vide Corn on the Cob Recipe is the perfect way to prepare this summer vegetable! For perfectly cooked corn that is poached in butter, give this recipe a go!
Ingredients
4

ears of corn

shucked

4

tablespoons

butter

1

teaspoon

salt
Instructions
Preheat the sous vide machine to 182°F.

Place corn into a ziplock or a sous vide bag with butter and salt. If you have a vacuum sealer, seal the bag to remove any air. If using a ziplock bag, use the water displacement method and clip the bag to the sides of your container.

Lower the bag into the hot water batch and place a heavy pan on top to keep the bag submerged.

Cook for 30 minutes at 182°F. Remove corn from the sous vide machine and enjoy!
Notes
If the corn floats to the surface, place a heavy pan on top to keep the bag submerged under water. 

When buying fresh corn on the cob, pick the ones with tightly wrapped green husks. 

After cooking the corn, you can place it on the grill if you like your corn charred. 

Don't leave corn in the hot water bath for too long because it can overcook. If this happens, you can use it for a corn sauce or corn chowder. 
Nutrition
Calories:
87
kcal
|
Carbohydrates:
18
g
|
Protein:
3
g
|
Fat:
2
g
|
Saturated Fat:
1
g
|
Polyunsaturated Fat:
0.5
g
|
Monounsaturated Fat:
1
g
|
Trans Fat:
0.01
g
|
Cholesterol:
2
mg
|
Sodium:
611
mg
|
Potassium:
263
mg
|
Fiber:
2
g
|
Sugar:
6
g
|
Vitamin A:
193
IU
|
Vitamin C:
6
mg
|
Calcium:
19
mg
|
Iron:
0.5
mg
DID YOU MAKE THIS RECIPE?
Leave a comment below and share a photo on instagram. Tag @thefrizzledleek and hashtag it #thefrizzledleek.