Fall is in the air, and so are my Healthy Pumpkin Muffins! Maple syrup, gluten-free flour, and pumpkin spice make this recipe a fall favorite.
When summer comes to an end, we welcome everything fall! Local grocery stores have large bins of assorted pumpkins, spices, beer, and bread.
One of my favorite recipes on the blog is the Gluten-Free Pumpkin Spice Pancakes. It's perfect for a delicious fall breakfast.
Maple syrup and my homemade gluten-free flour make this recipe paleo-friendly.
I love these muffins because the tops are so fluffy, soft, and pillow-like. After you sink your teeth into my healthy pumpkin muffins, you will love the texture. Soft and chewy with just the right amount of pumpkin spice!
For more seasonal treats check out all of my baking recipes for ideas! I suggest giving the Sweet Potato Souffle, and Gluten-Free Cinnamon Rolls a try.
Jump to:
Why are these healthy pumpkin muffins so good?
A small amount of applesauce keeps the muffins moist.
Maple syrup adds a hint of vanilla and caramel flavor, which trumps granulated white sugar.
We use the perfect amount of pumpkin spice, so the flavor is not overpowering.
Ingredients
Pumpkin spice - A spice blend of cinnamon, cloves, ginger, and nutmeg
Gluten-Free Flour - Bobs Red Mill Gluten-Free Flour is great in this recipe
Cream of Tartar - Used as a leavening agent which causes expansion in baked goods
Eggs - Make sure eggs are at room temperature
Pumpkin - Use 100% pumpkin. Some canned pumpkins have added sugar and spices.
Maple Syrup - Natural sweetener with hints of vanilla and caramel flavors
Vanilla - For flavor!
Baking soda - Gives the pumpkin muffins a lift
Salt
Applesauce - The reason why these muffins are so moist!
HOW TO MAKE THESE HEALTHY PUMPKIN MUFFINS
In a large bowl, mix dry ingredients: flour, spices, cream of tartar, baking soda, and salt.
In a separate bowl, whisk together pumpkin, eggs, vanilla, applesauce, and maple syrup.
Add dry ingredients to the wet and mix.
Make sure the pumpkin batter is smooth and lump-free.
Line the muffin tin with muffin liners. Portion the pumpkin batter to the top so you will have tall and fluffy muffins.
Bake for 25 minutes in a 350-degree oven.
Substitutions
Butternut Squash - Roast frozen or fresh butternut squash in the oven to draw out the moisture. Puree in a blender or food processor.
Sweet Potato - Roast raw sweet potatoes to bring out their sweet flavor and puree. Use 1:1 in place of pumpkin.
Acorn Squash - You can use any variety of squash instead of pumpkin. We prefer butternut squash or acorn squash for their vibrant color and sweet flavor.
Variations
Streusel - combine almond flour, ghee, coconut sugar, and cinnamon for the perfect muffin topper.
Maple Icing - combine powdered maple sugar, maple syrup, coconut milk, and vanilla to jazz up your muffins.
Banana - the combination of banana and pumpkin creates a moist and flavorful muffin without being too sweet
Storage
Store muffins for up to 4 days at room temperature. Place into an airtight container or a ziplock bag.
Laying a paper towel over the top of the muffins prevents them from becoming soggy.
Freezing muffins in a ziplock bag is a great option. Bring to room temperature before eating.
Recent Recipe Video
Pro Tips
Fill the batter up to the top. To achieve the fluffy muffin top, be generous with the pumpkin batter. A good rule of thumb is the fill the liners ¾ of the way.
Bring eggs to room temperature. Using cold eggs will result in a longer cooking time. Room-temperature eggs cook more evenly.
Never refrigerate muffins. The cold temperature changes the texture and dries out the muffins.
Avoid overmixing. When combining the wet and dry ingredients, blend just enough to incorporate. Overmixing muffins will make them tough.
Check doneness with a thermometer. The internal temperature should read 200-205 degrees. A lot more accurate than the classic toothpick test.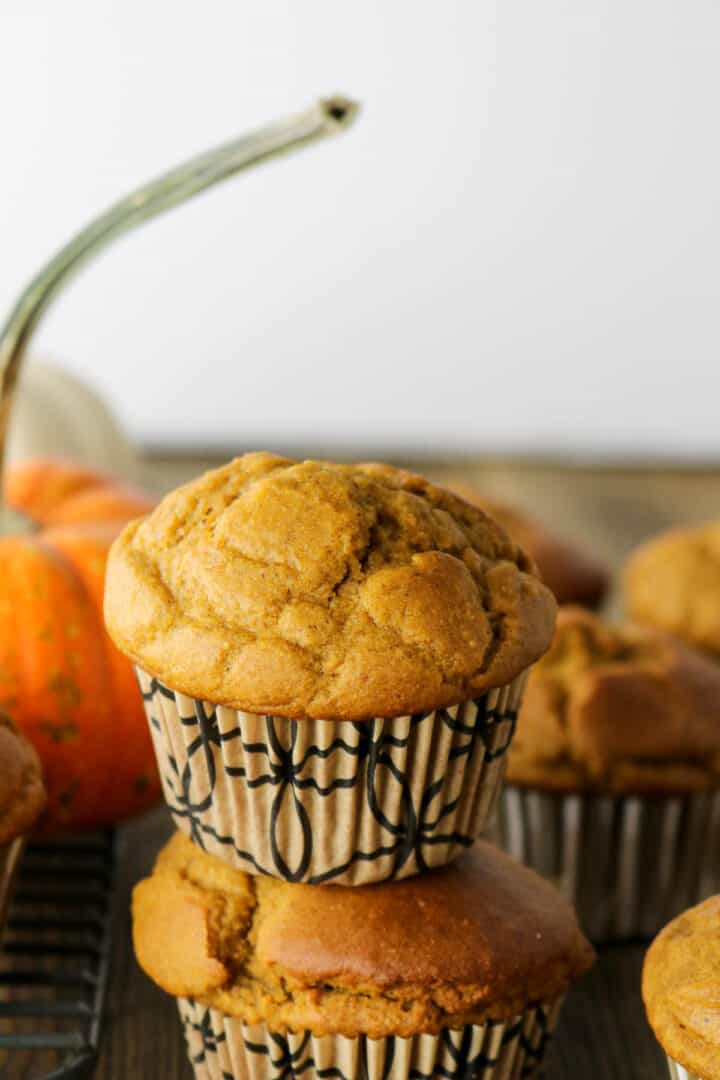 How can I make my muffins lighter and fluffy?
Baking soda and cream of tartar are used as leavening agents for expansion. This is what gives the muffins a lift to create those beautiful muffin tops.
Why do muffins turn out dry?
The most common reason is overmixing and overcooking. Try increasing the fat content in your muffins to ensure a moist result. A bit of applesauce will decrease your chances of a dry muffin.
What are pumpkin substitutes?
Butternut squash, sweet potatoes, and acorn squash make a great alternative. Roast the squash or potato in the oven to bring out the sweetness and remove moisture. Puree in a food processor or blender.
More Gluten-Free Recipes
📖 Recipe
Healthy Pumpkin Muffins | Gluten-Free
Fall has arrived!  Go gluten-free with our Healthy Pumpkin Muffins.  This recipe has the perfect amount of pumpkin spice to warm up your day. 
Instructions
Preheat the oven to 350 degrees and position the rack in the middle. Prepare a muffin tin with liners or cooking spray to prevent sticking.

Whisk together dry ingredients: gluten-free flour, baking soda, cream of tartar, pumpkin spice, and salt. 

In another bowl, whisk together pumpkin, eggs, applesauce, vanilla, and maple syrup.

Add the dry ingredients to the wet ingredients and whisk until incorporated. Do not overmix.

Fill the muffin liners ¾ full with batter. Place in the middle rack of the oven and bake for 25-30 minutes until the internal temperature reads 200 degrees. 

Transfer the muffins to a rack and cool completely. Store in an airtight container or ziplock bag for up to 4 days. 
Notes
These muffins freeze great!  Just bring them to room temperature before eating.
DID YOU MAKE THIS RECIPE?
Leave a comment below and share a photo on instagram. Tag @thefrizzledleek and hashtag it #thefrizzledleek.