This Air Fryer Omelette is the best way to enjoy your morning eggs. With its fluffy texture and endless omelet bar toppings, the air fryer omelette is the perfect meal to start your day. Whether you're a seasoned cook or a kitchen newbie, you won't want to miss this simple yet satisfying recipe. So, grab your air fryer, and let's get cracking!
Air fryers are so versatile and have transformed my breakfast game! Be sure to make my Air Fryer Poached Eggs and check out my Air Fryer Soft Boiled Eggs.
Air fryer omelettes are the best because you can set it and forget it. Spend that time making coffee or packing your kid's lunches for school.
On Sunday, prep out a bunch of fun toppings and enjoy endless omelette combinations all week long.
Below you'll find a photo with omelette bar add-ins to completely customize your omelette.
Below you will find a lot of omelette variations you can make with just a few simple ingredients!
Jump to:
What makes this recipe so good
No Baby Sitting - While making an omelette on the stove can require constant attention, an air fryer is a "set it and forget it" option.
Fluffy omelette - Air fryers cook food with hot air circulation, cooking the egg omelette on all sides.
 Quick recipe - With an air fryer, you can make a quick omelette for breakfast, lunch, dinner, or even a late-night snack.
Ingredient Notes
When making this recipe, use these ingredients for a soft, and cheesy air fryer omelette.
Eggs - Use large eggs for the best results. You can also use egg whites or a combination of egg whites and whole eggs to make a lighter omelette.
Cheese - Use your favorite cheese to add flavor and creaminess to your omelette. Cheddar, mozzarella, feta, and goat cheese are all great options.
Cream - Adding heavy cream to your egg mixture can make your omelette richer and creamier and can also help make it more fluffy.
See recipe card for quantities.
Omelette Bar Add-Ins
Wondering what to put inside an omelette? Here are some delicious add-ins to include.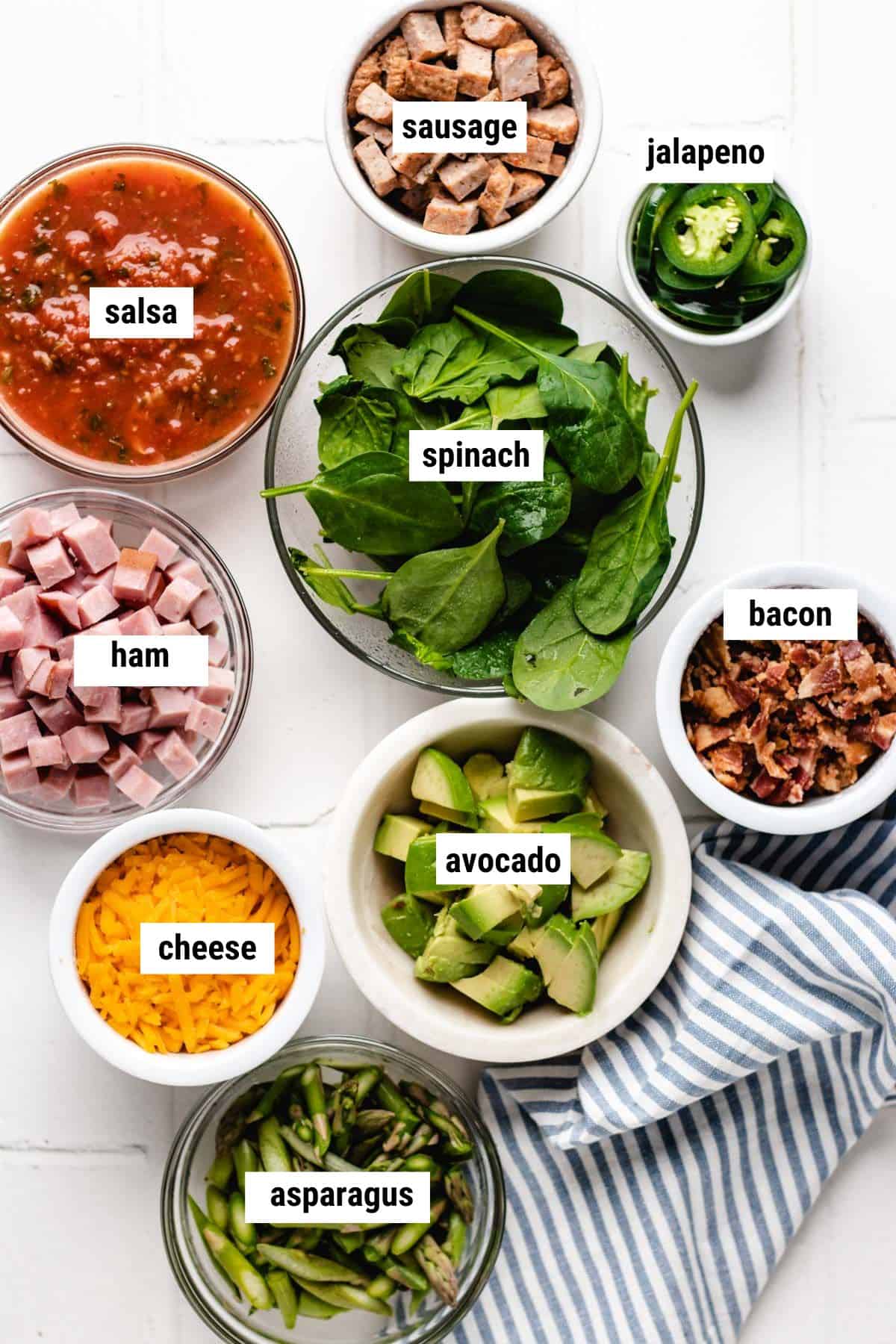 Sausage
Jalapeno
Salsa
Spinach
Ham
Bacon
Avocado
Cheese
Asparagus
How to make this recipe
Preparing an omelette in an air fryer is a simple and quick cooking technique. Here's how to do it:
Step 1: In a medium-sized mixing bowl combine eggs, heavy cream, cheese, salt, and pepper.
Step 2: Using a whisk, beat the eggs until fully combined and the mixture is frothy.
Step 3: Pour egg mixture with all your toppings into a greased cake pan.
Step 4: Preheat your air fryer to 350°F and bake for 6-8 minutes or until omelette is set.
Hint: Cooking times may vary depending on your air fryer, so keep an eye on your omelette to ensure it doesn't overcook.
Variations
What ingredients go well in omelettes? Feel free to get creative and experiment with your favorite flavors and seasonings!
Veggie: Add your favorite vegetables, such as mushrooms, bell peppers, onions, spinach, or broccoli.
French: Use your favorite cheese, such as cheddar, Swiss, feta, or goat cheese.
Meat lovers: Add cooked bacon, ham, or sausage to your omelette.
Mexican: Use shredded cheese, diced tomatoes, jalapenos, and cilantro for a delicious Mexican twist.
Greek: Add feta cheese, diced tomatoes, spinach, and Kalamata olives.
Southwest: Use cooked black beans, corn, diced tomatoes, and shredded cheese.
Italian: Add diced tomatoes, chopped basil, and shredded mozzarella cheese.
Mediterranean: Use chopped spinach, diced tomatoes, crumbled feta cheese, and chopped Kalamata olives.
Substitutions:
Milk or cream: Instead of using heavy cream, you can substitute it with whole milk or half-and-half.
Cheese: Use any type of cheese you prefer, including mozzarella, provolone, gouda, or pepper jack.
Vegetables: Swap out the vegetables in the recipe for your favorites, such as zucchini, asparagus, or kale.
Meat: If you don't have ham, bacon, or sausage on hand, you can use diced turkey, chicken, or even tofu for a vegetarian option.
Herbs and Spices: Experiment with different herbs and spices to add flavor to your omelette, such as basil, thyme, cumin, or chili powder.
Cooking spray: Instead of using non-stick cooking spray, you can brush a thin layer of olive oil or melted butter onto the air fryer basket or pan.
Chef Tips
Preheat your air fryer: Preheating your air fryer for a few minutes can prevent your omelette from sticking.
Use a non-stick spray or oil: Spray the air fryer basket or pan with non-stick cooking spray or brush with a little bit of oil to prevent the omelette from sticking.
Keep your fillings small: For an even cook, it's best to chop your fillings into small pieces.
Use a spatula to remove: When it's time to fold your omelette over, use a spatula to carefully lift one side of the omelette and fold it over the filling.
Check frequently: Keep an eye on your omelette as it cooks to prevent it from overcooking or burning. Depending on the size and model of your air fryer, cooking times may vary.
Equipment
How to store omelets
The best way to store omelets in the fridge is by placing them in an airtight container. Line the container with a paper towel to help prevent sogginess. Omelets release a lot of excess moisture while they're in the fridge, so using a paper towel keeps them nice and firm.
Freezing Instructions
Wrap the omelet in plastic wrap. Put wrapped servings of frozen omelets into a freezer bag. Then, place the bag in the freezer. Omelets freeze well for up to three months.
Reheating Instructions
There is more than one way to reheat an omelette!
Air Fryer - Preheat the air fryer to 350°F for 2 minutes. Place the omelet on a piece of parchment paper and lay it in the air fryer basket. Cook for 5 minutes or until heated through.
Microwave - Wrap your omelet in a damp paper towel. Microwave on 70% power for 2 minutes or until heated through.
Stovetop - Place your omelet in a skillet with some fat or butter. Over low heat, cook the omelet for 1 minute per side. The trick here is to heat low and slow to prevent drying out your eggs.
Oven - Preheat your oven to 350°F. Lay the omelet on a sheet pan and cover it with aluminum foil. Bake for 7 to 10 minutes flipping at the halfway mark.
FAQ's
Can you freeze omelets?
Yes! To do this, cool the omelets down to room temperature. Wrap them a couple of times with plastic wrap to prevent freezer burn. Transfer omelettes to a ziplock bag or an airtight container and label and date them. Frozen omelettes will last for up to 3 months in the freezer.
Can you make omelets ahead of time?
Yes, you can cook them off a day or two in advance. This method is perfect for serving a lot of people for brunch. After cooking your omelets, cool them down to room temperature and wrap with plastic wrap. Place omelettes in the refrigerator for 2-3 days.
Can you make an omelet in the oven?
Yes, just like an air fryer, the oven is a set-it-and-forget-it method. Preheat your oven to 375°F. Transfer all of your omelette ingredients to the cake pan and bake for 10 minutes or until cooked through. I like to remove the omelette at the halfway point to sprinkle cheese on top.
Is an air fryer omelet healthy?
An air fryer omelette is a healthier way to cook your morning eggs. Air fryers use hot air to cook so you need very little oil. I like to spray my cake lightly with avocado oil spray to prevent the omelette from sticking. The traditional way of making an omelette is on the stovetop where your use more fat to cook an omelette.
Should I put milk in my omelet?
I highly encourage you to use milk or cream if you are using the air fryer method. The addition of milk will produce a fluffy, soft, and tender omelette.
Related Recipes
Looking for other recipes like this? Try these:
📖 Recipe
Air Fryer Omelette
This Air Fryer Omelette is a quick and easy breakfast option. With the help of an air fryer, you can make a fluffy and flavorful omelette in minutes.
Ingredients
3

eggs

2

tablespoons

heavy cream

¼

cup

shredded cheddar cheese

½

teaspoon

sea salt

¼

teaspoon

black pepper
Instructions
In a mixing bowl, whisk together eggs, cream, cheese, salt, and pepper.

Spray the cake pan with non-stick oil or brush with melted butter. Pour the egg mixture into the pan with your favorite add-ins.

Place the cake pan into the air fryer basket and cook at 350°F for 8 minutes.

Carefully remove the omelette from the air fryer with hot pads. Remove omelette with a rubber spatula and transfer to a plate.
Notes
Cooking times may vary depending on the size and model of your air fryer, so keep an eye on your omelette to ensure it doesn't overcook. 
The addition of milk or heavy cream will create a fluffy and flavorful omelette. 
Nutrition
Calories:
393
kcal
|
Carbohydrates:
17
g
|
Protein:
13
g
|
Fat:
32
g
|
Saturated Fat:
14
g
|
Polyunsaturated Fat:
9
g
|
Monounsaturated Fat:
6
g
|
Trans Fat:
0.1
g
|
Cholesterol:
62
mg
|
Sodium:
1361
mg
|
Potassium:
204
mg
|
Fiber:
13
g
|
Sugar:
1
g
|
Vitamin A:
746
IU
|
Vitamin C:
1
mg
|
Calcium:
450
mg
|
Iron:
3
mg
DID YOU MAKE THIS RECIPE?
Leave a comment below and share a photo on instagram. Tag @thefrizzledleek and hashtag it #thefrizzledleek.