My healthy balsamic vinaigrette recipe will have you saying NO to the store-bought stuff. Adding fresh herbs like basil and thyme give this dressing a sweet and savory mouthfeel.
When whipping up my favorite apple-cranberry salad with candied walnuts this is my go-to salad dressing! This recipe is honestly better than any balsamic on the grocery store shelves.
Often times balsamic vinaigrette has honey or sugar added to balance out the acidity of the vinegar. We find this step is not necessary if you buy a good quality balsamic vinegar.
I like to use an olive oil blend for this recipe. Extra virgin olive oil is for dipping crusty bread or finishing dishes. Extra Virgin olive oil turns into a solid when refrigerated.
Other great salad dressings are my Whole30 Ranch, Everything But Bagel, and White Balsamic Salad Dressing.
Jump to:
Ingredients
balsamic vinegar - purchase a good quality vinegar that has a natural sweetness
olive oil - use a light olive oil blend since extra virgin will turn into a solid under refrigeration
garlic - only use fresh garlic
dijon mustard - emulsifier to make the dressing thick and creamy
thyme
basil
salt + pepper
See the recipe card for quantities.
How to make this healthy balsamic vinaigrette recipe
Making a balsamic vinaigrette is so easy, here's how to make it:
Step 1: In a tall and narrow glass jar, combine balsamic vinegar, mustard, garlic, chopped herbs, salt, and pepper. Blend with a handheld blender until smooth.
Step 2: Add olive oil to the jar and blend until thick and creamy. Place the handheld blender at the bottom and slowly move it up and down, blending the dressing.
Substitutions
Oil - Neutral-tasting oils like light olive oil and grapeseed oil are the best.
Herbs - You don't have to put any herbs in this dressing, but it adds a nice sweet and savory flavor. Basil, thyme, and tarragon are all great options.
Vinegar - You can swap out balsamic for white balsamic vinegar.
Equipment
How long will balsamic vinaigrette last
Homemade dressings don't last nearly as long as store-bought dressings. Store balsamic vinaigrette in a mason jar or an airtight container for 2 weeks. You will find yourself reaching for this dressing often. It will be gone in no time.
Pro Tips
Chop herbs by hand before adding them to the dressing. Dropping fresh basil in whole gums up the handheld blender.
Use good quality balsamic vinegar. Low-quality versions leave you will an acidic tasting dressing. A good vinegar should have an enjoyable sweetness.
When making this dressing by hand drizzle in the oil slowly. Whisking fast will keep your dressing from separating.
Frequently Asked Questions
What is balsamic dressing made of?
This salad dressing is so legendary everyone should know it by heart. 1 part vinegar to 3 parts oil. Dijon mustard, garlic, and herbs are added to our recipe to make it delicious!
How to make balsamic dressing creamy?
Dijon mustard works as an emulsifier. Vinegar and oil naturally don't want to go together. So adding a bit of mustard and blending on high speed will make this dressing creamy.
Is balsamic dressing good for you?
Yes, it has been proven to stabilize blood sugar and reduce cholesterol. Consume small amounts at a time since the olive oil makes it high in fat.
More Salad Recipes
Did you make this recipe? Please click the stars below to comment and rate this recipe. Make sure to follow me on Instagram, Facebook, and Pinterest, too!
📖 Recipe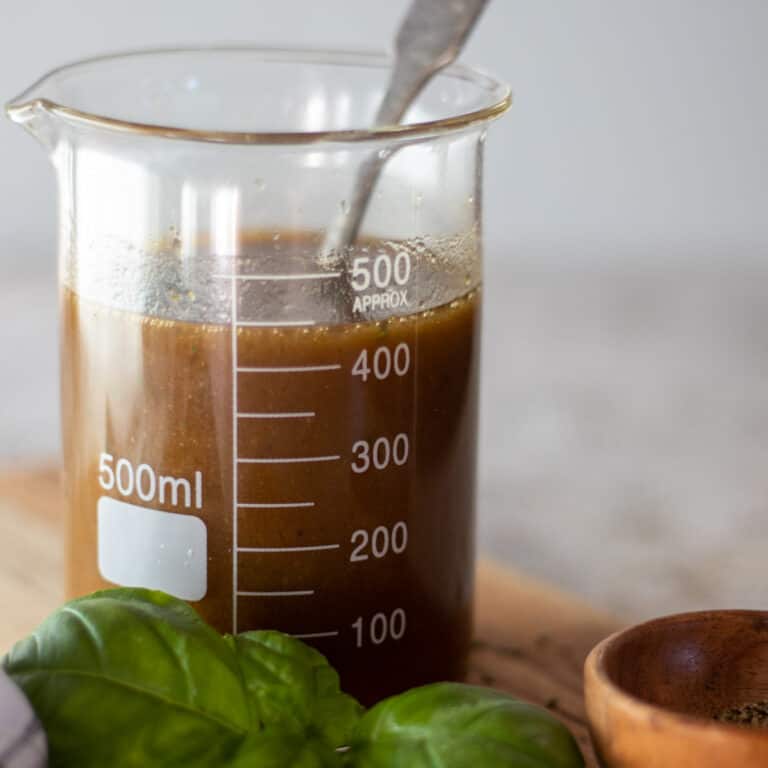 Healthy Balsamic Vinaigrette Recipe
A healthy balsamic vinaigrette recipe is so easy to make.  Nowadays, I never buy store-bought dressing because homemade is so much better.  Fresh basil and thyme are added to make this dressing sweet and savory!
Instructions
In a wide-mouthed jar, combine balsamic vinegar, dijon, garlic, thyme, basil, salt, and pepper.

Blend with a handheld immersion blender.  Pour in olive oil.  Slowly move the blender up and down until thick and creamy.

Store in a mason jar or an airtight container.  Keep refrigerated. 
Notes
I like to use an olive oil blend instead of extra virgin olive oil.  Extra virgin olive oil turns solid in the refrigerator.  
If you don't have a handheld stick blender you can whish this dressing by hand.  To do this, slowly whisk the olive oil into the vinegar to emulsify. 
We used basil and thyme in this recipe but feel free to use your favorite herbs.  Tarragon and chives are great too. 
This recipe was inspired by against the grain 
DID YOU MAKE THIS RECIPE?
Leave a comment below and share a photo on instagram. Tag @thefrizzledleek and hashtag it #thefrizzledleek.