Our Citrus Turkey Brine transforms your holiday bird into a juicy and flavorful main dish! Lots of herbs and fresh citrus give this turkey an amazing flavor.
How many of you enjoy all the holiday food except for the roasted turkey? I felt the same way until I started brining my turkey. There are a lot of recipes out there, but I feel like this one is the best.
If you want to elevate your turkey game even more, use this brine with my sous-vide turkey recipe. You can brine any piece of poultry, even my air fryer whole chicken.
A brine is a ratio of salt and water heated up and cooled down. You can add any flavor to your brine. Since it's the holiday season, we infused our brine with herbs, lemon, cinnamon, and ginger. Can you say YUM!
24 hours is the perfect amount of time to leave the bird in your brine. If you leave it in too long, the salt will start to cook the meat, and it will taste very salty.
If you are looking for some tasty side dishes, check out my sweet potato souffle and quick homemade cranberry sauce.
Jump to:
Why you should brine a turkey
The turkey will absorb the brine making the bird more juicy and tender.
A brine has salt and tasty aromatics which season your turkey.
Think of it as a good insurance policy. Brining your turkey for 12-24 hours will stay moist even if you overcook the bird a little.
Common Ways to Brine a Turkey
Wet Brine: A wet brine is a technique we use in this recipe and the one that's most popular. A wet brine is a saltwater solution that creates a flavorful and juicy chicken or turkey. The ratio is 1 cup of salt for every 1 gallon of water. For a whole turkey, you will want to brine it for 24 hours since it's a large bird. Brine 1 pound of meat for 1 hour is a good rule of thumb.
Dry Brine: If you don't want to take up real estate in your refrigerator, try dry brining. You utilize the same ingredients salt, sugar, herbs, and spices. Rub the exterior of the turkey with the dry rub and marinate for 8-24 hours in the refrigerator. Dry brining helps develop a crispy skin that is delicious. Before cooking, rinse off the brine and pat dry.
Buttermilk Brine: Buttermilk is acidic, which helps tenderize the meat and make it juicy. Combine buttermilk, salt, sugar, spices, and brine for 12-24 hours. Make sure to drain the brine and pat the turkey dry before cooking.
Ingredients
Here are the ingredients you will need to make this brine recipe. Remember this process will take 24 hours so plan ahead.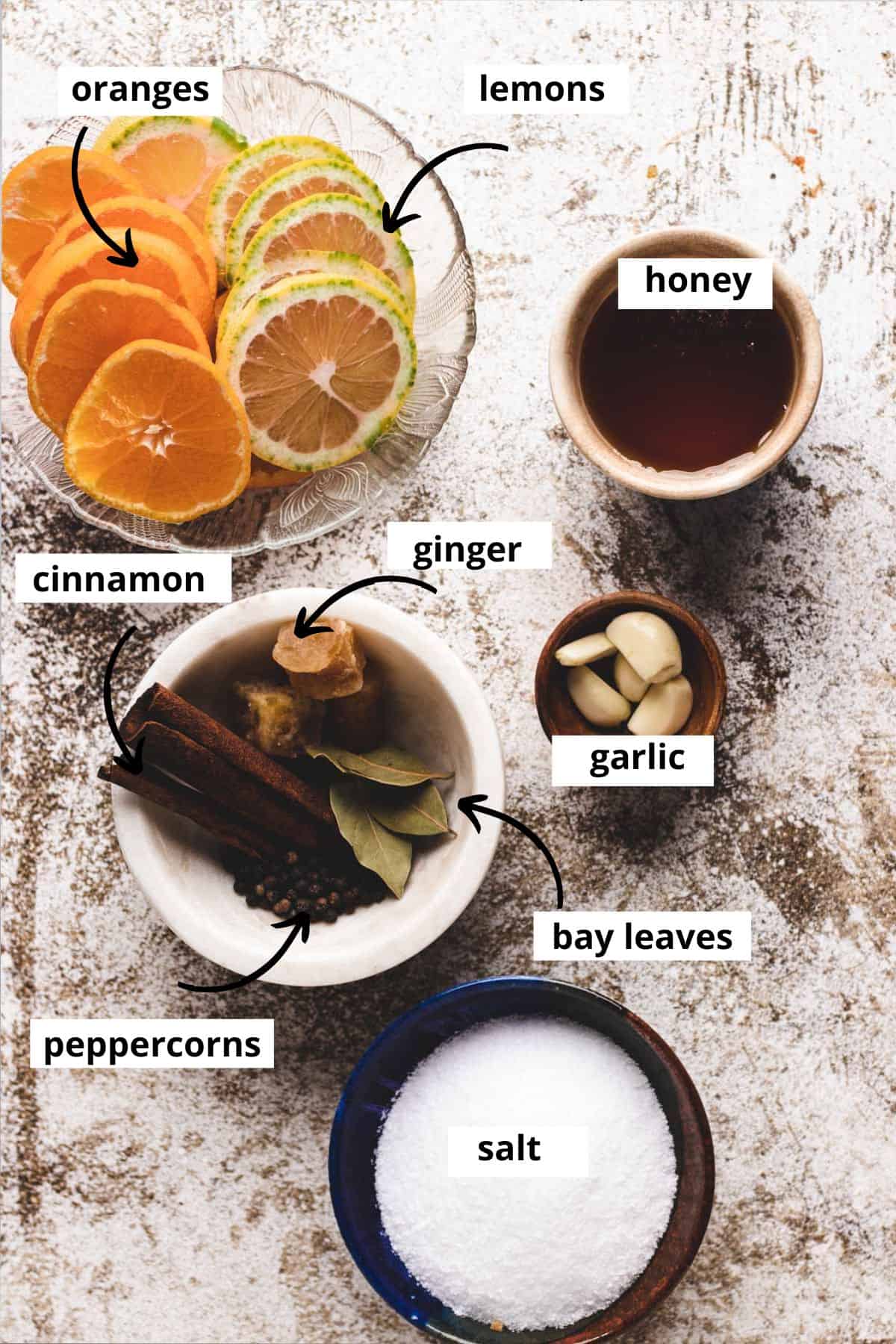 lemons and oranges - you can use all lemons or a mixture of citrus fruits
salt - diamond crystal kosher salt is the best
honey - I prefer to use clover honey for this recipe
garlic - only fresh garlic will do
ginger - fresh or candied ginger
peppercorns -
sage - any combination of herbs will work
bay leaves - because you need to add some aromatics
cinnamon - for flavor!
See recipe card for quantities.
How to make the ultimate citrus turkey brine
The process of brining is so easy, here's how to do it!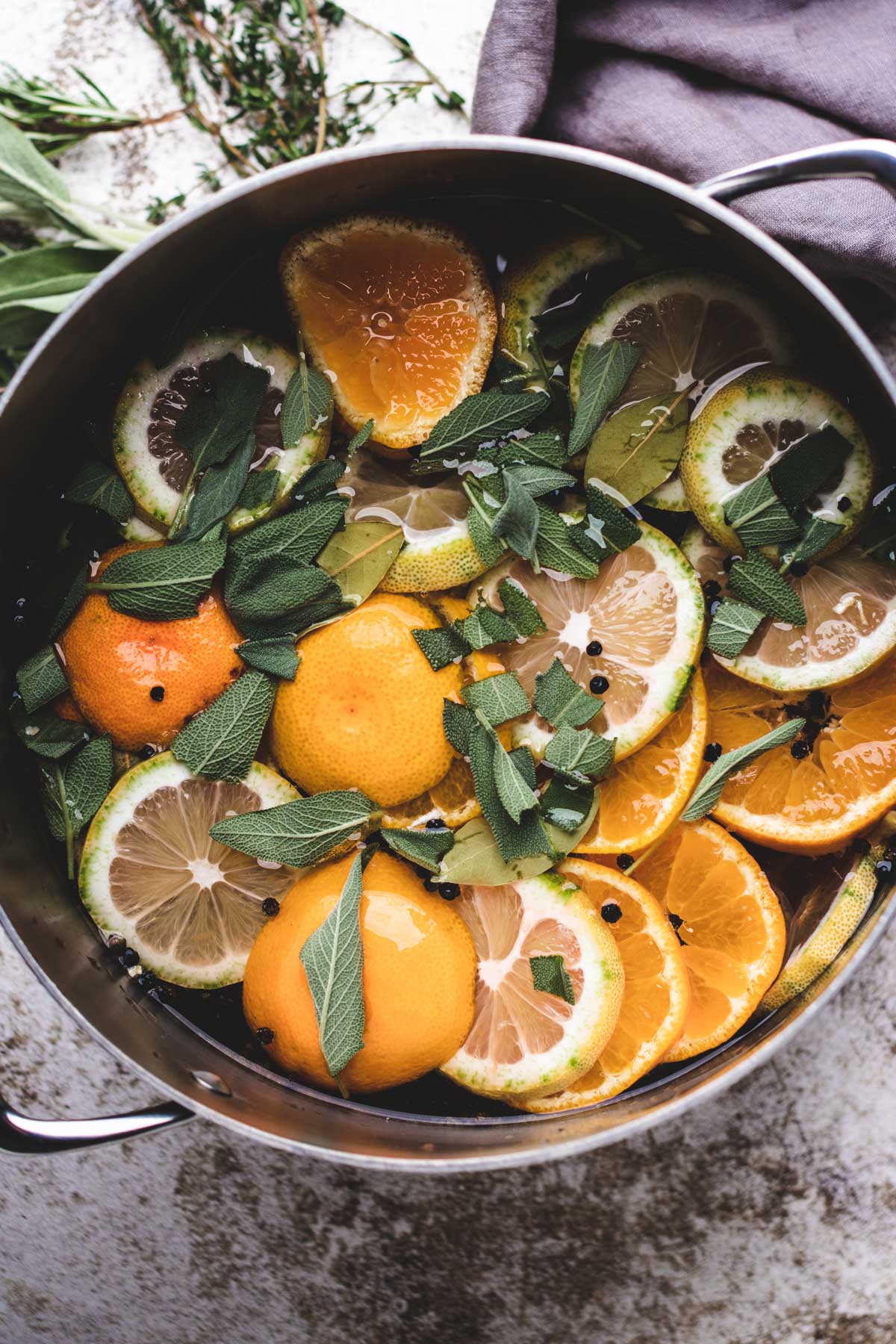 Step 1: Combine all of the ingredients into a large stock pot.
Step 2: Bring brine to a boil and cook for 1 minute to dissolve the salt. Cool down completely.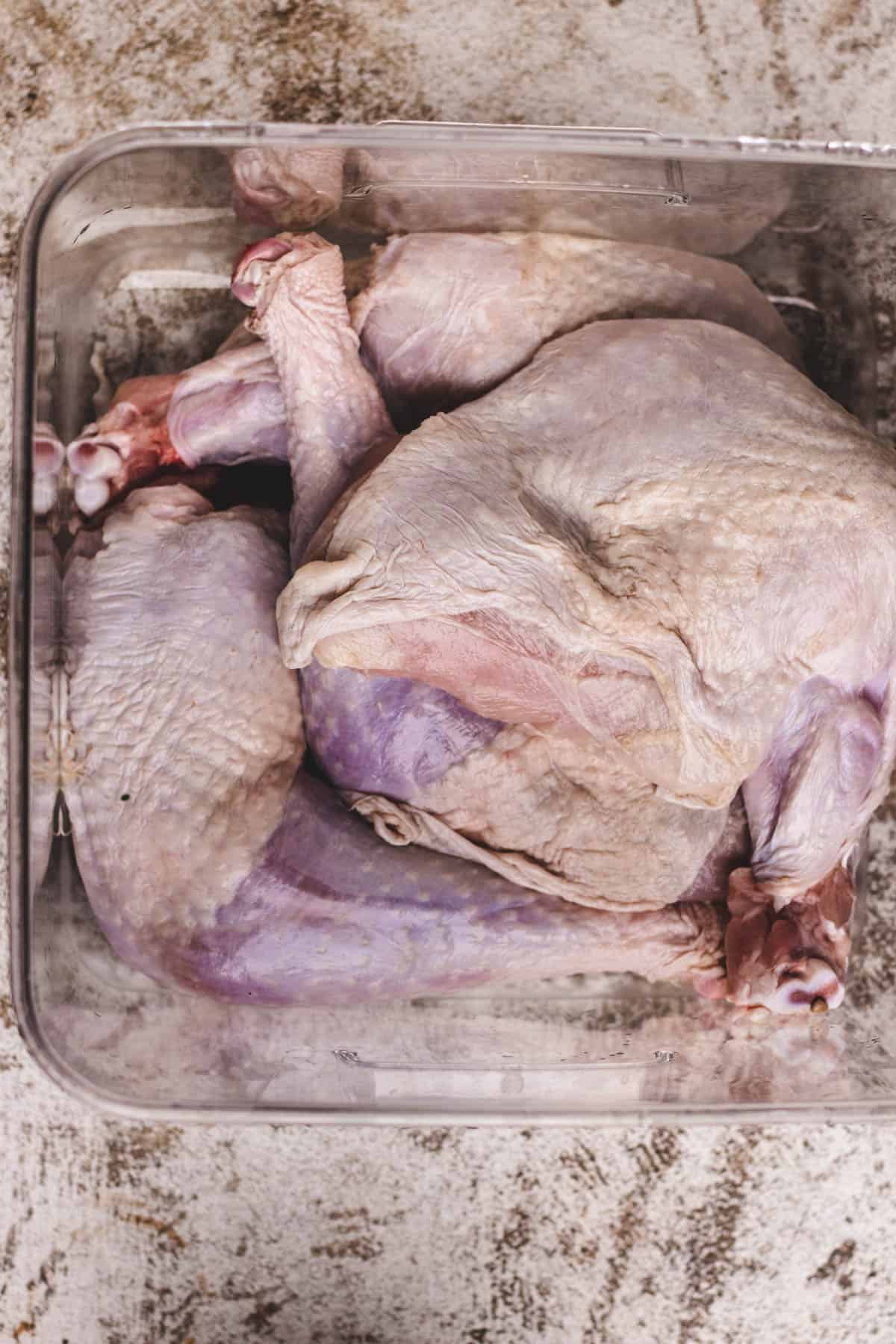 Step 3: Place turkey pieces or whole turkey into a large container.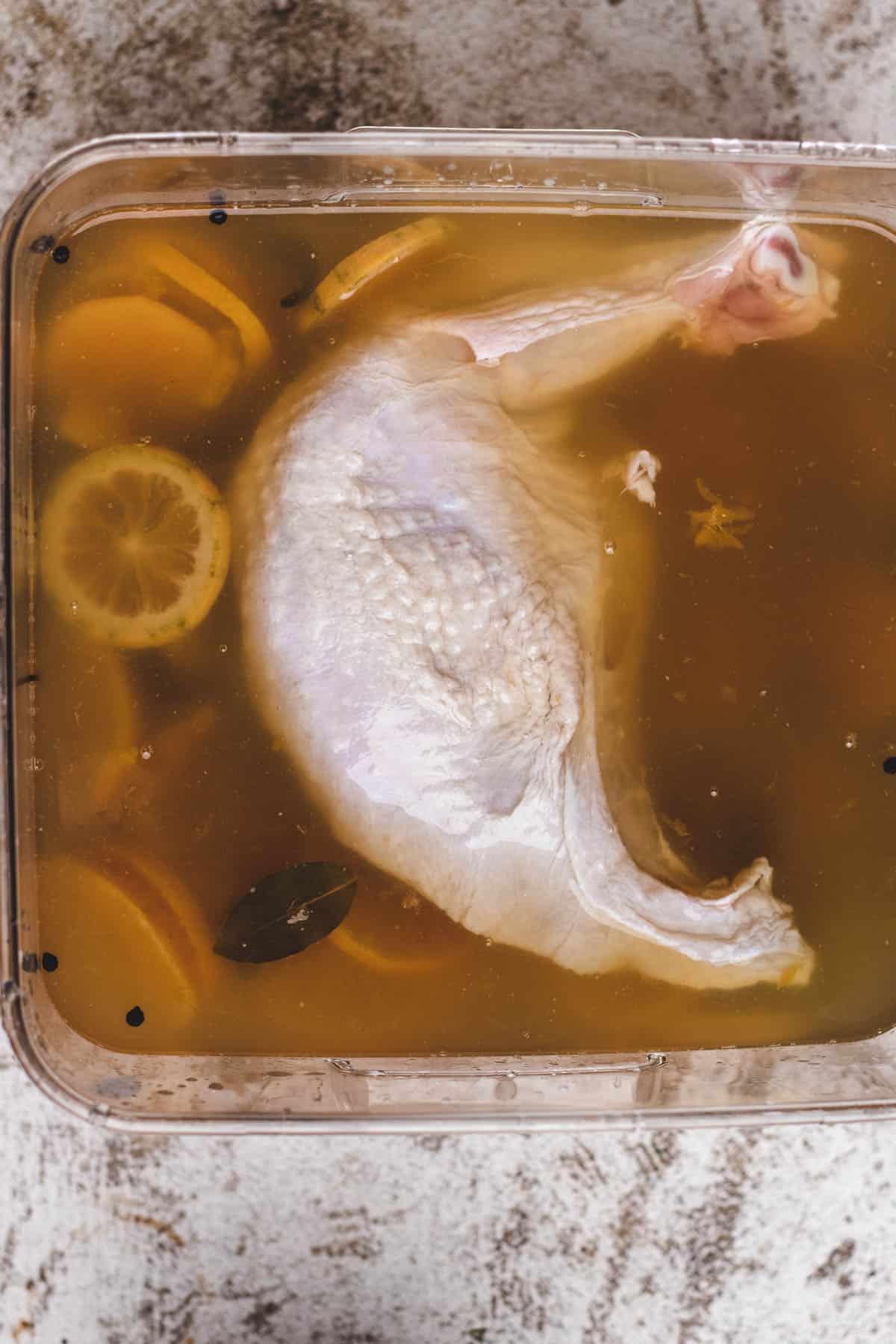 Step 4: Pour chilled brine over the turkey and refrigerate for 12-24 hours.
Tip* Rinse turkey under cold water to remove the extra salt and pat dry with paper towels.
Turkey Brine Ingredient Variations
This recipe is perfect as is, but you can customize a brine to your taste. Here are some optional ingredients to add to your brine.
Herbs - Sage, thyme, parsley, rosemary, bay leaves, and tarragon.
Spices - Juniper berries, cinnamon, star anise, coriander, and fennel seeds
Citrus - Lemons, grapefruits, kumquats, tangerines, oranges, and limes
Sugar - maple syrup, honey, or sugar
Equipment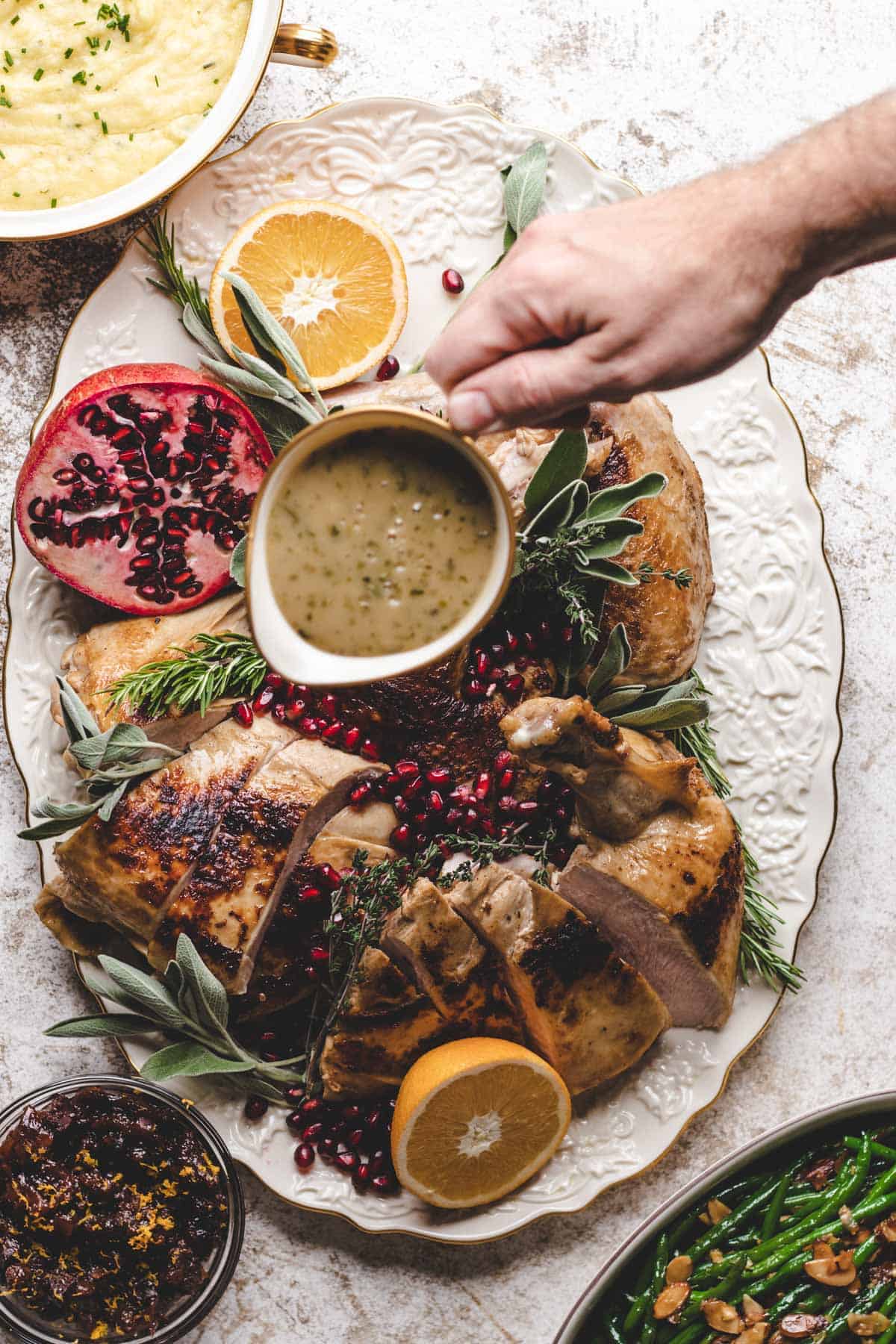 Storing extra turkey brine
We don't recommend reusing turkey brine since it's been in contact with a raw turkey. You can make a double batch of brine and freeze it in large mason jars.
Chef Tips
Cut up your turkey into pieces. Not only will this free up space in your refrigerator, your turkey will brine a lot faster.
Only use kosher salt. Iodized table salt weighs differently and can make your turkey extra salty.
Season your turkey very lightly. After taking a bath in saltwater, your turkey is already seasoned all the way through.
Purchase an unbrined turkey. It will say kosher, enhanced, or self-basting on the packaging if the turkey is pre-brined. I find that organic or natural turkeys are a safe bet.
Organize your refrigerator ahead of time. Turkey takes up a lot of real estate in the refrigerator, and the last thing you want is to find space to put this bird.
Turkey brine ratio. For every 1 gallon of water, use 1 cup of kosher salt.
For every 1 pound of meat, brine for 1 hour. So a 20-pound turkey will take 20 hours in a brine.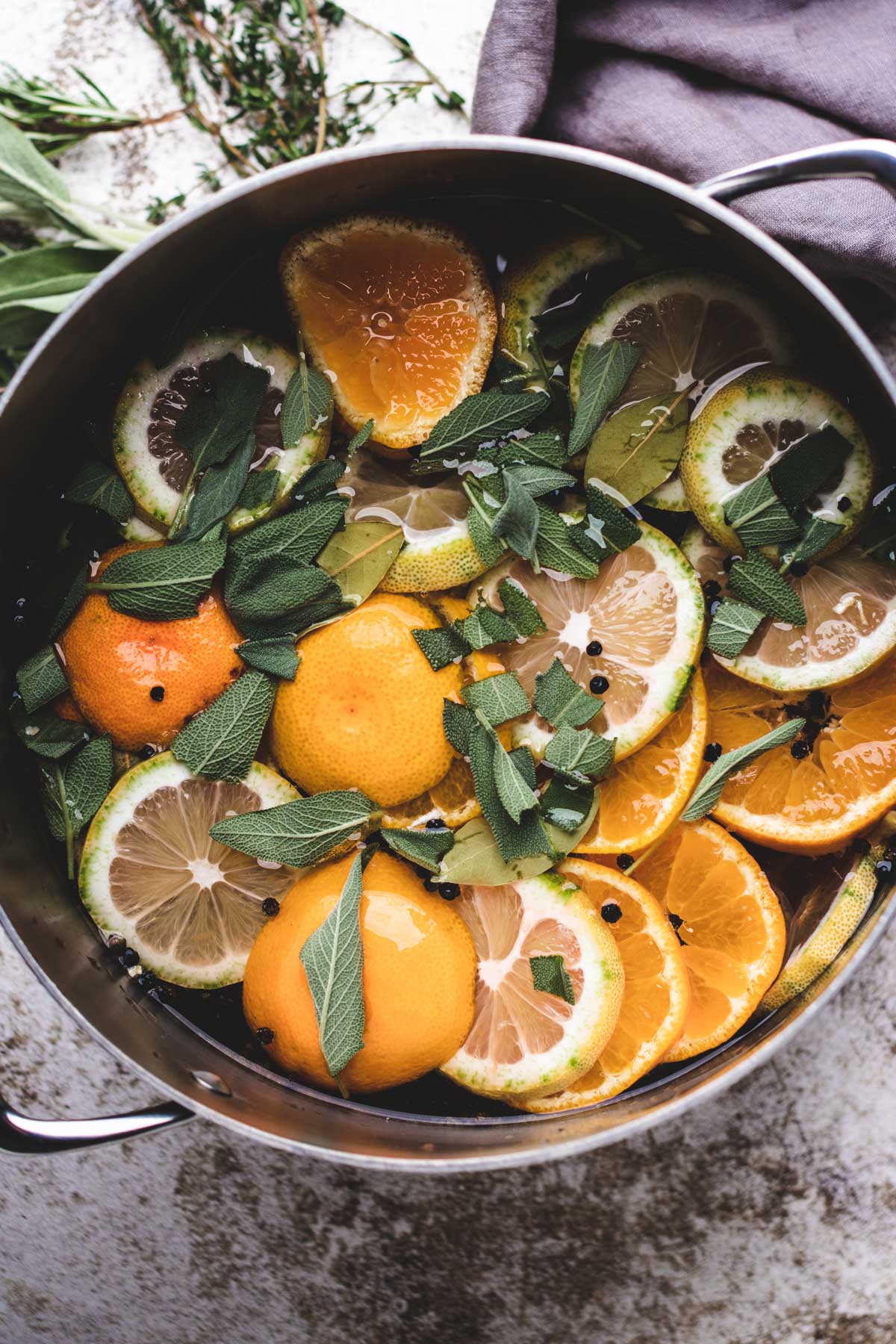 FAQ
What is Brining?
The process of submerging a piece of meat in a saltwater solution before roasting, or grilling. The technique of brining adds flavorful moisture to the bird so it won't dry out. Muscle fibers and protein separate allowing them to hold more water.
How long to brine a turkey?
I will brine a whole turkey anywhere from 12-24 hours. The rule of thumb is 1 hour per pound of meat. You can cut a turkey up into pieces and the brining process will go faster.
Do you rinse off a turkey after brining?
Yes! You should rinse a turkey under cold running water to remove extra salt. Not rinsing can result in a salty bird.
Great holiday recipes to try...
Did you make this recipe? Leave a ⭐️ review below and tag @thefrizzledleek Instagram, Facebook, and Pinterest!
📖 Recipe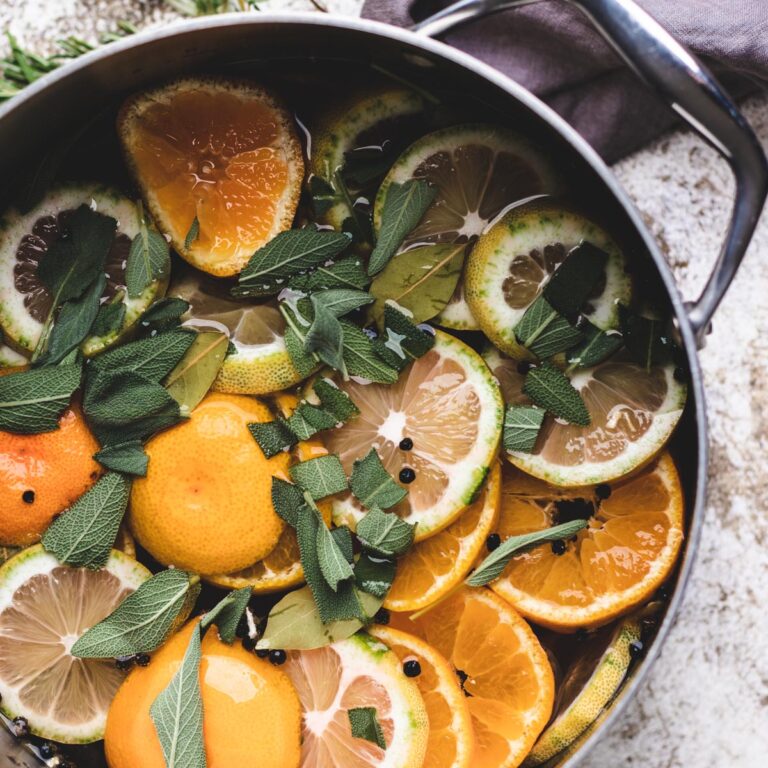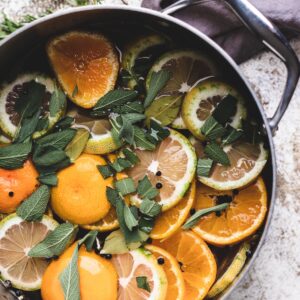 Ultimate Citrus Turkey Brine
Never have dry turkey again with the help of this citrus turkey brine. Whether you roast, sous-vide, or smoke your turkey, this brine will give you the best-tasting turkey every time!
Instructions
Combine all ingredients in a large pot, and bring to a boil.

Boil for 1 minute, stirring to dissolve the salt. Remove from the heat and allow to cool.

Place the turkey into a large plastic container or bag and pour cold brine over the top. Let brine for 24 hours.

Remove turkey from the brine and rinse under cold running water and pat dry.
Notes
By cutting turkey into pieces the brining process will take much less time.
Rinse turkey before cooking so it doesn't taste salty.
For every 1 pound of meat brine for 1 hours.  A 12 pound turkey will take 12 hours to brine.
To make any brine follow this ratio.  For every 1 cup of salt add 1 gallon of water.
Nutrition
Calories:
754
kcal
|
Carbohydrates:
204
g
|
Protein:
7
g
|
Fat:
1
g
|
Saturated Fat:
0.3
g
|
Polyunsaturated Fat:
0.4
g
|
Monounsaturated Fat:
0.2
g
|
Sodium:
113378
mg
|
Potassium:
1083
mg
|
Fiber:
17
g
|
Sugar:
169
g
|
Vitamin A:
715
IU
|
Vitamin C:
259
mg
|
Calcium:
461
mg
|
Iron:
5
mg
DID YOU MAKE THIS RECIPE?
Leave a comment below and share a photo on instagram. Tag @thefrizzledleek and hashtag it #thefrizzledleek.