My maple-roasted kabocha squash is the perfect fall squash recipe! We toss this winter squash with olive oil, maple syrup, and cinnamon to bring out the sweet flavor. So the next time you are reaching for that butternut squash, try this Japanese pumpkin instead.
Maple roasted kabocha squash is the perfect winter squash! For years I would always reach for butternut squash. Don't get me wrong, I love butternut squash, but there are other options out there.
Known as a Japanese pumpkin, kabocha tastes like a combination of roasted chestnuts and a baked potato.
Roasting is the best way to prepare this winter vegetable. Another popular cooking technique is to steam the kabocha squash. Roasting brings out the natural sweetness and nutty flavor!
I leave the kabocha squash skin on while roasting, but I don't eat it. Kabocha skin is edible, but it's not pleasant to eat. Butternut and kabocha squash has a tough skin that is almost impossible to break apart. I eat the meat of the squash and discard the skin.
Maple roasted kabocha squash makes a great side dish for my salmon stew or salmon baked in foil.
Jump to:
What makes kabocha squash so delicious
Fall under the category of a low FODMAP vegetable. According to the Monash University FODMAP diet app, there is no limit on how much kabocha you can consume.
No need to peel this squash. To make cooking a breeze, cut in half, remove the seeds, slice, and roast. I don't recommend eating the skin since it's thick and tough. I eat kabocha just like I would eat an orange wedge, consuming the flesh and discarding the skin.
Kabocha squash has many applications. This winter squash is great for soups, salads, and vegetable curries.
What you need to make this recipe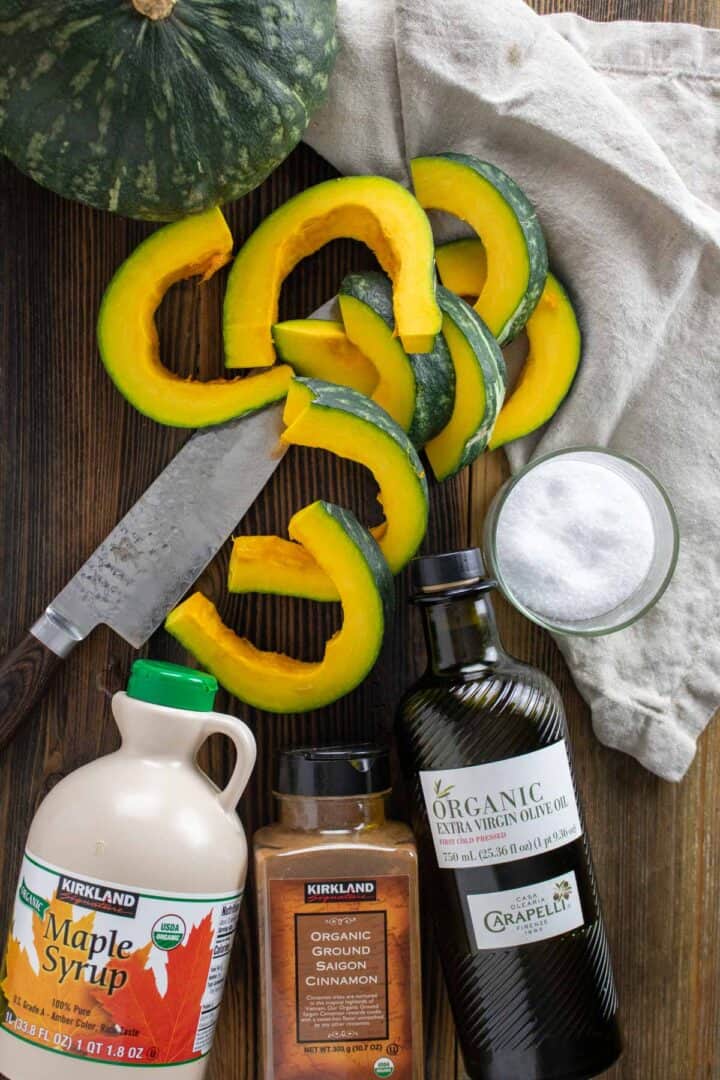 kabocha squash - a orange fleshed squash that is sweeter than butternut squash
maple syrup - use 100% pure maple syrup
cinnamon
salt - for flavor!
Where to buy kabocha squash
Kabocha is a winter squash usually located next to butternut and acorn squash in the produce sections of the grocery store.
Butternut squash is a long cylinder-shaped with a long neck. Kabocha is round and resembles the shape of a pumpkin, and has a green exterior color.
Here is a list of grocery stores where I have seen kabocha squash:
Whole Foods
Sprouts
Walmart
Trader Joes's
Smart + Final
Amazon
Asian Markets
How to cook kabocha squash
Cut squash in half lengthwise and scoop out the seeds. Be careful doing this step since the otter skin of the squash is very hard. You can place the squash in the oven for 5 minutes to soften the skin before cutting.
Slice the kabocha squash into 1-inch wedges leaving the skin on.
Place sliced squash onto a parchment or foil-lined baking tray.
Toss with maple syrup, cinnamon, salt, and olive oil. Spread squash out into a single layer on the baking sheet.
Cook for 30 minutes, flipping squash halfway through roasting. The kabocha should be golden brown and tender.
Enjoy as a side dish or in a salad.
Substitutions
Squash: Butternut, acorn, and delicata squash make great swaps
Cooking Fat: Ghee, avocado oil, and tallow all work in this recipe
Maple Syrup: Honey and coconut sugar are paleo compliment swaps for roasted squash
Spices: Instead of cinnamon, try a blend of curry spices like cumin, coriander, cayenne, and turmeric.
Whole30: To make this whole30-friendly, remove the maple syrup and replace the olive oil with ghee. Check out this recipe for a great example.
how to store and reheat squash
Whole kabocha squash, like all other winter squash, can be stored on your kitchen countertop for 1 month.
How to Store: Cooked squash needs to be stored in an airtight container and refrigerated. Kabocha should be consumed in 2-3 days before it goes bad.
Freezing: I don't recommend freezing cooked squash ever. The texture will be altered too much in this process. It's possible to freeze raw kabocha squash. Slice or cube the squash and freeze for 1 hour on a baking tray. Place the squash into a ziplock bag and freeze for 6 months.
Reheating: Root vegetables like to be reheated as quickly as possible. Spread the squash onto a baking tray, cook for 10 minutes at 375 degrees or until hot.
Pro Tips
Bake whole squash for 10 minutes. Cutting through this squash can be extremely tough and dangerous. Placing squash in the oven or microwave softens the skin, making it easier to cut through.
Wash the skin. Since we will be leaving the skin intact, run squash under cold water to clean.
Don't cut the wedges too thin. Roasting the squash will reduce the size. Vegetables are filled with water. Roasting removes the water and concentrates flavor.
Roast at a high temperature. I like to roast my squash between 400 - 425 degrees to get a nice golden brown color. Flip the squash halfway through cooking to caramelize both sides.
Spread squash out. We don't want the squash to be piled on top of each other and touching. Give the squash room to breathe or golden brown color.
Frequently Asked Questions
Is kabocha squash the same as a pumpkin?
Kabocha is classified as a squash. However, pumpkins and squashes are quite similar. A pumpkin is a squash, and kabocha is known as a Japanese pumpkin. In other words, you could call kabocha squash or a pumpkin.
Is Kabocha squash the same as Butternut squash?
No! They are quite different. Kabocha is a Japanese winter squash becoming more common in American supermarkets. Kabocha has a green outer skin that is edible and has a sweeter flavor. Butternut squash is more watery and less starchy than kabocha squash too.
Can you eat roasted kabocha skin?
Yes! The skin of this squash is edible. I don't recommend it though. It can be a challenge to chew through. I like to eat the flesh and discard the skin.
You might like these recipes too...
Did you make my Ultimate Almond Toffee Recipe? Please click the stars below to comment and rate this recipe. Make sure to follow me on Instagram, Facebook, and Pinterest, too!
📖 Recipe
Maple Roasted Kabocha Squash
Maple roasted kabocha squash is the perfect fall side dish!  
Instructions
Preheat oven to 400 degrees.  Place kabocha squash underwater to give it a clean since we are leaving the skin on.

Line a baking tray with aluminum foil or parchment paper.

Slice squash in half lengthwise and scoop out the seeds.  Slice kabocha squash into 1-inch slices.  Place squash on the baking tray and toss with olive oil, maple syrup, cinnamon, and salt.  Spread squash out into a single layer on the baking tray.

Roast squash at 400 degrees for 30 minutes, flipping halfway, until caramelized and tender. 
DID YOU MAKE THIS RECIPE?
Leave a comment below and share a photo on instagram. Tag @thefrizzledleek and hashtag it #thefrizzledleek.