Today we are going to show you how to make oatmeal with eggs. This protein-packed breakfast includes Coach's oats, almond milk, fresh berries, and seeds. Start your morning off right with a breakfast that will stick to your ribs!
One of my favorite breakfasts growing up was my Mom's homemade oatmeal. This version consisted of rolled oats, raisins, and brown sugar.
Today I like a healthier approach. Organic oats, almond milk, fresh fruit, and seeds are just what I prefer. I don't like loading my oatmeal full of salt, and sugars because this recipe doesn't need it.
My oatmeal with eggs recipe is the best of both worlds. Oats are a slow-releasing carb, supplying you with energy all morning long. Adding a scrambled egg gives you the protein that your body needs. Mixing the scrambled eggs and oatmeal together makes them almost invisible to the naked eye. A great technique for getting your toddler to eat their eggs.
I love to enjoy oatmeal all year long. In the summer months, overnight oats are a great grab-and-go breakfast. On the other hand, a big bowl of hot oatmeal warms me up when winter is coming! My hope is that you make this recipe and run with it. There are so many topping combinations you can use to make this recipe your own.
Let me know in the comment sections how you like your morning oatmeal.
Oatmeal Toppings
Jazz up your morning bowl of oats with any of these DELICIOUS TOPPINGS! Tip - Create your own oatmeal bar of toppings for a bit of variety.
maple syrup
coconut sugar - I love coconut sugar because it looks and taste just like brown sugar
granola - check out my maple granola recipe
blueberries
banana
strawberries
coconut - toast coconut flakes in a 350-degree oven for 5 minutes or until golden brown
yogurt - greek yogurt is creamy and delicious
Jump to:
What makes oatmeal with eggs so good
This recipe is quick and easy to make. In under 10 minutes, you can make breakfast for your whole family. My homemade oatmeal consists of ingredients you prabaly already have in the pantry.
Make it your own. You can customize your oatmeal any way you like. Maybe one morning you are feeling banana and nut butter, but the next day you want berries and toasted coconut. Check the oatmeal topping section of this blog post.
Great breakfast for toddlers. Oatmeal is not only great for all ages, it's a game-changer for toddlers. If you are trying to sneak in protein-packed eggs, give this recipe a try. My 2 daughters have oatmeal every morning for breakfast.
Steel Cut vs Rolled Oats
There are 4 types of oats your can buy:
Groats: All oats start as groats which are the whole grain minus the husk. Groats have a hearty, chewy texture and a nutty flavor. Many people cook their groats in a slow cooker or instant pot since the cooking time is longer.
Steel Cut Oats: Also known as Irish Steel Cut Oats, are groats cut with rotating steel blades into smaller pieces. Cooking steel-cut oats take 30 -45 minutes.
Rolled Oats: These oats are rolled flat. They are cut just like steel-cut oats, steamed, place between rollers until flat and round shaped. Rolled oats cook much faster than steel- cut but lose their nutty flavor and texture.
Coach's Oats: Similar to steel-cut oats and cook in only 5 minutes! Groats are toasted to bring out the natural sugars, then cracked into smaller pieces.
Oatmeal Ingredients
Here is a list of ingredients I use to make my coach's oats. Feel free to swap out the fruit and seeds for your favorite toppings.
oats - we use Coach's oats in this recipe because it cooks in only 5 minutes
almond milk - any milk with work in this recipe other options are macadamia or cashew milk
chia seeds
hemp seeds
strawberries - add a natural sweetness to oatmeal without the need for sugar or syrups
banana
blueberries
eggs - add more protein to your morning oatmeal.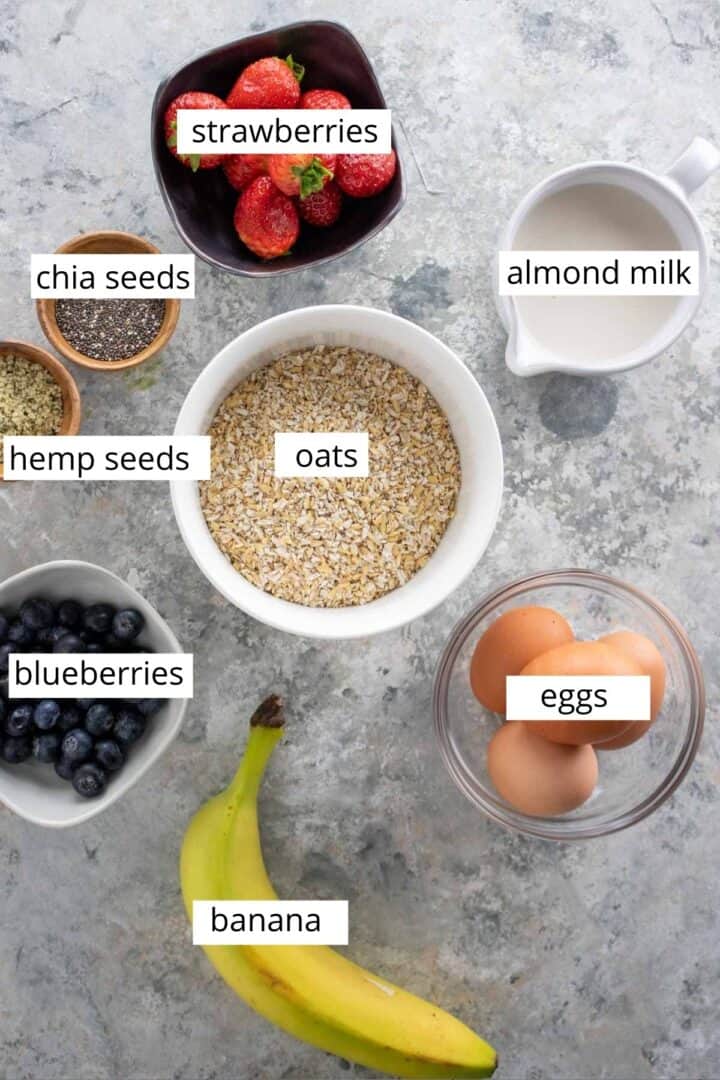 How to make oatmeal with eggs
Making oatmeal with eggs is so healthy and easy, here's so to make it:
Bring 4 cups of water up to a boil in a 4-5 quart saucepan and add oats.
Reduce heat to medium-low. Cook for 5 minutes, stirring a few times with a large spoon or whisk. Turn off the heat and cover the saucepan with a lid. Let the oatmeal rest for 1 minute or more.
Remove lid and pour in almond milk. The heat of the oats will warm the milk, so there is no need to heat the milk beforehand.
Give oats a few stirs to incorporate the almond milk. We use 1 cup of almond milk in this recipe. Adjust the amount of milk for desired thickness.
Crack 4 eggs into a small bowl and mix with a wire whisk. Grab a medium-sized non-stick saute pan and heat on high. Add 1 teaspoon of oil and eggs. Using silicone or a wooden spoon, move the eggs around in the pan until scrambled. Season with salt. Set aside.
Stir together oats and scrambled eggs. Grab your favorite oatmeal bowl and fill it up with the oatmeal-egg mixture. Top with fresh berries, chia seeds, and hemp seeds. Note: Toppings are optional. Customize with your favorite toppings!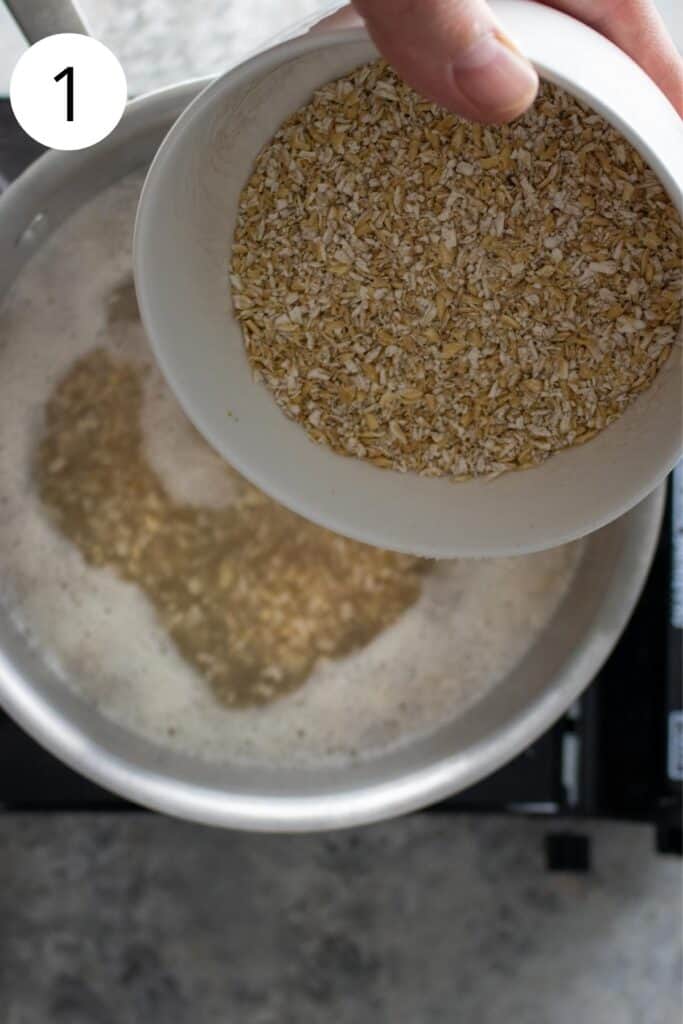 How to make oatmeal in the microwave
Coach's Oats: In a large microwave-safe bowl, combine oats and water. Cook on 70% power for 4 minutes. Stir and let stand for 1 minute. Tip - It's important to use a large bowl to allow for the oats to expand.
Rolled Oats: Using the ratio of 1:2 water to oats. Mix oats and water together in a microwave-safe bowl. Cook on high for 2 minutes for the best consistency.
Instant pot cooking instructions
I love using the instant pot for cooking oatmeal. Here's how to make it:
Combine steel-cut oats, water, salt, and any spices. A pinch of cinnamon is great.
Set to high pressure for 3 minutes. When time is up quick release the steam and give oats a stir.
Add in the milk of your choice. My go-to is almond milk. Stir until you reach your desired thickness.
Spoon oatmeal into a bowl and finish with your favorite toppings!
Substitutions
Oats: We used coach's oats. Other types of oats include groats, steel-cut, and rolled oats.
Milk: Swap out almond milk for whole milk, cashew, or macadamia nut milk.
Salt: Many people enjoy a pinch of salt in their oatmeal. Kosher or sea salt are great options.
Toppings: Oatmeal is a blank canvas and takes on any flavor! Check out my topping suggestions at the beginning of the blog post for some ideas.
Paleo: Swap out the oats for chia seeds and hemp seeds. Check out this recipe for instructions.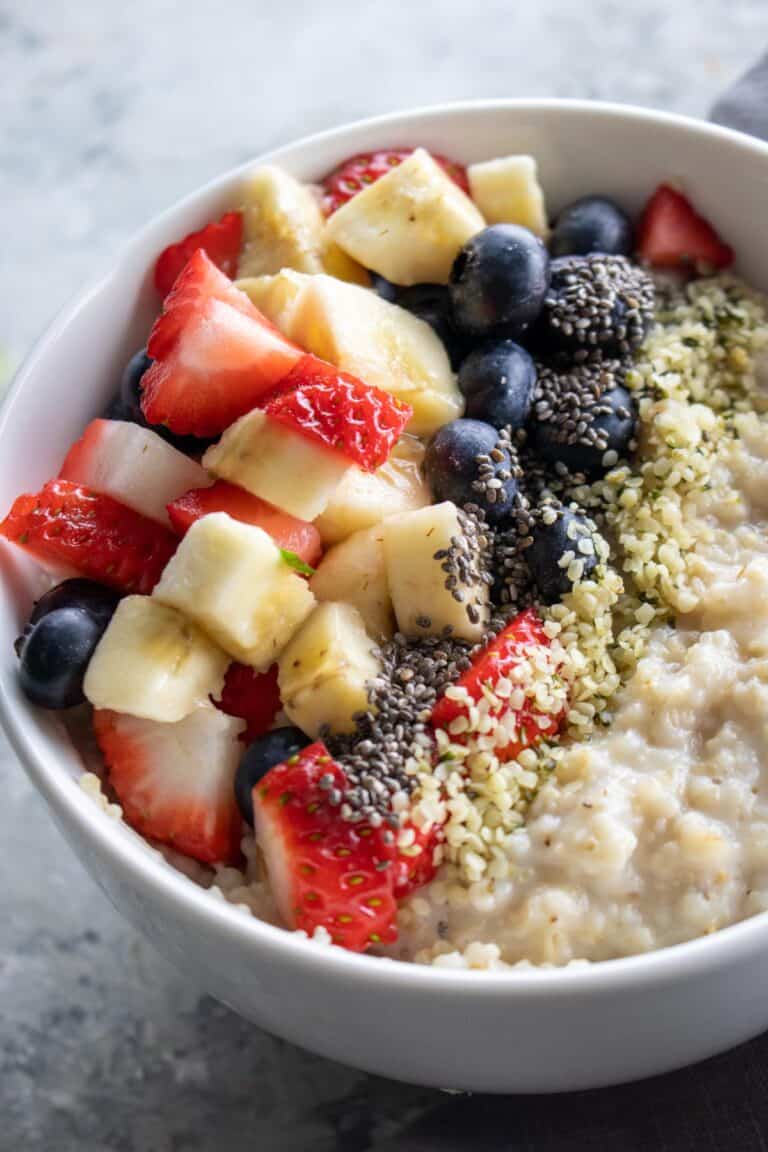 How to store and reheat oatmeal
How to Store: Uncooked oats should be stored in a clean, dry, and cool place. An opened bag of oatmeal should be used within 1 year. Cooked oatmeal is great for meal prepping and should be stored in a glass airtight container. Cooked oatmeal will last 5 days in the refrigerator. Here is a link to my favorite airtight containers.
How to Freeze: Place oatmeal into individual glass containers and freeze. Oatmeal will last 6 months in the freezer.
How to Reheat: Place oatmeal into the microwave for 1-2 minutes or until hot. Add milk to your desired thickness. Customize with your favorite toppings.
Pro Tips
Oat to Water Ratio - Make sure to follow that water to oat ratio on the back of your oats package. Rolled oats, steel-cut, and Coach's oats all cook differently. Avoid mushy oatmeal by following the ratio.
Cook low and slow - After bringing water up to a boil and adding oats, reduce it to a medium-low temperature. Grains like to be cooked gently so the water absorption is not rushed. Boiling the oats will result in an uneven texture.
Cover and let rest - This process lets the oats steam and creates a creamy texture.
Adding milk - After the oatmeal is done cooking adding the right amount of almond milk. I feel like 1 cup of almond milk is the perfect amount. If you like thicker oatmeal, then add less.
Scrambled Eggs - Adding scrambled eggs into oatmeal increases protein. Mix the scrambled eggs and oatmeal until combined. Now your toddlers will never know they're eating eggs for breakfast.
Pinch of Salt - Adding just a pinch of salt give bring out the flavor and nuttiness of the oatmeal.
Meal Prep - Making a large batch of oatmeal will serve you right all week long. Place into individual glass airtight containers and refrigerate. Reheat in microwave for 1-2 minutes.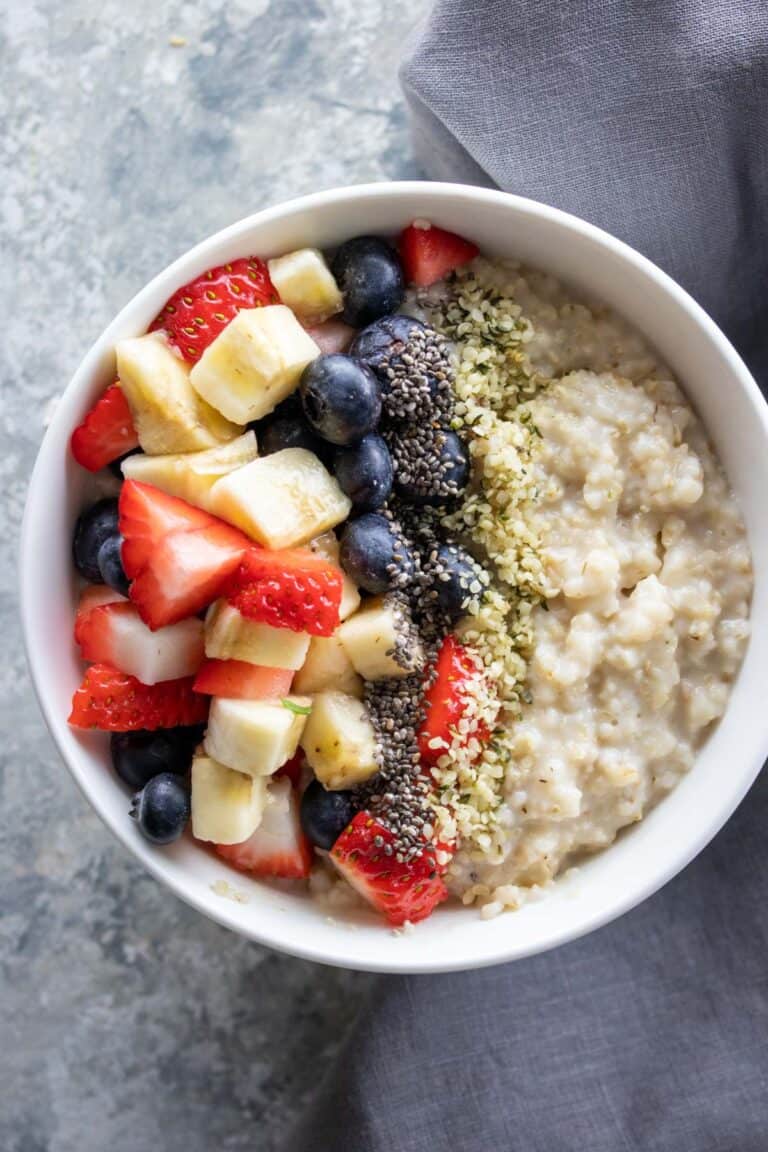 Frequently Asked Questions
Is oatmeal good for you?
Oatmeal contains a healthy fiber called beta-glucan. This fiber has been shown to support healthy immune functions, reduce cholesterol, and help with diabetes. Be mindful of the topping you use. Nuts, seeds, and berries are all great choices of toppings.
What is the ratio for cooking oatmeal?
Reading the side of your oatmeal container is the best practice for avoiding mushy oatmeal. For steel-cut oats, the ratio is 1 cup of liquid per ¼ cup of oats. If using rolled oats the ratio is 1 cup of liquid per ½ cup of oats.
How do you cook oatmeal?
You can cook oats in many different ways. Instant pots, slow cookers, and rice cookers are all viable options. The most common way to cook oats is on the stovetop or in the microwave. Read to box instructions for the proper ratios and cooking times.
Do you make oatmeal with milk or water?
Not only does milk make the oatmeal creamy and delicious, but it also has an extra dose of protein. Oatmeal that is cooked only with water is gummy and not creamy. Cook oatmeal in water and then add a splash of milk or almond milk at the end for the best result.
Try these breakfest recipes too
Did you make this recipe? Leave a ⭐️ review below and tag @thefrizzledleek Instagram, Facebook, and Pinterest!
📖 Recipe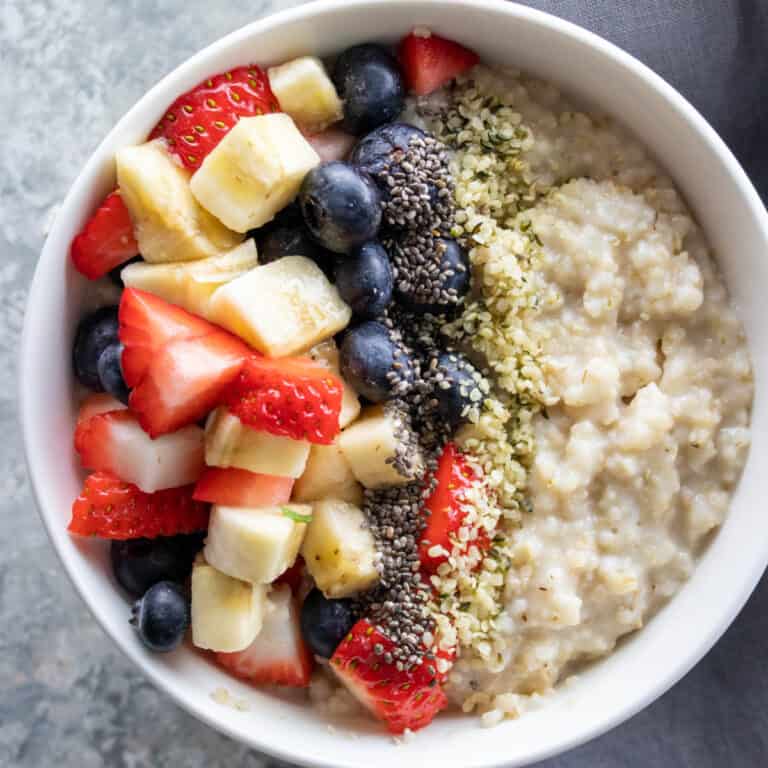 How to make oatmeal with eggs
This oatmeal recipe is packed with protein and is so DELICIOUS!  Pick your favorite toppings and you will have a healthy breakfast that will serve you well all year long. 
Ingredients
Oatmeal
1 ⅓

cups

oats

coaches oats

4

cups

water

1

cup

almond milk

unsweetened
Scrambled Eggs
1

teaspoon

olive or avocado oil

4

eggs

whisked

½

teaspoon

salt
Toppings
½

cup

Blueberries

½

cup

Strawberries

2

Banana

2

tablespoons

Chia Seeds

2

tablespoons

Hemp Seeds
Instructions
Oatmeal
In a heavy-duty 4-5 quart saucepan, bring 4 cups of water to a boil.

Add 1 ⅓ cups of coaches oats.  Reduce heat to medium-low heat, and cook for 5 minutes.  Remove from heat and cover.  Let sit for 1 minute.

Pour almond milk into oatmeal and give it a stir.  
Scrambled Eggs
In a medium non-stick saute pan add 1 teaspoon of oil.  Crack 4 eggs into a small bowl and whisk until combined.

Add whisked eggs to the hot pan and stir with a silicone or wooden spoon.  When eggs are cooked, set aside.
Serving
Add scrambled eggs into the oatmeal and give a stir.

Spoon oatmeal into a bow.

Garnish with your favorite toppings.  We used strawberries, blueberries, bananas, chia seeds, and hemp seeds. 
Notes
We use 1 cup of almond milk for our desired consistency.  Feel free to use less or more for your liking. 
After adding the oats to boiling water turn down the heat to medium-low heat.  Oats like to be gently cooked and not rushed. 
You can add any topping you want to this recipe.  Go to the beginning of the blog post to see some topping options. 
Nutrition
Calories:
320
kcal
|
Carbohydrates:
44
g
|
Protein:
11
g
|
Fat:
13
g
|
Saturated Fat:
1
g
|
Polyunsaturated Fat:
8
g
|
Monounsaturated Fat:
3
g
|
Trans Fat:
0.03
g
|
Sodium:
389
mg
|
Potassium:
424
mg
|
Fiber:
12
g
|
Sugar:
10
g
|
Vitamin A:
98
IU
|
Vitamin C:
18
mg
|
Calcium:
227
mg
|
Iron:
4
mg
DID YOU MAKE THIS RECIPE?
Leave a comment below and share a photo on instagram. Tag @thefrizzledleek and hashtag it #thefrizzledleek.